About capsule coffee machines
Few things are as pleasant as having a freshly prepared coffee in the morning after getting out of bed. And few things are less motivating than having to deal with the laborious process and brewing time of your morning coffee while you wait for that coffee to be ready.
Capsule coffee machines reduce waiting time to a minimum while providing high-quality coffee thanks to their clean and efficient automatic operation.
It is an excellent alternative to automatic machines that, due to their efficiency and convenience, have become essential in our kitchens.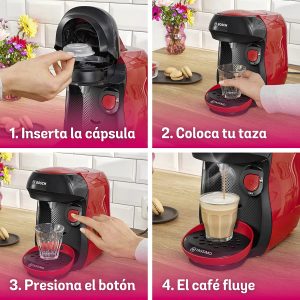 What is a capsule coffee machine?
Capsule coffee machines, or capsule coffee makers, are household appliances that have reached the market for lovers of this aromatic drink to simplify the entire process of making it, eliminating cumbersome steps such as grinding, pressing, and storing it.
They make use of small containers that are hermetically sealed, known as coffee capsules, and guarantee freshness for up to six months. So you won't have to worry about replenishing them regularly, but rather buying them in bulk from time to time.
To prepare a fresh cup of coffee, all you have to do is put the capsule in the machine, press a button, and wait for the machine to do all the work. There are no mistakes, no effort, just a perfect and delicious cup of coffee in a matter of seconds.
Being a simpler version of the traditional coffee machines that we have all been used to for years, capsule machines are generally much smaller and less heavy. This means that you do not have to worry about whether it will fit in the kitchen or in the space that you have allocated to place it since they make the most of any area, however small it may be.
In short, these machines offer an excellent alternative to automatic machines. The reason for this is that they bring together all the advantages of a fully automated system for a fast coffee preparation process with capsules containing ground, roasted, tamped, and sealed coffee.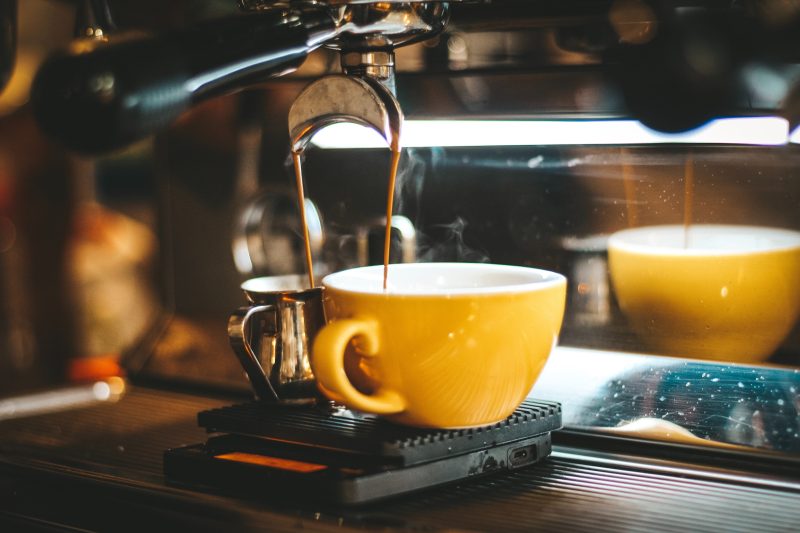 How to choose the best capsule coffee maker
To facilitate the choice of a capsule coffee machine, a series of considerations must be taken into account, such as:
Dimensions
Before buying a coffee machine, you have to take into account the available space, as it is one of the most important elements since some models are quite bulky. But in addition to size, let's not forget about weight, because the lighter the machine, the easier it will be to move when you need to clean the surface below it.
Pressure
This is a very important point to consider when buying a coffee machine. To make a good espresso, the pressure that pushes the water into the filter is essential. So the higher the pressure, the better the coffee.
Compatible capsules
When understanding how to choose the right coffee machine to buy, one question you should ask yourself is what type of capsules it works with. Pods are universal as they all belong to the same international standard. So single-serve ones from different brands are compatible with any device with this system. But it is a matter that must be verified.
Quality
A quality product is manufactured to meet the needs of consumers without having defects or deficiencies. If a product has passed extensive quality control, you can be confident that it is a good purchase option.
Brand
A brand has a reputation, and it must be taken into account when making our decisions. It is therefore essential to pay more attention to brands that are recognized for the quality of their products and their after-sales services.
Reviews
As buyers, we must take seriously what people say about products and study first-hand experiences. Therefore, it is worth searching the internet for the opinions of others about each coffee maker that is among your favorites.
Precio
We know that when you shop, you shop on a budget. So you can make a list of the best capsule coffee makers so that you can have a better idea of the best model that fits the price range you have in mind.
Capsule coffee makers are best suited for light consumers. They are not too expensive and very easy to use; they are generally simple machines with few adjustable settings.
Read another article about Tips for buying the best espresso machine
Best capsule coffee machine brands
If you want to know which are the best brands to consider when purchasing a coffee machine with capsules, here is a short list of which we believe are the best.
Nespresso: The Swiss company Nestlé Nespresso SA is engaged in the sale of Nespresso machines and ground coffee capsules. Founded in 1986, it is one of the most recognized worldwide for its equipment.
Bosch: It is no secret to anyone that Bosch stands out for the quality of its household appliances, and this multinational company strives to present the best capsule coffee makers and other products from different categories to the market.
Philips: It is one of the most recognized technology companies in the world, dedicated to electronics. With offices in Amsterdam, this company has also been able to highlight
De'Longhi: This Italian brand has specialized for years in the manufacture, distribution, and sale of high-end household appliances, including capsule coffee machines.
Recommended capsule coffee maker
Nespresso De'Longhi Inissia EN80.B single-dose coffee machine
The Nespresso De'Longhi Inissia EN80.B is a coffee machine compatible with Nespresso capsules and has a 19-bar pressure pump.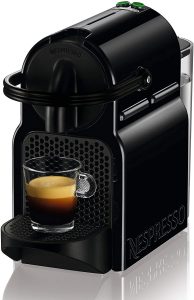 The heating system uses thermo block technology, with which the machine will be ready for use in 25 seconds. The coffee flow is self-closing and programmable in terms of the amount of coffee produced.
In addition, you will not have to worry if you leave it on since it will turn off after 9 minutes of not being used.
The water tank is 0.7 liters, and the used capsule tank has a capacity for 11 capsules.
In addition, it is noteworthy that the coffee maker comes with 18 capsules, so you can enjoy it from the first minute.
BOSCH multidrink machine TASSIMO HAPPY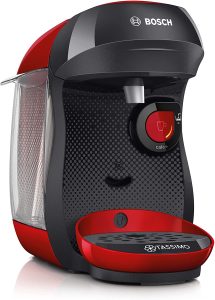 If you don't want to spend what a Nespresso coffee machine costs but still want to enjoy the convenience offered by capsule coffee machines, the Bosch brand Tassimo model is our recommendation.
With this coffee maker, you can prepare more than 40 different types of drinks, including not only a multitude of types of coffee but also tea, chocolate, and many others. All this is thanks to the IntelliView technology that prepares the different types of drinks simply by reading the different types of barcodes on the capsule.
By buying this coffee maker, you will be acquiring a model thanks to which you will be able to enjoy your favorite hot drink with a single click and in the most comfortable way.
How much does a capsule coffee maker cost?
Capsule coffee makers come in different models and sizes, are manufactured by different brands, and therefore have prices that vary depending on these details, which are usually significant.
For example, it is possible to find a De'Longhi coffee maker with 15 bar pressure, a fast heating system, a security system, and a capacity of 0.8 liters for less than 55 euros. On the other hand, a Bosch multi-drink, which is compact and easy to use, costs less than 25 euros.
Those who prefer the Philips brand, with 19 bars of pressure and a 1-liter tank, will have to pay just under 100 euros. Those looking for a compact Nespresso with 19 bars can get one for less than 90 euros.
As you have noticed, there is a coffee machine with capsules for all tastes and budgets. It is a matter of deciding how much you want to spend for an appliance of this type, and this will depend on how often you drink coffee and if you are one of those who like to try different styles.
What are the benefits of using a capsule coffee maker?
The advantage of storing coffee in capsules is that they are usually sealed immediately after roasting, which maintains freshness by avoiding any contact with moisture or oxygen, the presence of which can make coffee opaque and stale.
Short of grinding some freshly roasted coffee beans locally, coffee pods are sure to guarantee you fresh coffee every time without having to put in any extra effort.
In addition, you have to consider many other points in favor. Such as, for example, if the coffee is prepared in a matter of seconds, there is minimal cleanup. They are very easy to use and most models take up very little space in the kitchen or other areas.
Additionally, it should also be noted, about coffee makers of this type, that there is an infinite variety of coffee capsules to choose from, including strong, mild, decaffeinated, and flavored, among others.
Conclusion
In short, a capsule machine can be very useful for entertaining friends, especially since there is always someone who wants a particular type of drink or prefers their coffee extra strong. Being able to prepare different types of coffee in the same machine has its clear advantages, and that is not debatable.
That is why, in this guide, we have tried to provide you with all the information you need so that, when buying a capsule coffee maker, you make an informed purchase and your choice meets all your expectations.