If you are one of those who, when thinking about food processors, also think about an exorbitant investment, today I am here to get that idea out of your head. Even with a small budget, you can enjoy this great helper in the kitchen.
And I'm not just referring to programmable pots or food processors. There are multifunction kitchen robots that are in charge of doing everything (chopping, beating, roasting, steaming…) and that have very attractive prices.
As the most important thing to choose is that the device you decide on meets your expectations, I have reviewed the 5 cheap and good kitchen robots that are succeeding the most. You don't have to break the piggy bank. These options have great prices!
Analysis of the 5 best cheap kitchen robots
---
I'm not going to get too involved, to see technical characteristics you can find the manufacturer's website, in the analysis, I'm going to cut to the chase and I'm going to give you my opinion of each model. Take a look because it's worth it!
The large capacity programmable pot facilitates the preparation of the daily menu in large families.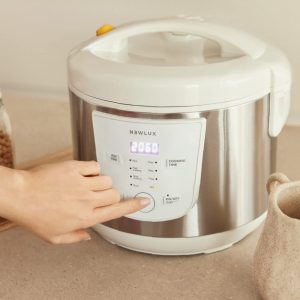 If there are more than 4 of you at home, the 5-liter capacity of this food processor will come in handy. In its large non-stick bowl there is space to prepare the menu for 8 people or to make large meals and freeze them.
The accessories are made of plastic and leave a lot to be desired. But for less than 50 euros than the Newcook costs, they adjust to what you pay and fulfill their function. 
The Newcook is not one of the most powerful models in this comparison, and it falls short in frying. However, it goes very well for making biscuits: they come out especially plump and fluffy.
Be careful with the liquid in spoon recipes: the programs for soups, stews, and rice are not very precise. But you always have the option to take the time and temperature settings manually.
Newcook has a more complete model, the Newcook Robotmix RM990 Wifi kitchen robot, although the price is also very different.
Other important information you should know
The easy-open hinged lid makes it quick to insert/remove ingredients.

750-watt power.

It includes 9 functions and 8 preset menus.

Dimensions of 22 x 28 x 23 cm and weight of 3.8 kg.
Pros
⇒ 24-hour deferred programming
⇒ Keep warm function
⇒ Great capacity
⇒ Manually adjustable time and temperature
⇒ Easy to clean
⇒ Dishwasher-safe accessories
Cons
⊗ Scarce recipe book
⊗ Plastic accessories
⊗ Only heats do not process
⊗ Low power
⊗ Slow heating
Novogar food processor
Get more homogeneous cooking thanks to a surrounding heating system that better redistributes the temperature inside this programmable pot with voice.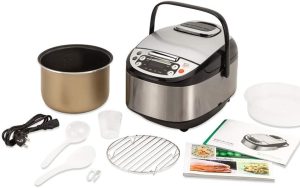 This proposal from Novogar is aimed at inexperienced cooks. It has 4 preconfigured menus for rice, pasta, soup, and dessert, and 8 different operating modes. Stews and stews are quite good, but the rice and pasta program is not as efficient.
It is not the most intelligent programmable pot in the world, but it has two features that stand out in a device for less than 60 euros: voice instructions to follow the actions and automatic maintenance of the heat until you serve the content.
The capacity of the non-stick bowl is very well used. If with the Newcook you could prepare the menu for 8 people, with this one you can stretch it up to 10. In addition, with the surrounding heating system, the ingredients mix well despite the low power of the robot.
Other important information you should know
Adjustable temperature between 60 and 180 ºC.

700-watt power.

Includes handle, hinged lid, and stainless steel coating.

Dimensions of 44 x 32 x 32 cm and weight of 4.62 kg.
Pros
⇒ Keep warm function
⇒ 24-hour deferred programming
⇒ Easy to use
⇒ Great capacity
⇒ Support manual time and temperature adjustment
⇒ Dishwasher-safe accessories
Cons
⊗ Low power Slow heating
⊗ Slow heating
⊗ Easy to clean
⊗ Only heats do not process
⊗ Bulky
Moulinex Maxichef Advanced
Cook with the lid open or closed in a pot with 45 programs and an original spherical bowl ideal for all kinds of stews.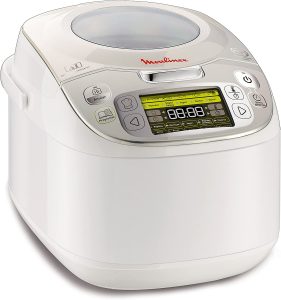 The Moulinex Maxichef Advance goes a step further in the field of cheap kitchen robots incorporating more functions such as cooking seafood, preparing yogurt, or making porridge. This is possible thanks to its temperature range: from 40 to 160 ºC.
Too bad that with a power of 750 watts, it is a little tight in some preparations such as fried or baked. however, you have a lot of freedom to experiment and configure recipes to your liking with the Do yourself option, save them, and reuse them.
You can also cook with the lid open or closed, or add ingredients mid-cook if you've forgotten something. And if what you need is to always have a dish ready to serve, the 24-hour programming and keeping warm functions will come in handy.
In summary, a quite versatile programmable cooker for just 100 euros. Suitable for beginners and useful for most cooks.
Other important information you should know
The temperature can be regulated between 40 and 160 ºC.

Configuration options offer up to 45 ways to use.

The spherical aluminum bowl is made of 6 layers and has a non-stick surface.

Dimensions of 44.5 x 32.5 x 28.2 cm and weight of 5 kg.
Pros
⇒ Automatic programs and manual mode
⇒ Large capacity spherical bowl
⇒ Dishwasher cleaning
⇒ 24-hour deferred programming
⇒ Cook with the lid open or closed
⇒ Heat keeping
Cons
⊗ Very poor cookbook
⊗ Only heats do not process
⊗ Little power
⊗ Bulky
IKOHS CHEFBOT Compact
cheap and good kitchen robots that take up very little space, with special functions for cocktails and pastries and a wide selection of accessories to process and cook all kinds of ingredients.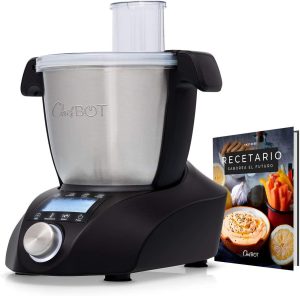 The Ikohs Chefbot Compact is an example that for less than 170 euros you can have a kitchen robot that chops, kneads, or slices ingredients in addition to preparing them in different ways. And all this is very little space!
It has 23 functions and 10 speeds (including turbo) that offer many alternatives, from crushing ice to preparing vegetable cream. Its 1,000 heating watts support a greater number of recipes than the programmable pots in this comparison. 
However, the lack of clear instructions makes it not highly recommended for inexperienced users. Sometimes it is easier to experiment with the manual adjustment of temperature, power, and time than to follow the recipe.
The Chefbot Compact Steam Pro version includes the same features but adds one more accessory: the external steamer. It has a large capacity and will be useful for preparing steamed side dishes independently.
Other important information you should know
The bowl has a capacity of 2.3 l which allows you to prepare menus for 4 people.

Temperature, time, and power can be adjusted manually.

Hermetic lid with steam outlet control. It is not a pressure cooker.

Dimensions of 38 x 21 x 32 cm and weight of 4 kg.
Pros
⇒ Process and cook
⇒ Calorific power
⇒ Suction cups on the base
⇒ Includes turbo function
⇒ Takes up little space
⇒ Dishwasher-safe accessory
⇒ Manual/programmable mode
⇒ Heat keeping
Cons
⊗ Lacks some strength when biting
⊗ It takes time to heat up
⊗ The glass cannot be washed in the dishwasher
⊗ Little information in the instructions
⊗ Hard to clean
⊗ Without integrated scale
CECOTEC Mambo 8590
The best economical food processor, with a built-in precision scale and a zero-speed option for those looking for more freedom when preparing their recipes.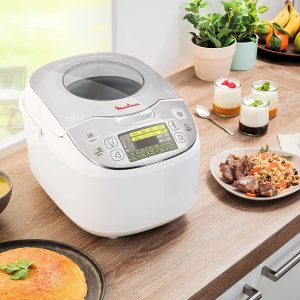 The Mambo 8590 is the most basic access model of the Mambo family food processors. But although its price is around 220 euros, it incorporates the characteristic functions of other Cecotecs such as the Mambo 9590, the Mambo 10070, and the Mambo 10080, all of them with a higher price.
As a processor, it allows you to knead, confit, emulsify or grind, among other functions. And as a pot, much more! In total, 30 different working modes to prepare everything from dough and yogurt to stews, omelets, and baked goods.
Low-temperature cooking and zero-speed stand out. The latter allows you to use the robot as if it were a conventional frying pan or casserole without putting the lid on. It comes in handy when you want to go it alone at some point in the recipe.
The scale is built-in, which is convenient and saves time. In addition, with its 1,700 watts of power, it heats up very quickly and keeps the content warm until it is time to serve.
I liked its intelligent power system with levels from 1 to 10 that are similar to those in the kitchen of a lifetime. This allows novices to use a high-performance robot without any difficulty.
Other important information you should know
Includes the MamboMix spoon to prepare the bulky dough.
The SlowMambo movement stirs at a low temperature and better integrates the ingredients.
Working temperature between 37 and 120 ºC.

With the jug and accessories, menus for 4-6, people are achieved.

Dimensions of 34 x 48.8 x 46.4 cm and weight of 7.54 kg.
Guide to Choosing a Cheap and Good Kitchen Robot
---
I admit it, I am a fan of these devices, but I also admit that the prices of the best kitchen robots seem exorbitant to me, and the most expensive is not always the best. We are going to finish the article with some tips to choose a model that suits your needs… and your pocket!
Why buy a cheap food processor?
The more features a food processor offers, the more things you can do. But, have you considered to what extent you are going to need such advanced options? There is no worse investment than turning a very expensive food processor into another piece of junk in the kitchen.
If you are not clear about the use that you are going to give this device or, better yet, if you are clear about what exactly you need, stick to those characteristics. A cheap kitchen robot is a very good option for a first purchase, to familiarize yourself with the basic functions of these appliances and to work with your lifelong recipe book more comfortably.
In short: you will save money, you will gain space in the kitchen and you will be able to dedicate your time to other activities while the food is prepared.
What to take into account to choose a cheap kitchen robot?
Bearing in mind that cheap food processors offer more limited features and do not come with as many accessories, it is worth paying special attention to the key aspects of their operation.
Power: Between 900-1,000 watts is a good power for heating, and around 400-500 watts for chopping, blending, or mixing. However, the cheapest models do not usually reach 800 watts. You can't ask for more at a reasonable price.
Capacity: at least, to cook the menu for 4 people. For this, you will need the bowl to have a capacity of at least 2 liters. Sometimes it is possible to get larger capacity bowls by buying them separately.
Temperatures: low temperatures are used to ferment or maintain heat, while high temperatures are used in more demanding cooking such as sautés and caramelization. For the robot to be versatile, the temperature should be between 40 and 110 ºC as a minimum.
Programs: choose according to your preferences. If you want everything done, look for robots with preconfigured programs with step-by-step recipes. If you want to innovate, you will need the device to offer the option of using it in manual mode. This way you can select all the parameters of your recipe independently.
Accessories: they will be more or less depending on the functions that the food processor can perform. In cheap models, accessories are usually quite scarce. In a cheap multifunction robot, at least the steamer basket, a mixer/blender blade, and a good blade should be included.
What brands are the best in cheap kitchen robots?
It is not so much a question of brands as of benefits. Even the brands with the greatest presence in the field of small appliances have cheap kitchen robot models.
This is the case with firms such as Taurus, Ikohs, Moulinex, or Cecotec. They are also the brands that work with multifunctional pot and processor models, that is, authentic off-road machines for prices that do not reach 300 euros.
However, if what you need is a pretty neat programmable cooker, my recommendation is to opt for other brands that play in the league of cheap prices, such as Network, Aigostar, or Novogar. Their proposals are specially designed for budgets of less than 100 euros and offer limited features but are very useful in the daily kitchen.
Read another article about How to clean your food processor easily
FREQUENT QUESTIONS
What is the cheapest food processor?
In the market, you can find programmable pots from 20-25 euros. Kitchen robots have a somewhat higher price, and it is difficult to find a model below 100 euros.
What kitchen robot is the most similar to the Thermomix?
Due to the characteristics of the current model of the Thermomix, the most similar alternative is the Taurus Mycook Touch, a model with 1600w of power and 10 speeds. It is also a very popular and highly valued model.