Do you want to know more about the best kitchen robots and their benefits? I invite you to discover the best-valued models on the market in this comparison. We are constantly hearing about how important it is to maintain a healthy and balanced diet.
But who has time to cook?
That thing about the chip of the ingredients prepared over low heat seems more like something from another generation. The current pace of life does not always allow us to take things easy and that is also noticeable in our way of cooking.
I recently discovered a way to reap all the benefits of home cooking without spending so much time, and without leaving the kitchen a mess!
I am referring to kitchen robots and their different forms of presentation:
PROGRAMMABLE POTS: they are devices in which you introduce all the ingredients to cook them using different cooking modes.
KITCHEN ROBOTS: they are a somewhat more advanced alternative because, in addition to cooking food, they are designed to chop, mix, beat, or knead food. A full-fledged kitchen boy!
These appliances are not to be confused with food processors. In these cases, the appliance only chops mixes, or cuts the ingredients in a certain way, but does not cook them.
Do not confuse these devices with food processors. In these cases, the appliance only chops, beats, or cuts the ingredients in a certain way, but does not cook them.
How to choose a kitchen robot without making a mistake?
Temperatures: To work with all kinds of recipes, the ideal is for it to reach temperatures between 40 ºC and 110 ºC at least. All the models analyzed reach these temperatures.
Power: The simplest kitchen robots have a power of around 400-500 watts. But the ideal thing to enjoy their versatility is that they are above 1,000 watts.
Diners: For a household of 4 people, a 2-liter appliance will meet your expectations, although with a little more capacity you will have the option of cooking more and freezing the leftover portions.
The 10 best kitchen robots
---
The cooking robot is the most complete device to prepare recipes from start to finish quickly and cleanly. I have finally managed to dare with dishes that were previously beyond my reach, and at home, we are all enjoying the benefits of a much healthier menu. This "kitchen assistant" will never let you down!
Moulinex MaxiChef Advanced food processor
Simple kitchen robot that is not bad to try, with a spherical bowl that facilitates the cooking of food and a steam cooking function.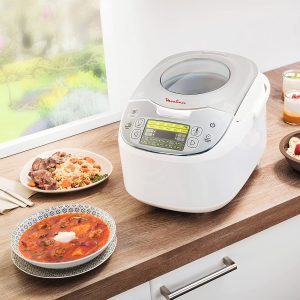 Moulinex Maxichef Advanced is a food processor with a total capacity of 5 liters and a modest 750 watts of power, which allows you to work recipes for up to 4-6 people.
This option seems suitable to me as an option for beginners. It includes 15 programs that are very easy to identify on the control panel, each one already comes with a predetermined temperature and cooking time, so zero complications. It also has a transparent folding lid that is very comfortable when it comes to inserting the ingredients and you can even leave it open during use. Very useful if you have missed some detail. 
Do you want to experiment? The DIY ( do it yourself ) option allows you to make all settings manually, customize recipes and memorize them for the future. This expands the options with up to 45 ways to prepare your dishes.
The recipe book is a bit sparse and not very well explained. But we are in the age of technology! It is easy to find recipes for this device on blogs and Facebook groups. Other limitations affect more, such as the fact that it does not process food or serve to fry them because it does not have much power. The preparation of some dishes has been a bit heavy for me because of how long it takes. But it offers other practical advantages such as being able to program it 24 hours in advance or the automatic keep-warm function once the program has finished. 
Other important information you should know
The spherical aluminum bowl has a 6-layer non-stick coating and distributes heat evenly.

It includes intelligent Fuzzy Logic technology to automatically calculate the needs of each type of cooking.

It works at temperatures between 40 and 160 ºC.

Dimensions of 44.5 x 32.5 x 28.2 cm and weight of 5 kg.
Pros
⇒ Also works as a steamer
⇒ Spherical design bowl
⇒ Transparent hinged lid
⇒ Open/closed lid cooking
⇒ Dishwasher cleaning
⇒ Keep warm and timer
⇒ Price
Cons
⊗ Low power
⊗ It does not have pressure cooking
⊗ For stewing only, not frying
⊗ Doesn't process, just cooks
⊗ Cooking times are not 100% reliable
⊗ Quite limited recipe book
Russell Hobbs Cook@home
A basic and uncomplicated model, with a baking function for those who want to enjoy homemade dough and biscuits with much less effort.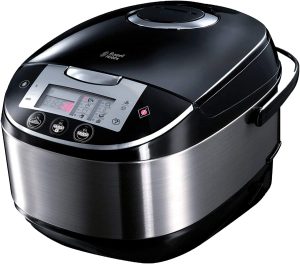 If you are not an expert in the kitchen and have no interest in becoming one, this kitchen robot could be a good alternative. It has the basic functions to enjoy home cooking quickly and easily.
It has 11 programs, among which the one that allows you to work with dough for bread and biscuits stands out. The art of confectionery becomes much more affordable for those of us who don't have much of a hand. I have prepared up to 500 g of bread in one go with very good results. The bad thing is that you will have to look for the recipes yourself on the Internet, the ones included in the instruction manual are quite basic and little adapted to the Mediterranean diet.
The Russell Hobbs has 900 watts of power and allows you to work more recipes than the Moulinex Maxichef Advanced. Even so, I would not recommend it for frying because they do not stay the same as in the pan.
Something that does not convince me is that it does not offer manual control possibilities except to modify the temperature of some programs. In this sense, I think there are much more versatile models in this comparison, such as the Happy Chef 30IWY, and the price is just 20 euros higher.
As far as materials are concerned, they are resistant and of quality, highlighting the large 5-liter stainless steel bowl. You can prepare a good menu for 4-6 people and freeze what is left over if you are few at home.
As the first robot for cooking it is not bad: few buttons and essential features. But in the Cook&Home line, there are other cheaper options if you are only going to work with certain preparations, for example, the rice cooker-steamer or the slow cooker.
Other important information you should know
Hinged anti-condensation lid with easy opening.

Stainless steel frame that gives it an elegant and exclusive look in the kitchen.

Intuitive digital controls.

Dimensions of 42.3 x 31.7 x 28.8 cm and weight of 4.71 kg.
Pros
⇒ Stainless steel bowl
⇒ Dishwasher safe
⇒ Keep warm and timer
⇒ Breadmaker function
⇒ Rice cooker
Cons
⊗ Very limited programs
⊗ Very basic recipe book
⊗ No manual control option
⊗ No pressure cooking
⊗ Doesn't process, just cooks
 Aigostar Happycheff
Economic pressure cooker alternative to preparing vegetables and stews, apart from working with other types of programmable cooking.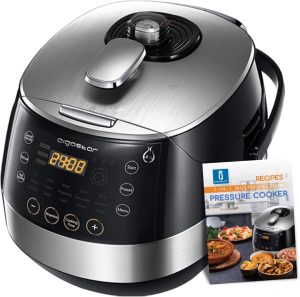 Do you like spooned dishes? Me too. That is why this has seemed to be a good alternative to enjoy stews and soups in less time and with a great flavor.
The main advantage of this Spanish seal kitchen robot is that it is also a pressure cooker. Its interior reaches 70 kph and cooks stew like grandma's quickly and without complications. But apart from the pressure function, you can use it as if you were using up to 7 different kitchen accessories. Its 15 programmed functions allow you to sauté, steam, slow cook or keep the ingredients warm until serving time.
The power is 900 watts, in line with the medium-low range programmable pots. But the heat is very well distributed in its 5-liter capacity aluminum bowl, ideal for a menu of 4-6 people. It is a nice detail that the container has two side handles: this way it is easier to handle.
If you have never used such a pot before, it can be tricky at first. The problem is not that the front buttons are confusing but that they are in English (and that is a Spanish brand) and also the instruction manual leaves a lot to be desired.
Other important information you should know
Includes 9 protection systems during use (overheating, automatic pressure controller, lid lock…).

2 mm thick bowl with a non-stick-coated interior.

Large LED screen to program the recipes with a timer.

Dimensions of 38 x 31.8 x 29.21 cm and weight of 6.7 kg.
Pros
⇒ Slow/pressure cooker function
⇒ Steam function
⇒ Supports use in manual mode
⇒ Open-lid cooking option
⇒ 24-hour timer
⇒ Dishwasher safe
Cons
⊗ Book with few recipes
⊗ Cumbersome corner cleaning
⊗ Does not process food, only cooks
⊗ Unclear instruction manual
Moulinex Masterchef
Large-capacity kneader kitchen robot with functions and accessories specially designed for pastry lovers.
The Moulinex Masterchef is a high-performance pastry cooker. Very useful for making dough, but not very versatile. If confectionery is not your thing or you don't need to work in large quantities, you can skip this section.
All the details of this model are aimed at facilitating your work in the preparation of biscuits, puff pastries, fritters, macarons, and other sweet delicacies. In its 6.7 liter container, it fits everything!
I have noticed that although it has a very robust design, the jar does move a bit during operation. I understand that with a power of 1,500 watts, it is normal. It does not affect the result of mixing, beating, or kneading, but it is a bit annoying.
Both in appearance and operation, you will find a sophisticated device. Its stainless steel finishes are very elegant and hygienic and give the kitchen a touch of exclusivity.
But what matters is its efficiency. It is provided with three accessories to work soft and hard doughs with 8 speeds. Thanks to this and the weight of the device (more than 7 kilos), you will have it very easy to face textures of different densities or make up to 2.6 kilos of dough in one go.
This is Moulinex's highest capacity and most powerful pastry robot. Don't you need something so professional in the kitchen? For occasional or less demanding preparations, you can switch to options such as the Moulinex Oh My Cake (300 watts) or the Moulinex Essential (800 watts). They are more modest but much cheaper models. 
Other important information you should know
The head performs planetary movements in all directions to obtain a homogeneous dough.

It has 4 connectors for optional accessories.

Dimensions of 42.44 x 25.74 x 32.42 cm and weight of 7.24 kg.
Pros
⇒ Easy assembly/disassembly
⇒ Powerful
⇒ Robust
⇒ Large capacity glass
⇒ High-quality stainless steel
Cons
⊗ Takes up a lot of space
⊗ Noisy
⊗ The glass moves if you use high speeds
⊗ Confectionery oriented
Krups Cook4Me+
Kitchen robot with pressure function that you can supervise from an app installed on your mobile devices.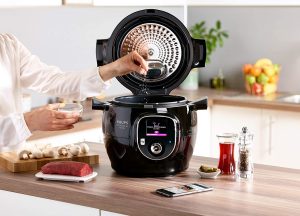 Although it is not at the top of the kitchen robots because it only works as a programmable pot, the Krups Cook4me+ is an innovative proposal. Through a free app, you can monitor the cooking of your dishes and keep the recipe book updated.
The design is the same as that of the Moulinex Cookeo, which belongs to the same business group. That's why you can use your food processor with both the Cook4Me app and Cookeo. However, don't expect much. It is limited to guiding you through the recipe and sending you a notification when the preparation time is complete.
You can also work from the device itself, in guided or 100% manual mode, offering great freedom when making culinary experiments. The location of the screen and controls is a bit awkward, since I'm not too tall I had to bend down on several occasions to see what I was up to.
In terms of performance, the only truly remarkable is that of the pressure cooker. It will be practical for you to make preparations in half the time. Otherwise, it only includes the typical programmable cooker programs: Steam, Brown, Reheat, and Simmer.
In capacity, it is a little shorter than other models in this comparison (4 liters), but in power, it is above average: 1,600 watts that allow slow and fast cooking, to stew or fry and obtain great textures.
The Cook4Me series is made up of two other practically identical models. One of them without a Bluetooth connection, and another with Bluetooth and a practical digital scale.
Other important information you should know
Bowl with non-stick ceramic coating and handles.

The "Ingredients" option allows you to indicate the type of ingredient that you are going to put in the pot so that it can establish the most appropriate cooking parameters.

Dimensions of 37.6 x 35.4 x 35.6 cm and weight of 6.4 kg.
Pros
⇒ Bluetooth control
⇒ Manual or automatic mode
⇒ Pressure cooker function
⇒ Downloadable and expandable recipe book
⇒ Timer and temperature maintenance
Cons
⊗ 5 cooking settings
⊗ Recipes take time to load
⊗ Only for cooking, does not process the ingredients
⊗ The position of the controls is somewhat awkward
⊗ Few accessories
IKOHS CHEFBOT Compact STEAMPRO
Multifunction kitchen robot with WiFi connection, ideal for kitchens with limited space and for recipes that involve chopping hard ingredients, including ice.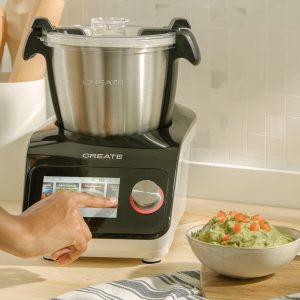 With the Chefbot from the Spanish brand Ikohs, we open the door to the true kitchen robot. Not only does it cook food at temperatures ranging from 37 to 120 ºC, but it also weighs and prepares it in advance.
You can grind, chop, be,t or assemble the ingredients that you are going to use in your recipes. As a processor, it reaches a power of 600 watts and as a cooking pot, it reaches up to 1,000 watts, so you can work with ingredients of any texture or hardness.
As it has suction cups on the base and it is a heavy device, it seemed to me to be one of the most stable options in this comparison. Also, the electronic/digital control panel is located in a good position. Two key aspects to feeling comfortable cooking.
However, I would not recommend it as a first food processor. It is very complete and includes 24 functions and 12 speeds (in addition to turbo and reverse), but the clear instructions "are conspicuous by their absence". It will take more time to figure out how certain programs work than it will to cook your dishes. 
This is the only model in the ChefBot series that includes pre-installed recipes that you can update over WiFi. If it's not a priority for you, you can opt for previous versions (ChefBot Compact) that match it in power and capacity but that come with the recipes in a separate booklet and cost considerably less.
Other important information you should know
The transparent anti-splash lid allows you to see the contents and control the steam output.

The stainless steel bowl has a 2.2-liter capacity.

Special functions for confectionery and heating.

The TouchScreen touchscreen plays multimedia content that is updated by WiFi.

Dimensions of 38 x 34 x 23 cm and weight of 9.72 kg.
Pros
⇒ Compact size
⇒ Process and cook food
⇒ Non-slip base with suction cups
⇒ Steamer (inside and outside)
⇒ Integrated scale
⇒ Turbo and reverse speed
⇒ Over 140 pre-installed recipes and updates
⇒ Lots of accessories
⇒ Dishwasher-safe accessories
Cons
⊗ Takes time to warm up
⊗ The glass cannot be washed in the dishwasher
⊗ When chopping sometimes crumbles the ingredients
⊗ Little information about each program
Cecotec Mambo 10090
Multifunction Kitchen Robot Top model of the Cecotec kitchen robots, with WiFi connectivity and a special spoon for kneading that, provides uniformity and volume.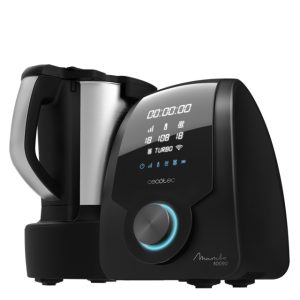 This kitchen robot with WiFi has a price and features very similar to the Ikohs ChefTouch, but I would say that everything is designed a little bigger. It includes two series jugs, one made of steel and the Havana ceramic jug with a capacity of 3.3 liters.
Among its 30 programs, it also has options to confit and poaches like ChefBot, but the results have been more satisfactory. It is a less aggressive model when preparing some recipes and maintains the presentation better.
The control can be done from its large touch screen, very useful for working quickly, as well as from the app. It is more complete because it allows you to change the temperature or speed in any room, and notifies you when the program you have used ends.
The MamboMix spoon deserves special mention, especially useful for those of you who usually work with dough, creams, and sauces. With its special design and its constant SlowMambo movement, it makes liquids mix easily. All in all, I wouldn't use it on too dense dough because it seems a bit flimsy for this use.
Another genuine aspect of this model is the 'zero speed' option, which allows you to use the robot as if you were using a conventional frying pan or pot: by eye. And since you can cook without the lid on, you won't miss a thing.
The Mambo series offers three other models of food processors. The 8590, 9590, and 10070 versions are all older, though they look very similar to each other. But the Mambo 10090 is the only one that comes standard with two different jugs (steel and ceramic) and WiFi connectivity.
If you have any questions, you can see more in my review of the Cecotec Mambo 10090.
Other important information you should know
Digital touch screen.

10 temperature levels between 37 and 120 ºC.

The Mambo app has more than 200 step-by-step recipes that you can share with other food processors.

Dimensions of 39.5 x 25 x 33 cm and weight of 5.2 kg.
Pros
⇒ Process and cook the ingredients
⇒ Built-in scale
⇒ A large number of functions
⇒ Good power
⇒ Extensive recipe book
⇒ Cooker with or without lid
⇒ Manual or guided mode
⇒ 12-hour timer
⇒ WiFi connection
⇒ Integrated scale
Cons
⊗ Improvable Recipe Instructions
⊗ Problems with the application
⊗ Noise and vibrations at maximum power
⊗ The stainless steel carafe is not non-stick
⊗ The low resistance of the Mambomix spoon
⊗ Bulky
 Kenwood kCook Multi Smart CCL450SI
A kitchen station with numerous accessories to process and prepare recipes of all kinds with a high level of customization.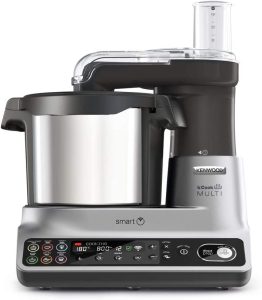 The Kenwood kCook boasts of being the only kitchen robot 100% controllable from the mobile. But today no model introduces the ingredients of the recipe by itself. So he's not that smart.
On the other hand, it does deserve other recognitions such as the large number of accessories that it includes or the ability to automatically recalculate the quantities if you indicate how many the menu is for. So you won't have to throw paper, pen, and math.
The food processor is well-differentiated from the cooking part. It is comfortable to use, but a nuisance when washing it because some ingredients get stuck inside. You have to clean the blades very carefully.
The explanations of the cookbook and the options of the app leave a lot to be desired. And that there is infinity! They are practical as a starting point so that later you can adjust them to your liking, taking advantage of the versatility of this kitchen robot. You will find various groups of reworked recipes on Facebook.
If you have a small kitchen, it is not convenient for you to invest in this model because you will run out of space. Only the steamer is already a hulk of 7.2 liters of capacity, and the bowl of 4.5 liters.
For something smaller in size, you would have to switch to the plain kCook model, which does everything in a single container. The third model in this series is the kCook Multi, but it is the same as the Smart, except that it does not have WiFi connectivity.
Other important information you should know
Its 6 preset programs work with temperature ranges between 30 and 180 ºC.

DirectPrep steerable processing system for grating, chopping, or slicing directly in the pot or a separate bowl with 300-watt power.

The cooking part works with a power of 1,500 watts.

Dimensions of 36 x 25.5 x 29 cm and weight of 7.3 kg.
Pros
⇒ WiFi connection
⇒ Process and cook food
⇒ Steamer
⇒ Step-by-step or manual cooking
⇒ Automatically recalculates amounts
⇒ Dishwasher-safe parts (except blades)
Cons
⊗ Somewhat complicated cleaning
⊗ Inefficient rinse mode
⊗ Unappealing or poorly explained recipes
⊗ Independent scale
⊗ Ingredient jam in processor
Taurus Mycook One
Smart cooking in a multifunction robot with induction technology that facilitates faster heating/cooling.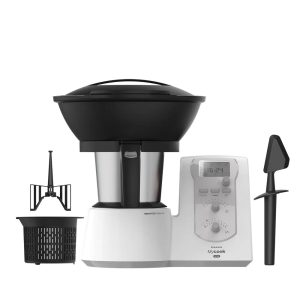 Having advanced options does not imply adding complexity to the process. This Taurus model is useful for all kinds of processing (grinding, grating, chopping…) and preparations (steaming, frying, cooking…) and yet it is very easy to handle.
Everything is done from a few simple controls: temperature wheel, speed wheel, and kneading, heavy or turbo buttons. Suitable for beginners? Of course. But also for those who want to increase the possibilities of their menu!
The printed cookbook and the MyCook club cookbook contain many interesting recipes that are suitable for all models in this series. And I am not referring to a few hundred proposals: there are more than 15,000 recipes available. You won't have time to get bored.
As it is a 1,600-watt food processor with a heating power between 40 and 120 ºC, it is normal for it to play so much. It does not have as much capacity as other models in this comparison (2 liters), but it is enough for a menu for 4 people.
Although the McCook One model is still a benchmark among kitchen robots, it has been surpassed by newer versions: the Taurus MyCook Touch. The concept is very similar, only it has been updated with WiFi connectivity, a touch screen, and a scale with gram-for-gram precision.
This instead is an intermediate option between programmable pots and advanced robots. I would recommend it for small kitchens and inexperienced chefs wanting to expand their culinary horizons.
Other important information you should know
The MyTouch online recipe book is freely accessible and contains countless recipes with information on their nutritional content.

The steamer has a capacity of 4.5 liters.

Dimensions of 36 x 25.5 x 29 cm 7 weight of 2 kg.
Moulinex i-Companion HF900110
With an intelligent system for programming recipes using Bluetooth technology and notifications to the mobile so as not to miss any step.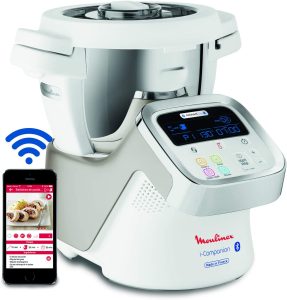 Large family? This multifunction kitchen robot not only processes and prepares food but also does it for 5-6 people. Its 4.5-liter stainless steel container is designed so that you can fully enjoy its advanced features.
With the Moulinex app and Bluetooth technology, you can forget about work in the kitchen until the robot tells you! Once you have started the recipe in the application, it will send you notifications to your mobile if you need to add any more ingredients or if it has already finished the work you had commissioned.
It is a considerable flaw that a kitchen robot with these characteristics and which is around 700 euros does not have a built-in scale. It is compensated by the freedom you have when working in both guided and manual modes, experimenting with times and temperatures between 30 and 130ºC to create your recipes.
Knead, mix, fry, mix, cook, steam… A kitchen robot that does everything, with 18 predefined programs. Once you select the one that interests you, you can forget about the work in the kitchen unless there is something else to add to the bowl.
Have you tried high-end kitchen robots and want to make a qualitative leap? The next step in this same series would be to move to the i-Companion Touch XL, with an intuitive touch screen and WiFi connection.
Other important information you should know
Operating time ranges from 5 seconds to 2 hours.

2 intermittent speeds, 10 progressive continuous speeds, and 1 maximum intermittent speed.

The keep-warm function lasts for 45 minutes.

Dimensions of 43.4 x 36.2 x 44.6 cm and weight of 7.52 kg.
Pros
⇒ Process and cook
⇒ Great capacity
⇒ Bluetooth programming
⇒ Keep warm function
⇒ Guided or manual cooking
⇒ Dishwasher clean (except blades)
Cons
⊗ No built-in scale
⊗ The variety and quantity of recipes could be improved
⊗ The upper steamer does not come standard
Read another article about How to find the best baby food processors
Our recommendations
---
Still not sure which food processor to buy? Perhaps these recommendations will help you.
The best multifunction programmable food processor
Compact design and great features. With the Moulinex i-Companion, you can now make room for fast, simple, and tasty cooking at home.
It is a multifunction robot with Bluetooth connectivity. It is at the level of some high-end models, but for a price that does not reach 700 euros. With only 5 kitchen utensils it does the work of knives, pots, and pans, saving you a lot of space and time!
It has 18 cooking programs, but you can work freely in manual mode and make your preparations with 13 speeds and temperature ranges between 30 and 130ºC.
Only one but: it lacks an integrated scale to be able to work faster.
The best quality-price kitchen robot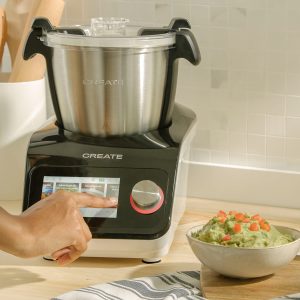 Is it possible to find a recommended and efficient food processor for less than 300 euros? Yes. And as proof, the Ikohs ChefBot Touch.
It is a very versatile device, with power within the average (1,000 watts) and sufficient capacity to prepare menus for up to 4 people.
It includes a large collection of accessories that allow you to chop food, beat eggs, assemble sauces, and, of course, cook recipes with temperatures from 37 to 120ºC.
In addition, it has a somewhat smaller size than most kitchen robots of these characteristics, so it will fit without problems in kitchens without a lot of space.
The best cheap kitchen robot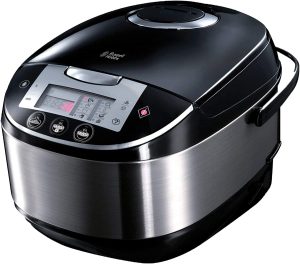 Compared to advanced food processors, it is clear that the Russell Hobbs Cook@Home has its limitations.
However, considering its benefits, it is the cheapest option among the alternatives for less than 100 euros. Its 900-watt power allows you to work comfortably on all kinds of preparations for 4-6 people.
Among its 11 programs, it includes a breadmaker function that offers very good results. If you are a lover of dough and want a versatile and easy-to-use helper, this is an economical and very complete option.
Do not miss our article on cheap and good food processors.
The best food processor for babies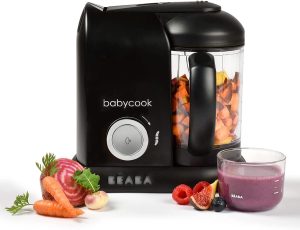 The baby menu presents its particular requirements and there are food processors specially designed to fit them.
Babycook Solo from Beaba is a very practical solution for mothers and fathers with babies. It has 4 functions that are as basic as they are necessary for feeding a small child: it grinds with different levels of intensity, steams, heats, and defrosts.
The size of the glass is perfect for the quantities of food with which you are going to work (1.1 liters) and it is provided with a removable container that collects the cooking water so that you can take advantage of the minerals and vitamins that remain in it.
You can see similar models in my article on the best food processors for babies.
The best kitchen robot with wifi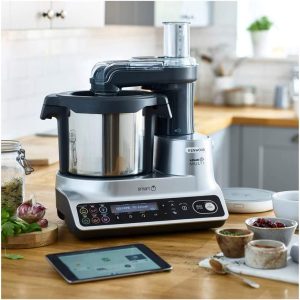 Kenwood kCook Multi Smart is more than just a step-by-step multifunction cooking robot.
When you get the most out of it is cooking in manual mode, since your recipes are a bit scarce. The WiFi connection is an extra that you will get a lot of use out of. If it is true that the app's recipes can be improved, it is a very complete application.
You can adjust the amounts depending on your needs or find alternative ingredients if you don't have what you need in your pantry.
With the tailor-made recipe and with total freedom, you can activate the necessary functions from your smartphone and smart alerts keep you informed of the evolution of the menu.
The best professional kitchen robot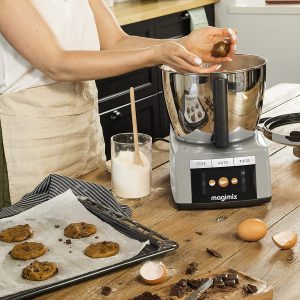 Kitchen robots are not only for those who do not know how to cook but for those who enjoy doing it. Cook Expert Premium XL is a kitchen robot model recommended for professional use and big preparations.
Its large capacity 3-in-1 container (thermos, mixer, and steam basket) allows you to prepare menus for up to 16 people, with the texture, flavor, and presentation that they would have if you worked on each dish one by one.
The recipe book and the application are full of affordable gourmet proposals for any level of experience and the quality of all the accessories, from the blades to the whisk, is exceptional. Its 1,800-watt motor supports an induction heating system that is much more efficient in maintaining and distributing heat than electrical resistance systems.
kitchen robot buyer's guide
---
Would you like to have a kitchen helper available 24 hours a day?
A kitchen robot will not give you a conversation (at least for now…), but it will be able to fulfill many of the functions of a chef's assistant.
And what do I say, helper! Many times the kitchen robot is the one that takes the lead. It tells you the ingredients you need, the type of preparation, and the cooking time… Come on, it makes it easy enough for you to work with the menu with confidence.
And if the worst thing you are good at is preparing everything before getting down to work, don't worry. With the alternative of multifunction robots, you can also forget about chopping, beating, or kneading: they take care of everything. 
Benefits of kitchen robots
We have already reviewed the main functions and advantages of using these cooking machines. But what other aspects make it worth buying one?
Apart from the time savings that cooking with these devices entails, the possibilities of the menu are significantly expanded. Suddenly you go from the four dishes of a lifetime to many more elaborate proposals with less effort.
On the other hand, the ingredients are used better because you work with exact amounts, so you always know what you are going to need. This way you optimize the space in the fridge and the pantry and you have everything clearer when making the purchase.
This organization is also reflected in the organization of each day's menu. Some devices can be programmed up to 24 hours in advance or controlled remotely from a mobile app.
And most important of all. The quality of the results! Do not think that not doing everything by hand and using countless saucepans, knives, and ladles make things taste worse. The dishes you cook in one of these kitchen robots are as tasty as those of grandmothers (grandmothers who cook well, of course).
How does a food processor work?
The food processor automates the preparation of any recipe … Anything you are prepared for. You must take this into account because not all kitchen robots are trained to perform the same functions.
However, the way of proceeding does not vary too much from one model to another, regardless of whether it offers more or fewer features. In essence, the system is always the same: you program the recipe you want to prepare and enter the necessary ingredients. 
Normally, an advanced food processor works both in automatic mode, with guided recipes, and in manual mode, so that you can use its options as you, please. In some cases, you can even schedule it so that the recipe is ready at a time that suits you best.
If you use the method of guided recipes, it is likely that throughout the process you will have to exchange some of your accessories to chop or mix ingredients. But in any case, it will always be much faster and more efficient than processing them by hand.
Difference between kitchen robot and food processor
Generically, the term 'kitchen robot' is usually used to talk about any device that automates the food-cooking process in some way. Not that it is entirely a mistake, but there are some nuances.
When the device we are referring to is only used to cut, chop, chop, or knead, it is not a food processor but a food processor. These devices do not cook or weigh the food but only present it with the appearance it needs for the final recipe.
They do not usually take up much space and offer interesting functions that will undoubtedly save you time in the kitchen, especially if you combine them with a programmable pot. But do not get distracted: they are not programmed and they do not cook the food.
Programmable juicer or food processor?
Both will make it easier for you to prepare food, but the robot will do it with a higher level of autonomy (which is not a robot for a reason!). On the suitability of each of them, everything will depend on your expectations. Let's see why.
The programmable pot is designed so that you place all the ingredients inside, program the time, and forget about cooking. You can go out to do an errand with the certainty that when you return the lentils will not have stuck to you.
It should also be borne in mind that pots are cheaper than robots and their consumption is lower. Although they are also usually accompanied by recipe books, they have limited functions.
What happens when you put together the features of a programmable cooker and those of a food processor? The result is the food processor, a device that goes one step further.
As it is provided with advanced functions, food preparation is much more complete. A programmable pot may require that you sauté the ingredients before putting them in the container or that you cut them in a certain way, but the robot does not. 
It is a multifunction device: it cuts or chops, bakes, or cooks, and it guides you through the entire preparation process so that you only have to follow its instructions. Impossible to go wrong!
Is Thermomix the best food processor?
Although one is not very into these kitchen robots, the Thermomix brand is known even by those who have never made a French omelet. The reason? Having been the first.
The German company that invented it (Vorwerk) has a long history behind it. That has not only earned him fame but great competition. There are numerous lawsuits filed against other brands for having (allegedly) copied their patent.
And it is that until a few decades ago Thermomix was not only the best kitchen robot. He was the only one! But the truth is that in today's market, there are multifunction models that are just as efficient and much cheaper.
Thermomix is ​​not sold in stores but through its network of commercial agents in more than 60 countries. That is what gives it a point of exclusivity that for many is important.
However, with the emergence of new kitchen robots that combine processing with cooking and programming, I would think twice before making such a large outlay knowing that other alternatives also measure up.
Best food processor brands
The main brands of small appliances also have their models of kitchen robots or some similar option. I am referring to firms as well known in the domestic sphere as Taurus, Moulinex, Cecotec, Russell Hobbs, Bosch, or Icons. They have trusted names in an increasingly competitive market.
The popularity of these devices has forced the market to adapt to all kinds of pockets. If these seem like overpriced brands, you can opt for the cheap alternatives offered by Lidl and Aldi.
The Lidl catalog includes the Silver Crest Monsieur Cuisine Connect, a multifunction kitchen robot that has become popular for its price (it does not reach 400 euros) and its good results. They call it the Lidl Thermomix and, apart from the differences, I have to say that it is not bad at all for its price. You can download recipes via WiFi and prepare them by following the instructions on its large LCD touchscreen. It has 10 different cooking functions (including steam), a capacity of 3 liters, and a maximum power of 1,200 watts. 
For its part, Aldi has the MultiCooker Touch by Master Pro. It is a robot equipped with 9 automatic programs, 12 speeds, countless accessories, and a power of 1,000 watts, perfect for cooking all kinds of recipes in its 3.5-liter container. It also includes a WiFi connection and a color touch screen. Its price is similar to the Lidl proposal.
Keys to choosing a kitchen robot
"I have it clear… I need a food processor!" Now we just need to know how to choose.
Kitchen robots can include additional features that make your job even easier. Do you need your model to meet all the requirements? Probably not.
These are the basic specifications that you should take into account in your choice and give them the priority they deserve based on your expectations:
Type of kitchen robot: we have already said that there are only to prepare the ingredients (processors to cut, chop, squeeze, knead…), only to cook them (programmable pots), or to do both things in a single device (multifunction robots ) and have the dish ready when the selected program ends.
Power: it is closely related to the type or amount of food with which you can work. Robots that are also used for chopping, grinding, or shredding need a minimum power of 1,000 – 1,200 watts to work efficiently. The ideal is 1,500 watts, but the price and consumption rise.
Capacity: more does not always mean better. With 2 liters of capacity, you can cook a menu for 4 people, although with 3 liters you will be more comfortable. From 5 liters you can already consider cooking in a big way.
Level of automation and programs: the ease of preparing recipes and how aware you want to be of the device depends on them. Some models do everything from scratch and others go step by step. Just as important as the number of features available is the ease of use. Touchscreen models are much more intuitive.
Materials: The bowl is the main component. The kitchen robots of the highest category resort mainly to stainless steel for the manufacture of this and other accessories. It is the most resistant and hygienic material. Ceramic coverings have a somewhat lower price, but they are not as resistant.
Maintenance: some high-end models have a self-cleaning function, but the most affordable ones do not. Make sure the pieces are dishwasher safe and you'll save a lot of time.
Extras and accessories: they add value to the food processor, but also increase its price. The really important thing about these extras is that they are of quality and that you are going to use them. My favorite additions, because of how practical they are, are the integrated scale, a large or upgradable recipe book, and a good cooking basket or external steamer.
Kitchen robots seem to me to be a great invention, both for those who are not very skilled in handling the stove and for expert chefs who want to optimize time in the kitchen.
Review what are the culinary needs of your home and consider the idea of ​​acquiring one of these devices. Now you have all the information you need to make a decision.
FREQUENT QUESTIONS
Is the LIDL food processor good?
The LIDL kitchen robot is the Monsieur Cuisine Connect model and, as you probably know, the supermarket chain does not have it permanently in its online catalog, in fact, since the beginning of 2021 it is no longer sold in Spain, so you have to buy it directly in Germany. It is a very well-valued food processor and has a very competitive price. The latest model has a touch screen, Wi-Fi, pre-installed recipes, and an integrated scale. A luxury for a very reasonable price, but difficult to obtain.
What is the kitchen robot for?
A kitchen robot is not going to make the food by itself, after all, you have to follow a recipe, prepare the ingredients, add them following the steps, and, ultimately, you have to be aware. But there is no doubt that it saves you a lot of work since it weighs the ingredients, fries, crushes, chops, and much more. You have to see it as a kitchen assistant who takes your work away.