About Philips oil-free fryers
Some people describe Philips oil-free fryers as kitchen marvels that produce outstanding results because they can cook French fries, sweet potato fries, meatballs, and croquettes, as well as chicken and fish, without the use of a lot of oil.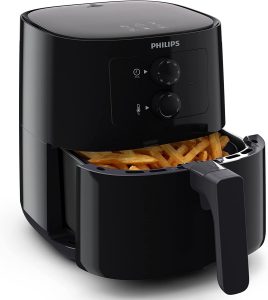 Though it will surely take some trial and error before you figure out the optimal temperatures and perfect cooking times, you will have the help of the manuals and recipe books that are also included with these appliances, and everything will be much easier.
Another point in favor of buying a Philips oil-free fryer is that they are really easy to clean since the inside of the frying pan is non-stick. Because the baskets have a stainless steel grate bottom, soaking them in water will suffice to clean up any spills.
In general, users like Philips oil-free fryers because they are quick to cook, easy to clean, and the food tastes great. However, keep in mind that the cooking surface on some models can be small compared to pots and pans. So portion sizes will need to be small as well.
Kitchen Products Buying Guides
The best fryers without oil have indeed become essential equipment in the kitchen, especially for those who lead a healthy lifestyle or are trying to lose a little weight. However, there is still a wide range of kitchen products that you will probably want to buy now or at some other time.
About the Philips Company
The company Koninklijke Philips NV, which is known worldwide as Philips, is among the largest and most important in the world in terms of technology, and although its main offices are in Amsterdam and other cities in the Netherlands, today it has a presence in the majority of countries.
The company has made a name for itself in the healthcare, lighting, and consumer wellness markets, as well as in services and lifestyle.
They have for sale household appliances, televisions, audio and video equipment, multimedia, and accessories, but also lamps, professional and consumer lighting, lighting systems and controls, car lighting, and LED lights, to name a few.
The Philips company was founded in 1891 by Gerard Philips and his father Frederik, a Zaltbommel-based banker who financed the purchase and setup of a modest vacant factory building in Eindhoven, where the company began production of carbon-filament lamps and other electrotechnical products in 1892.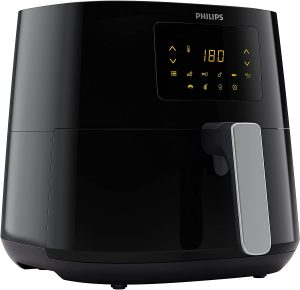 Features of Philips oilless fryers
Although at first people were skeptical about air-frying foods and frying without oil was unheard of, with Philips' innovative proposal and its results, every day there are more and more fans of this new way of preparing food.
And it is that, in the case of Philips oil-free fryers in particular, numerous advantages can be highlighted, such as those listed below.
The system that works: The air fryer circulates hot air inside a small chamber. The little cyclone of hot air makes contact with the entire surface and every corner of the food to create a satisfying crunch. Unlike other options, in the case of Philips, cooking is uniform, with results very similar to frying with oil.
Better taste: Although it is not necessary to add a lot of fat, users of Philips deep fryers say that compared to other deep fryers without oil, these devices keep food tasting nice, which will not make you miss greasy frying.
Cutting-edge technology: Philips has been introducing us to intelligent design technology since its inception, and with the introduction of the oil-free fryer on the market, they certainly scored another point. It is no coincidence that other large companies have decided to present similar models.
Price range: Being the original inventor of the air fryer, Philips has numerous models on the market in all possible price ranges, and they all have one thing in common: they do a very good job of making healthy fried food that tastes just like the real thing.
Types of Philips oil-free fryers
Philips, being the forerunner in this matter, has a few models, among which the following stand out:
Philips XXL: The Philips Airfryer XXL is the kitchen helper you need on your counter. The unique technology that fries food with hot air and only a tablespoon of oil can replicate the best dishes. Plus, it can capture and remove excess fat from food with its powerful TurboStar technology. It has enough space to fit a whole chicken or two bags of chips in the basket. It cooks up to six servings at once and does it all faster than the oven.
Long Live Philips: It features a fry basket roomy enough to prepare breakfast, lunch, dinner, and dessert for two. Starfish's internal technology circulates a continuous stream of heat around the food, and with less than a tablespoon of oil, it produces crispy-golden fries, chicken feet, battered fish, and more. It is compact, easy to clean, and affordable.
Turbostar HD9641: It is a multi-function appliance with a quick control dial that allows you to choose from five preset temperature and time settings or select settings more suitable for your food. TurboStar technology circulates heat and air, so food also cooks evenly and with 75% less fat than traditional frying. Among its advantages is the LCD screen that shows the time and temperature and works with the brand's mobile application.
Philips Advance XL: It's a perfect appliance for family meals, as it has a large 2.65-pound cooking basket that can make enough food for five. Temperature controls are fully adjustable, and a smart preset button memorizes the settings for your favorite dishes so you can just set them. Safety features include a ready indicator and auto-shutoff, which are nice touches when you have small children in the kitchen.
Other Philips kitchen products
But Philips does not only stand out for its fryers with oil, as it also has many other useful products for kitchens, such as the following:
Glass blenders

Kitchen robots

Blenders

Hand blenders

Machines to make fresh pasta.
Conclusion
Air fryers are a relatively recent invention that has taken many home and restaurant kitchens by storm. They use less oil than traditional frying pans, producing delicious food without a ton of extra fat.
The best deep fryers leave very little room for cooking errors, as air-fried foods come out of the device crispy and delicious.
And the most popular brand in the world in this matter, because it was the one that introduced fryers without oil at the end of 2010, is undoubtedly Philips. For this reason, it should be among your purchase alternatives.