The growth of the Valencian brand Cecotec in the field of household appliances has been incredible. Its product catalog is very extensive and, if it stands out for something, it is not only for its quality but also for the wide variety of range that it offers in each line. And an example of this is the Mambo kitchen robot.
I recently had the opportunity to try the Mambo 10090 model, one of the best kitchen robots for its good value for money and one of the best sellers. 
After putting it to good use for several weeks, I have been able to draw conclusions about it. From now on I tell you that I liked it a lot, although there is always some little thing that I think could be improved. 
Main characteristics and versions, models, or variants
---
The Cecotec Mambo 10090 robot has very good power, which allows it to carry out 30 different functions, including zero speed which allows you to cook, boil or fry without selecting any speed as if it were a pot or a frying pan.
In addition to its stainless steel jug, it includes a special ceramic-coated jug to prepare the most delicate dishes, the famous Habana jug.
And it has accessories that seem very practical to me, such as the MamboMix spoon that allows you to stir food while cooking at a low temperature.
However, it is only one of the options in Cecotec's Mambo line, a wide range that adapts to all kinds of needs and budgets. Before continuing, we are going to review all the models, from the most advanced to the most basic:
Mambo Model
Mambo 12090 Habana: This is the most complete version of the Mambo food processor in terms of features and, as expected, also the most expensive. This model has all the basic features of the Mambo (power, capacity, speeds, and accessories) and includes the Habana jug just like the 10090, but it incorporates a 7″ TFT touch screen that allows for much more intuitive operation. In addition, it allows you to download recipes to the robot to be able to use it without a Wi-Fi connection.
Mambo 12090: Same as the 12090 Habana model with one exception. This version includes the stainless steel jug but does not have the Habana jug.
Mambo 10070: It is the most similar to the 10090, but, unlike this one, it does not include the Habana jug.
Mambo 9590: This model does not have connectivity. But compared to the 9090 model, the lid is improved and includes the Habana jug.
Mambo 9090: It has no connectivity and the cover is basic. But it includes the Havana pitcher. 
Mambo 8590: This version, also without connectivity, does not have the Habana jug. But it does incorporate the modification that improves the lid, which is also present in all models from 9590 onwards. 
Mambo 8090: The same characteristics as the 9090 model (power, capacity, temperature, and speeds) and the same accessories. Like that one, it also doesn't have the improved lid or connectivity, but unlike this one, it doesn't include the Havana pitcher.
Mambo 7090: It fulfills the same functions, has the same characteristics (power, capacity, temperature, and speeds), and includes the same basic accessories as the models mentioned above. However, it does not include the Habana Pitcher, Improved Lid, or Scale, and does not have connectivity.
Mambo 6090: This is the most basic model of the entire range. It is similar in features to the 7090, but it has fewer features. It does not blend, saute, reheat, or cook at a low temperature, nor does it allow slow cooking and zero speed.
Analysis of the Cecotec Mambo 10090 kitchen robot
Mambo 10090 is one of the upper mid-range options within Cecotec's line of kitchen robots. It stands out for its intelligent system that simulates a traditional fire and prevents overheating. Also, its double-gear motor allows more efficient performance at all speeds. 
It has a large touch panel from where all its functions are controlled and adjustments of temperature, speed, time, etc. are made, with a fairly intuitive operation. It is a very easy-to-handle robot.
In addition, it is versatile to the point that it allows you to prepare up to 4 things at the same time, since the jug, the boiling basket, and the steamer can be used at the same time on its two levels. 
If you prefer to make your recipes or improvise, you can use it in manual mode, since it is completely customizable (you can adjust the time, speed, temperature, and heat power as you wish) so you can prepare all kinds of dishes. In addition, it has a timer that allows you to program it for up to 12 hours.
Pitcher: materials and capacity
In this case, we would be talking about jars in the plural. The Mambo 10090 robot includes two quality jugs, the basic one made of stainless steel, a resistant material that retains heat very well (ideal for slow cooking), and a special one, the Havana jug. The latter has a non-stick ceramic coating that makes it ideal for preparing more delicate dishes such as rice, custard, or even dough. 
The jugs are 3.3 liters, however, you have to take into account that their real useful capacity is 2 liters (since you cannot use it full to the brim), so you can prepare about 3 or 4 food rations Regarding this, what you just found out when you have the robot in your hands, I think that the manufacturers could be a little more honest and not try to win the market by exaggerating the characteristics. 
Does it have good power?
Ideally, a food processor should offer at least 1000 W of power to be considered a good option, since with less than that there are many things that it will not be able to do or, at least, not effectively. So above that value, we are already facing a fairly powerful device. 
Well, this robot (and all of the Mambo line) has a power of 1700 W, which allows it to work in a temperature range between 37 °C and 120 °C and heat up quickly. In addition to making it possible for it to carry out a good number of functions, which makes it an excellent helper in the kitchen.
Functions and recipes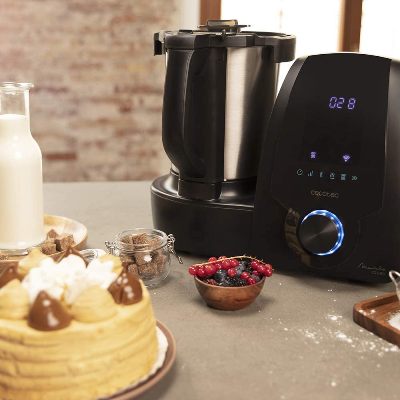 Like all the models in the Mambo line (except the mambo 6090), this food processor can perform 30 functions: it chops, chops, blends, grinds, sautées, grinds, pulverizes, grates, reheats, whisks, is a yogurt maker, assembles, emulsifies, mixes, cooks, stirs, steams, poaches, confits, kneads, cooks at low temperatures, boils, keeps warm, ferments, cooks precisely grade by grade, cooks in a bain-marie, slow cooks, can be used with zero speed and has a SlowMambo function and a turbo function.
Among them, I would like to talk in particular about the sofrito function that can be used without the need to set speed, as if it were a saucepan or a frying pan. Or at maximum temperature and on the highest power for when you need to brown food, with the advantage that it allows you to cook without a lid. 
On the other hand, I also find the SlowMambo function interesting, which, combined with the MamboMix spoon, allows you to cook at a low temperature, stirring all the time as if you were doing it manually in the pot. Thanks to this accessory, it is possible to dispense with the reverse or reverse function that other robots include to move food without cutting it.
About recipes, the robot includes a printed recipe book, although quite scarce, and offers a greater variety of preparations in the App (which also sends you alerts during preparation), on the web, and on the Youtube channel of Cecotec. However, in these last two I have come across recipes that I consider are not very well explained and some even have steps missing. 
Security
Security is a great point in favor of this model. The mambo 10090 has, on the one hand, the Security Check System, one of the most advanced security systems to place and remove the blades easily without the risk of cuts. 
On the other hand, an improvement added by Cecotec in the latest models: the lid with a safety lock d. It cannot be opened only by turning the closure, but at the same time, a trigger must be unlocked. 
However, to avoid accidents, Cecotec recommends:
Do not exceed the limits of the jug when filling it (up to 2 liters when cold and up to 1.5 liters when hot)

Use the Mambo Mix Spoon only up to speed 3 and the butterfly, maximum up to 4.

Use caution when inserting and removing the blades.

Do not touch the jar while it is hot.

Make sure to close the lid correctly.

Never open the lid while the robot is running (unless a lidless function is being used).

Do not move the robot while it is running. 
Accessories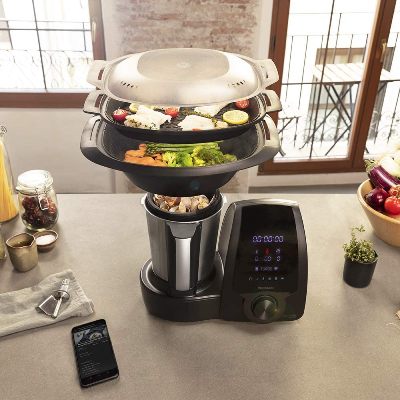 The Mambo 10090 robot does not include a large number of accessories, however, the ones it does have are practical enough:
Two-level steamers. It stands out for its good capacity. 
Boil basket.  It adds another level to cooking, as it can be used at the same time as the jug and steamer. 
MamboMix Spoon. It is used to stir food in slow cooking and, as it does not cut, it is also useful for kneading. 
Butterfly. It has a silicone reinforcement at the bottom to better scrape the mixture from the bottom of the jar.
Spatula. It is covered in silicone, so it is very useful for extracting the preparation from the jar. Although, I find it a bit stiff. 
Havana additional pitcher. It is also made of stainless steel, but it has a non-stick ceramic coating. It is ideal for the most delicate preparations, especially those most prone to sticking. 
Cleaning
The most tedious thing when using this type of appliance in the kitchen is usually it's subsequent cleaning. Unlike others, whose jug has parted with connections that cannot get wet, the Mambo stainless steel jug is dishwasher safe. The same with the rest of the accessories, which greatly facilitates their maintenance. 
The only exception is the Habana jug, which, as it has a ceramic coating, is much more delicate and can be damaged by machine washing, so, in its case, cleaning must be done on the tap with a delicate sponge and soap (not use abrasive cleaners).
The exterior of the robot is made of plastic, so if it gets stained, it can be cleaned with a damp cloth.
Configuration and connectivity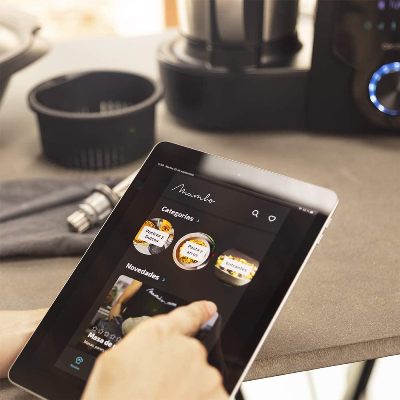 The Cecotec Mambo 10090 has Wi-Fi and App connectivity, so you can configure all the cooking parameters and follow the step by step from your mobile or tablet. During the process you will receive alerts, so you can take the opportunity to do other things in the meantime. 
This model does not have a TFT screen like the superior model (Mambo 12090), but the configuration from the touch screen is quite simple since its operation is very intuitive. 
Alternatives to Cecotec Mambo 10090
The competition in food processors is tough, and there are alternatives (for a similar price) that are also very interesting.
Taurus Mycook One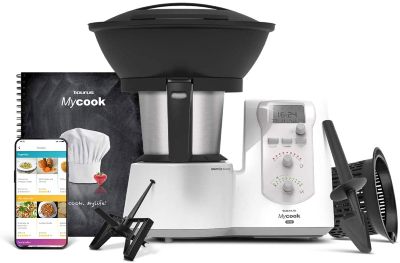 Although at first glance it seems somewhat simpler than the Mambo, the Taurus Mycook One is also a very complete and versatile robot. Although it is advertised with only 15 functions, the truth is that its description is humble, since it does many more things, for example, you can use it as a yogurt maker, among other things. It has a little less power than the Mambo, but it is not one of the weak ones (1600 W). And the useful capacity is also 2 liters. 
As for accessories, it has the basics, but it does not have the two-star utensils of the Mambo, the spoon, and the ceramic-coated pitcher. 
The control panel is not tactile, it is operated with buttons, but it is quite easy to configure. And it also has a recipe app. That is precisely one of its strong points since the App offers more than 12,000 recipes, which also include nutritional information.
Ufesa Totalchef RK5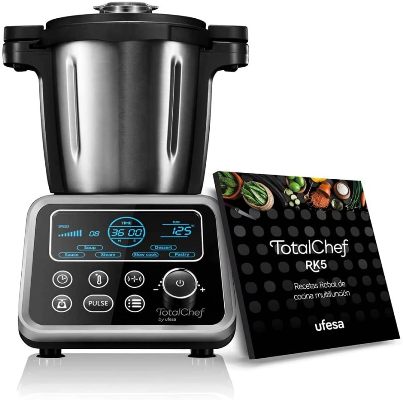 The Ufesa Totalchef RK5 is another option similar to the Mambo 10090 that we can find right now. About the functions that it can carry out, it is somewhat simpler than the Mambo, since it has 20. However, in terms of power, they are equal, both are 1700 W. 
Don't be fooled by its 3.5-liter jar, because as is often the case, its useful capacity is also only 2 liters, so the number of portions that can be prepared is like that of the Cecotec model. 
It includes a paper recipe book with 150 recipes and offers some more on its official profiles on social networks. But it has no connectivity or App.
As for accessories, it includes one similar to the MamboMix spoon, the mixing paddle, which is quite practical both for preparing sauces and when you are preparing the dough. 
What does not convince me about this model is that it does not have a handle (it has tabs), so it is somewhat difficult to dump the contents of the jug. 
Moulinex ClickChef HF4SPR30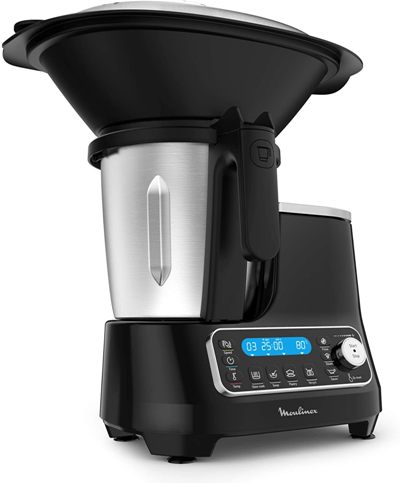 The Moulinex ClickChef HF4SPR30 has a little less power than the Mambo (1400 W), but it is not short on functions, since it is capable of carrying out 32 different ones. And it can work in a temperature range between 30 and 120 °C, so it is used to prepare a wide variety of dishes.
Regarding the recipe book, it is somewhat smaller than that of the other models, but it has variety. Of course, it does not offer connectivity or an App.
The control panel is a bit simpler than Mambo's and it's also quite intuitive, you quickly learn how to use it. 
One thing, however, that is different and I like it a lot is that it has a separate scale. I find it very useful, especially when preparing pastry recipes. 
Personal opinion and conclusions
Whether you like to prepare elaborate recipes or simple dishes are your thing, the Cecotec Mambo 10090 can be a good investment for your kitchen.
It is a very versatile robot and above all, practical. After having tried it, I am left with a very good impression of its accessories, which I consider to be very useful and well-designed. The MamboMix spoon and the Habana jug are great successes. The spatula could be a bit more flexible, but that's asking for more.
And, on the other hand, I like that it can be controlled by the App and that it sends you warnings during the preparation, since you save a lot of time, by not having to keep an eye on the robot.
What I don't like so much, as I mentioned, is that in the recipes on the web and YouTube, not everything is well explained, and the printed recipe book is quite brief. 
Within the upper mid-range options, the Mambo 10090 food processor seems to me to be a very good choice. If you want to opt for a more premium model you can level up with the Mambo 12090 Habana. And if, on the other hand, you have a tighter budget, in the same Mambo line you have the 10070, a cheap and good kitchen robot, whose only difference with this one is that it does not include the special pot with ceramic coating.