The Kitchen Robot is the perfect tool for cutting, slicing, shredding, and preparing many recipes. It has become a boom in the market, especially for its induction technology and for being equipped with innovative programs and offering exceptional power. But cleaning all your removable parts can seem like a big hassle because it requires a bit of a painstaking process.
Do not panic! Carrying out a quick and effective cleaning of your Kitchen Robot is only a matter of common sense. And now, of course, the mistakes that must be avoided so as not to hurt ourselves or avoid irreversibly damaging this famous food processor.
Following useful tips will make the cleaning process faster and guarantee many years of use. That cleaning does not prevent you from preparing healthy, tasty, and beautiful recipes with fresh fruits and vegetables. In this article, we want to share some tricks for quick and efficient cleaning of your Superchef Kitchen Robot. So that you can keep it in optimal condition.
Only 10 minutes of your time are enough to clean this food process if you take our instructions in mind. Be careful, it must be specified that this kitchen robot, as well as being easy to use, is also easy to clean. Although certain precautions must be taken, of course. Now yes, let's get to the point. 
Let's start with the tools that you will need and that is not many. You must have within reach mild dish soap, wipes or sponges, baking soda, and a nylon brush (if you wish).
Outside cleanliness
Before cleaning the body or the outside of your Kitchen Robot for the first time, it is necessary to know that this food processor is made of three layers: one of stainless steel, another of aluminum, and the last of non-stick.
Should we be alarmed by it? No, these materials are easy to clean. You should wash the outside of the robot with a soft, damp, and slightly soapy sponge. And, then let it dry thoroughly. Of course, you have to focus on cleaning the temperature sensor.
Never and under no circumstances should you submerge the device in water because the motor will be irreparably damaged if it gets wet. This applies to almost every food processor, so this information is not new.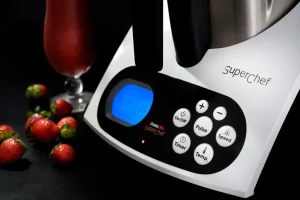 Is your kitchen robot very dirty?
If after many years of use, your food processor is particularly dirty and a simple cleaning by hand is no longer enough. But don't panic! There is a very useful method that will help you make your body look almost like new.
First, pour ½ liter of hot water and 3 tablespoons of baking soda into a container. Mix the ingredients well, dip a sponge into the mixture, and start cleaning the robot's container as you always have.
When using a sponge, it's important to be cautious not to oversaturate it with water. Oversoaking the sponge can cause water to penetrate its internal parts, which can lead to damage to the engine over time. Therefore, it's recommended to moisten the sponge just enough to get the job done without causing harm.
Proper care of your sponge is crucial for its longevity. By following the correct usage instructions and handling it with care, you can ensure that it lasts for many years to come.
Disassemble its deployable parts and clean them
As for your accessories or deployable parts, it is important to wash them according to the material they are made of. Glass and stainless steel can be washed in the dishwasher without problems. But it is better to be more careful with plastic.
And is that hard plastics, with time and the high temperatures of the dishwasher, can be damaged and lose their shine. So our advice is to wash them preferably by hand and limit the use of the dishwasher to only the indicated parts.
It is also advisable to wash the chopping blades by hand. So that they retain their sharpness, but use a nylon brush to avoid cutting ourselves. If you prefer not to use the dishwasher, all removable parts of the food processor can be washed in warm water with mild dish soap. You can leave them to soak for a while if you don't want to wash them right away. Do not rub the parts of the processor with detergents or abrasive soaps. Or, the removable parts other than the metal blades can be washed in the dishwasher on the top rack.
Completely dry the removable parts of the processor and reassemble them and keep them in an accessible place, in case you use the machine regularly.
Can you prewash its interior?
To pre-wash the interior of any food processor that closes with a dishwasher-safe lid, nothing could be simpler: just put some water and baking soda in the device's container, and let it run for about 30 seconds at full power.
It has a self-cleaning menu
One of the peculiarities of many Kitchen Robots that make them unique robot of its kind is that they integrate a self-cleaning menu. It consists of a function that carries out a thorough cleaning of the circuits inside, including the steam expulsion valve.
Of course, this function is not advisable to do it very frequently, it is enough to activate it once a month. But everything will depend on the use you are going to give yourself. If you use it daily, you can shorten the self-cleaning period to 15 days, for example. 
In general terms, the cleaning process of these food processors is quite simple. It is even easier than many people think because it does not have dirty utensils. And it is that everything is cooked in a bucket. So it stands out for not splashing or dirtying the environment.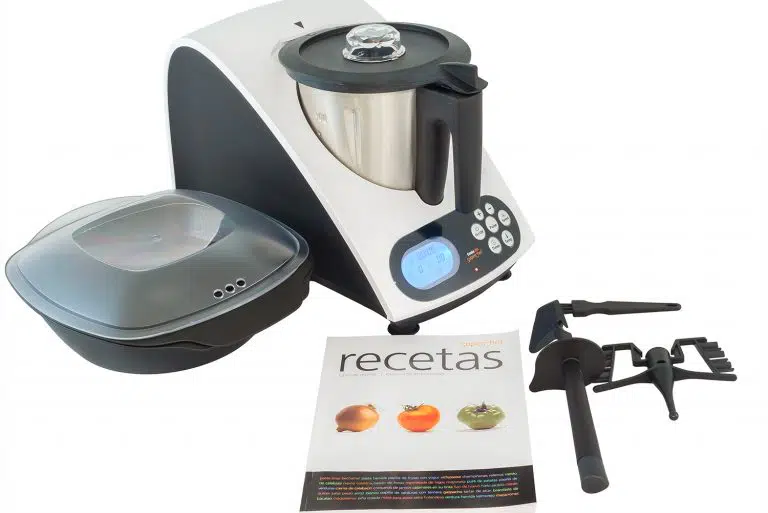 Important keys
For quick and effective cleaning of your Kitchen Robot, we do not have to complicate our lives, as we mentioned at the beginning of the post, it is only a matter of common sense and taking some precautions. However, it is worth reviewing the most important factors when carrying out this activity:
Clean the food processor after each use to keep it sparkling clean.

It is important to unplug it before starting the cleaning process.

Much of the parts of this appliance are removable. In addition, you can easily wash its interior and steam lid.

Its outer part is compatible with the dishwasher.

In the case of the inner body, the casing, and the cleaning valve, you can sanitize them.

Use a damp cloth and one that is not soaked. You can add a little soap, especially if the exterior of the device has traces of grease.

Avoid the use of detergents or corrosive products.

Make sure that no water enters the motor part.

Using nylon brushes can help clean the blades without risking cutting yourself.

Be sure to dry all the parts well to prevent bacteria from growing and damaging both the surface and the components of this food processor.

If we talk about the maintenance of the internal parts of this type of product, some models on the market need to be "greased", especially in the motor connection parts. In this case, we recommend following the manufacturer's instructions to obtain more clarification on how to proceed, maintain and clean these parts of the Kitchen Robot.
Conclusions
At first glance, the task of quickly and efficiently cleaning your Kitchen Robot in just 10 minutes may seem impossible. However, with the right approach and a bit of planning, it can be accomplished. In this article, we will provide some tips and tricks to help you easily carry out this daunting task. The technology with which this cooking robot is equipped makes it possible for us to clean it
Of course, there are three general rules for doing this safely and efficiently. The first is to carry out the procedure described in this article after using the food processor. Second, never clean it with a sponge or an abrasive product because you will risk scratching its surface. And third, never submerge the device in water. Prevent the liquid from coming into contact with the motor.
Regarding its self-cleaning function, you can use it every month or it is also possible to extend the periods if you use the product very little.
The fact is that if you follow these recommendations you will be able to keep your Kitchen Robot as new. You will prevent it from causing malfunctions after cleaning. Logically, this last situation you do not want to happen because this device is not cheap.