About fryers without oil
Oil-free fryers are definitely in fashion, and not for any reason other than the many benefits they offer to those who decide to buy them. And if you are concerned about your diet, you will be interested in the low-fat meals that are guaranteed by an appliance that is also simple to clean.
To give you an idea, an oil-free fryer works by using hot air circulation to cook ingredients from all angles without the need for copious amounts of oil. This translates into healthier alternatives.
Also, most of these appliances come with recipe books to help you prepare quick and healthy meals in no time. We are talking about French fries, chicken fillets, grilled vegetables, and many other things.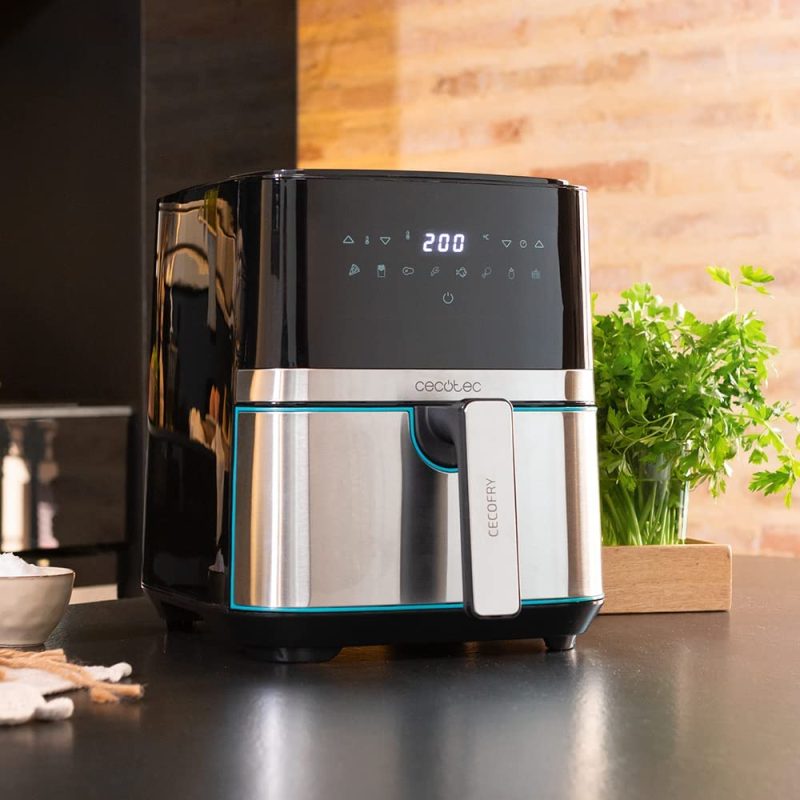 If you have little time to cook, If you are having a hard time giving up those fatty foods but still want to lose weight, and If you are looking for a worthwhile home appliance, Then you should put a good fryer without oil on your list of kitchen products.
What is an oil-free fryer?
An oil-free fryer is a device, or rather, an appliance, that works to cook food more healthily while maintaining that crunchy texture that oil usually gives in different preparations.
In other words, the best oil-free fryer is a device that seeks to emulate the results of frying with nothing more than hot air. It functions as a convection oven with an amplified countertop. Its compact space facilitates even faster cooking. The top of the unit contains a heating mechanism and a fan. The hot air moves down and surrounds the food placed in a fryer basket. This rapid circulation makes the food crisp, just like frying.
Air fryers work perfectly for cooking frozen French fries, breaded chicken or fish, and onion rings, for example, but you can't do anything in large quantities, so you'll have to cook in batches.
While a deep fryer requires you to immerse food in a pool of bubbling hot oil, an air fryer uses a circulating air technique that, when combined with a minimal amount of oil, delivers excellent results.
Benefits of cooking with an oil-free fryer
There are many benefits derived from the use of an oil-free fryer. Here are the main ones:
Avoid the taste of the oil. It is obvious, but it is worth remembering. Foods fried in oil tend to absorb excessive amounts of oil, which gives them a flavor that is not always pleasant.

Better nutrition. Cooking with oil implies that it is absorbed by food, which does not present great nutritional advantages. Nutritionists recommend the use of fryers without oil because they can reduce fat consumption by up to 80%.

Oil savings. Another no-brainer. This type of fryer does not need oil.

Cleanliness and comfort There's no oil, so there's no oil splatter, and you'll have less to clean up if you use an oil-free fryer.

timer. Oil-free fryers usually have a timer, so you don't have to worry about getting your food off the heat in time to prevent it from burning.

Thermostat. The fryer will allow you to regulate the appropriate temperature for each type of food. one less thing to worry about when you're cooking.

Security. They are safety devices, and you will avoid the dangers of boiling oil splashes.

fewer fumes and odors. Without oil, the fryer produces fewer fumes and adheres fewer odors to your clothes. You will not smell "fried" when you are cooking.
How to choose the best fryer without oil
Being relatively new devices, not all of us know what to look for when buying an oil-free fryer. But, for your peace of mind, we have made a summary of the most important benefits:
Price
One of the most important factors to consider is the price since some models can exceed 100 euros while others can be less than 70 euros. So it's worth taking the time to consider whether the extra features of each model have been worth the cost or if you can go with a simple device that does the basics.
Ability
Capacity refers to the volume of food that can be cooked at one time. The best deep fryers are designed to fit neatly on the countertop, and most aren't big enough to cook for a crowd unless you're cooking in batches. But it is equally important that you check between the different models, depending on what you need. A small fryer of 1 kilogram or less is more than sufficient for a small household of about 2-3 people.
Technology
Different brands of oil-free fryers use their frying technology. What they have in common is that they are always fried in hot air. What they have in common is that they are always fried in hot air. With some technologies, preheating is no longer necessary. Some use 3D Air Pulse technology; others use RapidAir technology, as well as TurboStar technology.
Settings
With some fryers without oil, it is possible to adjust the temperature, but the cooking time is something you have to verify. Other models feature a display with automatic cooking programs, as well as automatic baking programs.
Accessories
If you like to prepare various dishes in your fryer without oil, then you need the right accessories for this. Think pans for baking cakes and cupcakes. or a cooking grate with which you create a double layer in the pan. This is how you cook meat and potatoes at the same time.
The best brands of fryers without oil
Some brands market better oil-free fryers than others. For us, the most outstanding brands, whose products will surely meet your expectations, are the following:
VPCOK: It is a brand that offers products dedicated to the kitchen, among which hot air fryers with different accessories stand out.
Innsky: This company has made a name for itself by bringing quality air fryers to the market with different features and strong materials.
Aicok: With a presence in countries such as France, the United States, and Spain, this company has known how to stand out for having the

best American coffee makers

, electric stoves, and, of course, air fryers.
Duronic: If you are looking for products, appliances, or items for the home, health, kitchen, or electronics, you should take into account the offer of this renowned brand.
Tefal: Headquartered in France, this company not only specializes in saucepans but also produces

the best programmable pressure cookers

and many other accessories, such as air fryers.
Fryers without oil are recommended
The above information should help you know what criteria to use when buying the best oil-free fryer. What follows is a list of recommended models, so you only have to choose the one that best suits your needs.
Oil-Free Fryer Innsky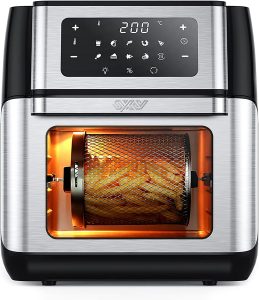 Although a little more expensive than the previous one, this air fryer has the advantage of having preheated and automatic shutdown options, as well as 10 operating programs. It also has additional accessories such as skewers, a frying tray, a drip tray, and grill support,…
Its energy efficiency is A+++, and it has a capacity of 10 liters.
It is made of stainless steel and does not heat up on the outside. Its weight is 9.56 kilograms, and its dimensions are 38 x 38 x 43 centimeters. It has a power of 1,500 watts.
Tefal Fry Delight FX100015 oil-free fryer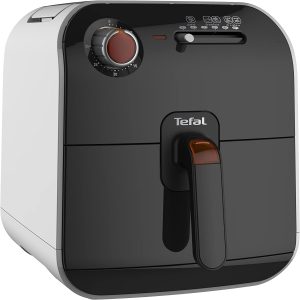 This air fryer works with a power of 1,400 watts and has four cooking options.
Its capacity is 800 grams, and its tray is removable. In addition to frying, it can also be used to roast and bake, and it offers the possibility of not using any oil.
How much does an oil-free fryer cost?
Cheap fryers without oil do not exceed 50 euros. Of course, they are smaller, provide less power, and in some low-end models, you will have fewer options to adjust the food to be cooked (timers, regulators, etc.).
The most expensive models are those that have all the functionality in terms of adjustments, a greater volume of capacity, and more power that will allow you to cook at higher temperatures. In this case, we would be talking about prices that exceed 100 euros.
Our recommendation, as always, is that you think about the use you are going to give it, the type of food you are going to cook so that you can estimate the power you need, how many of you are at home so that you can estimate the capacity, and what kind of adjustments you think will make cooking easier. With that and the information in this guide, you should be able to buy the best oilless fryer for your purpose.
Conclusion
If you need fast, healthy, convenient, and tasty food, an air fryer or oil-free fryer is a must-have appliance in your kitchen. Of course, you must pay attention to the characteristics of each model to choose the best option and make the right purchase.
In this guide, we have tried to offer you all the information you need to buy the best fryer without oil, which we hope will be useful to all those who want an appliance with which to cook in a way that is as efficient as it is healthy.