Thinking about how an oil-free fryer works seems unreal. It is very common for us to ask ourselves: fry without oil? How is it possible? In the usaapplianceguide, we will reveal the mystery through some star models.
The concept of frying without oil does not mean that you are actually frying. This device only imitates the operation of a traditional convection oven, offering us fried foods with low-fat content.
However, understanding how an oil-free fryer works not only implies knowing the cooking system used by these devices. But it is also important to understand that they have structures that save space and adapt to kitchens of all sizes. In this post, we will discover more details.
Discover how an oil-free fryer works
The operation of oil fryers is comparable to a freestanding electric convection oven. That is, the upper part of the appliance contains a heating mechanism and a fan through which the hot air flows downwards until it "warm" the food.
This system causes foods to take on a crunchy texture, such as fried foods. In addition, the compact size of this type of fryer makes cooking much faster.
This is how an oil-free fryer works. Even this mechanism allows you to reduce calories and drastically reduce (or eliminate) oil consumption. Not to mention that its dimensions, at least in the case of the Airfryer, also facilitate cleaning after use, by including removable parts for washing in the dishwasher.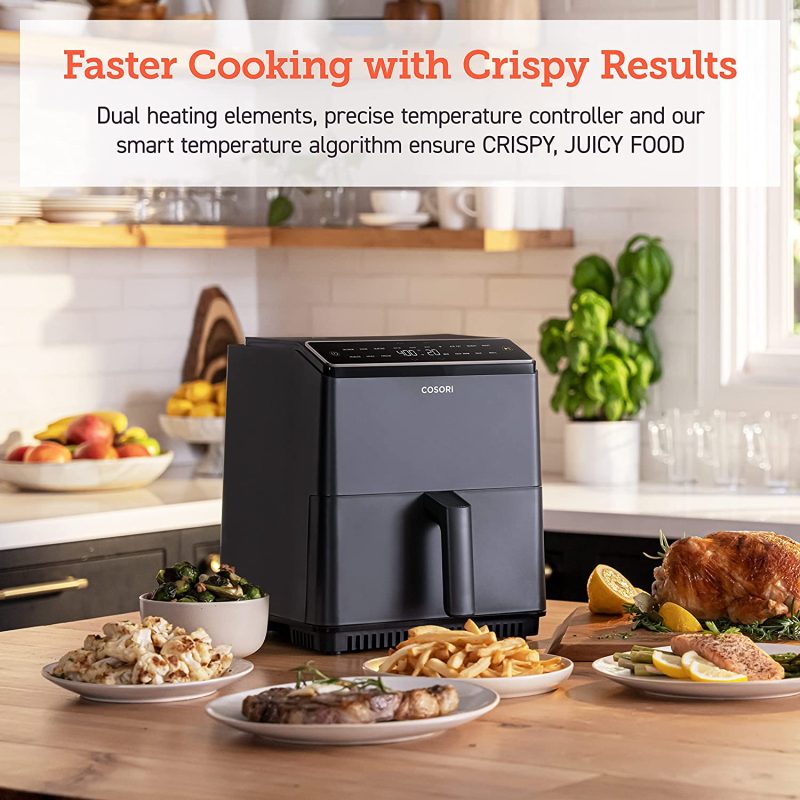 How is the Airfryer different?
Not all fryers without oil cook in the same way. There are models that fail to reduce cooking times and guarantee a uniform result.
The difference is in the design and power of the inner chamber. For example, the Airfryer is practical and offers a power of 1400W, allowing you to cook faster than in any traditional fryer. All without giving up the need to consume your food in a healthy way.
Things also change in terms of cleanliness and construction. It is better to opt for models with certified materials and without corners that are difficult to clean. This is a section in which the Airfryer also stands out, making life easier for lovers of cooking.
How much oil do I need to cook food?
With or without oil, the Airfryer does the job perfectly. But, we must bear in mind that almost all foods require the use of oil. And it is precisely at this point that our flagship model helps to reduce significantly the amounts of oil that we normally use.
In general, 1 to 2 teaspoons of oil (5-10 ml) is sufficient to prepare some foods with the Airfryer. While for breaded foods it is better to use between 1 to 2 tablespoons (10-20 ml). Knowing how an oil-free fryer works and how much oil we should use will help us achieve the best results. Here are three key factors:
Spread this product on food directly.
With the breading, we can combine the oil with the breadcrumbs.
For added crunch, you can drizzle a few drops of oil halfway through cooking over the food.
This oil-free fryer, like any other on the market,  works best with dry-cooked foods primarily because it takes advantage of dry heat. So try to choose foods that lend themselves to this kind of cooking, rather than those that work best with moist heat (boiling, braising, and steaming).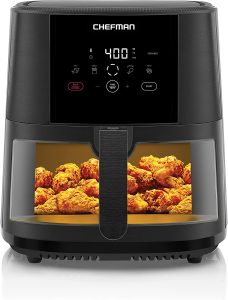 The food you can prepare
Now that you know how an oil-free fryer works, you are surely wondering what foods you can prepare with this equipment. Certainly, the possibilities are endless, but the ones that stand out the most with the working mechanism of this device are the following:
Pre-fried frozen foods: The classics like chicken wings, fish fingers, or chips, but also pizza slices and the like.
Vegetables: All those that are usually browned or grilled such as pumpkins, root vegetables, broccoli, cauliflower, and Brussels sprouts.
Potatoes: In cubes, on sticks, or whatever you like, they are a great success.
Food to reheat: The Airfryer does not soften things that were crispy before, unlike the microwave oven.
Regardless of whether these are the favorite foods to cook with our deep fryer, don't be afraid to experiment!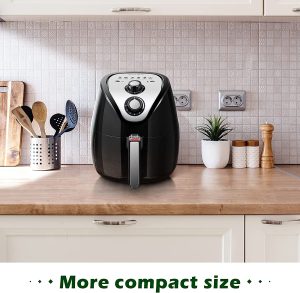 An unprecedented oil-free fryer
The Airfryer is an oil-free fryer certified by experts in the kitchen equipment manufacturing industry and culinary art gurus. In addition, it not only enchants for its quality to offer us the best results but also because it is a practical, useful, and easy-to-use model.
Here are some of its most notable features:
5 preset programs: The Airfryer is a benchmark when it comes to explaining how an oil-free fryer works and what characteristics this type of appliance should have. Especially since it includes 5 established programs to prepare a variety of recipes; from cake, chips, chicken, fish, and meat.
Digital control panel: Its touch panel makes it easy to use this oil-free fryer when selecting preset programs, as well as temperature and time. Everything directly.
Its temperature can be regulated: Each food requires a particular cooking temperature, something that the creators of this equipment know very well. After equipping it with an adjustable temperature system that oscillates between 80º and 200º.
Pause and restart the function: If there is something that users appreciate about the Airfryer, it does not set limits when need to turn it off or restart it when needed. How do they do that? Simple; just press the pause/reset button.
Automatic overheat protection: Thanks to this internal temperature control system. We can be sure that the equipment will not cause accidents associated with fires or something like that.
Conclusions
How a fryer without oil works is not something that will complicate our lives. These appliances are equipped with high-speed air convection technology, which makes it possible to prepare food using only hot air.
Of course, in the field of kitchen equipment, there are always models that stand out from the rest. The Airfryer is an example that deserves an honorable mention in the world of oil-free fryers, given all the benefits it brings us when cooking our recipes quickly and healthily.
Fortunately, at usaapplianceguide, we put at your disposal this work of art made into a fryer, with which you can prepare to adopt a different perspective of the culinary world.