Kitchen robots have become an essential object in many homes. Thanks to it, we can make very healthy dishes without cooking knowledge and with little effort. Do you know how to maintain it so that it lasts in perfect condition for as long as possible? Read on to find out step-by-step how to clean it.  
Kitchen robots do not need much maintenance, but it is recommended that you clean them correctly to extend their useful life. In particular, you must be very careful with the state of parts such as the blades, making sure that they are always clean for use.
Next, we teach you how to leave each component of your kitchen robot spotless easily and quickly. Let's start!
Know the parts of your kitchen robot
Before starting with cleaning, it is important that you know the parts that make up this kitchen robot. 
Base: in it is the control panel and the motor.

Glass: the place where you introduce the ingredients to cook your dishes.

Lid: the one that closes the glass.

Blade: used to chop food and stir it.

Basket: used to cook food that does not need to be crushed or mixed.

Butterfly: used to whip cream, creams, make desserts… etc.

Varoma: It is a container used to steam food.
How to clean your kitchen robot manually step by step
Before you begin, you must be clear that it is important not to rub the glass excessively, since it can be easily damaged. To clean this device without risk, we advise you to follow the steps described below.
First of all, pour water into the food processor glass and include a few drops of dishwashing liquid. Then put program Five at speed three for five minutes. Next, rinse the glass and clean the lid under the tap.
Clean the parts of the food processor in the dishwasher
Another option is to wash the components in the dishwasher, be it the glass, the blades, or the butterfly. But you should know that although the blades can be inserted into this appliance, it is important that they are not subjected to pressure, since they could be deformed.
In general, you have to be very careful with this washing instrument, since high temperatures are not good for any component. One trick that we suggest is to place the plastic parts in the upper part of the dishwasher, or a low-temperature program to prevent them from deforming.
How to automatically clean your food processor
It is not necessary that every time you use this appliance you manually wash the glass. Because another of the functions that this kitchen robot has is self-cleaning. A quite comfortable resource for when the glass is not excessively dirty.
To put the self-cleaning of this into operation, you just have to follow the following steps:
Add water to the glass to cover the blades.

Apply a few drops of dish soap.

Close it and go up the speed until you reach level seven for ten seconds.

Open the lid to check which areas have been cleaned and close it again.

Program the kitchen robot for ten minutes at speed two.

Finally, when the estimated time is up, rinse it. That easy!
How to remove bad odors from your kitchen robot
Sometimes you can prepare a very tasty recipe, and then you want to make a very different dish. In these cases, it may be that the odors from the first recipe remain embedded in it, affecting the flavors of the next meal.  
To quickly eliminate odors and for all your dishes to maintain their original flavor, all you need is water and lemon. 
Pour water into the glass to cover the blades and add half a lemon. But first, rub it on the lid and the rubber to make sure that the smell does not remain impregnated them. The program for two minutes, speed four.
Then, gradually increase the speed until you reach ten for a few seconds, rinse, and dry well. In this way, you will have managed to eliminate odors and even flavors from one recipe to another.
If you need more about cleaning food processors please read out another article Tips for a fast and efficient cleaning of your Food Processor
Clean your food processor on the outside
The device itself, that is, the base, is made to get dirty continuously. Many times it is inevitable that liquid drips on top while you cook. Ideally, you clean it at the same time it happens.
To clean the body of the base, you have to use a damp and soft cloth with a little soap, rub the object until the stain is removed, and that's it!
But remember that, as with the rest of the components, you should not use strong scourers or abrasive elements that could damage the base of this kitchen instrument.
If the exterior of the appliance is made of steel, in the post: how to clean stainless steel appliances you will find very simple tricks to clean and maintain its pristine appearance.
With these simple steps, you will be able to keep your kitchen robot shiny and clean while extending its useful life.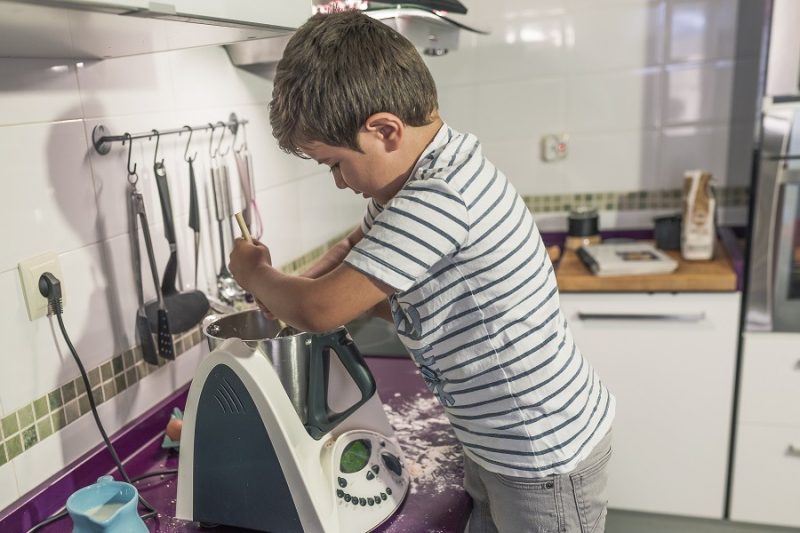 At Aecetia, we know that tasks such as cleaning the home require time that we do not always have. 
For this reason, we want you to keep in mind that if the lack of hours is an impediment for you to be able to keep your house as you would like, you can always contact our home cleaning services to cover any specific need. We are at your disposal.