Newcook kitchen robot: Eating homemade and very elaborate food is great and the best for our health and our economy. However, who has time today to spend hours and hours in the kitchen? The lack of time makes us resort to food-bought or fast dishes almost always, a problem that kitchen robots have come to solve.
Honestly, I was pretty skeptical about how effective they could be, I mean if they took your work away, and I was surprised. Of all those that I have had the opportunity to try, one of the ones that I have liked the most is the Robotmix RM 990 Wifi from Newcook.
After a few weeks of using it, I can draw my conclusions and I have to say that for me it is one of the best kitchen robots, although it also has aspects that could be improved.
Main characteristics and versions, models, or variants
---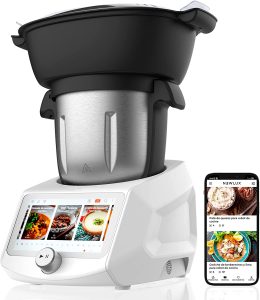 The Newcook RM990 Wifi is a 3-in-1 multifunction food processor, that is, it processes, cooks, and can be used as a steamer. Also, it has very good power, so it is capable of carrying out 28 functions.
It includes a good set of accessories and has a simple and intuitive operation. And in addition, all its materials are free of BPA, PTFE, and PFOA.
However, although it is my favorite because of how complete it is, it is not the only option within the Newcook range, in which we can also find other models:
Newcook Silver multifunction food processor: This is much more basic and also much cheaper. Its advantage is that it has more capacity (5 l), but it only offers 9 functions, it has half the power and it does not have a screen or Wi-Fi connectivity.
Newcook multifunction kitchen robot: It is the same as the previous model, it has all the same characteristics, but this one has a white finish, not black like that one.
Newcook 3D programmable pot: It is a programmable pot, that is, it cooks, but it does not process the food. However, it has a very good capacity (6 l), it can cook with both high and low pressure or without it and it is programmable for up to 24 hours.
Newcook Delicious programmable pot: This pot also has a good capacity, allows you to cook at 4 pressure levels and has a voice guide that indicates the steps to follow.
Analysis of the kitchen robot Newcook Robotmix RM990 Wifi
One of the things that caught my attention about the Newcook Robotmix RM990 Wifi is that it is advertised as a 3-in-1 model, what does that mean? Well, you can use it in 3 different ways:
Kitchen robot

Food processor

Two-tier steamer
The Newcook Robotmix RM990 Wifi has more functions (28) than many models in the same range. For example, it works as a frying pan, scale, pot, mixer, rice cooker, kneader, and grinder, among other things.
On the other hand, it can be used in guided mode or manual mode. In manual mode, which is good for preparing your usual recipes, or if you feel like improvising, you make the time, temperature, and speed settings yourself. In guided mode, on the other hand, you select a recipe and you just have to follow it step by step with the instructions that the robot gives you. If you don't know how to cook, the guided mode saves your life.
How is the jar? Materials, capacity, and design
The jar is one of the main elements of the robot and what interests us about it, first of all, is what material it is made of. In this model, the jug is made of stainless steel, a very good quality material that not only guarantees resistance but is also easy to clean, which is much appreciated.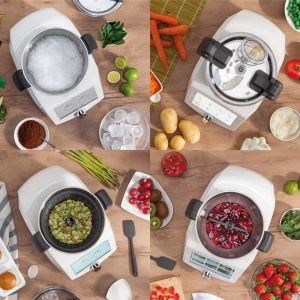 Another thing to take into account regarding the jug is its size, which ultimately determines the capacity of the robot. That of the Robomix is ​​3 liters. It is not one of the largest, but it is still more than good to cook for a family of 4 people. Although, in that case, it is not the best option if you like to cook extra portions to freeze.
On the other hand, the fact that it is not so big is also an advantage because it takes up less space, so it does not take up much space in the kitchen like other more bulky ones.
In terms of design, in addition to not being very bulky, it has careful finishes and a modern look, mainly due to the large touch screen that, without a doubt, is what most attracts attention when seeing it for the first time. Another thing that I like is that since it has a transparent lid, it allows you to see the food during cooking.
And I would like to add as a point in its favor that all its materials are free of BPA, PTFE, and PFOA, which gives you the security that you are not adding toxic substances to your meals.
Does it have good power?
Something key when choosing a kitchen robot that serves us for everything is power. High power gives you the ability to process more food, perform more functions, and reduce preparation time. Ideally, it should be above 1000 W.
The Newcook has 1400 W of power, one of the highest among similarly priced robots, so it is quite efficient when grinding or grinding, for example. And, it can also work in 12-speed levels plus a turbo mode.
For this reason, it is also capable of cooking in a wide range of temperatures. This robot can reach from 37 °C to 130 °C (adjustable in steps of 5 °C), which allows you to cook all kinds of recipes.
Functions, programs, and recipes
When I say that it is a very complete robot, I am not exaggerating. The Robotmix chops, chops, blends, grinds, sautée, grinds, pulverizes, grates, whisks, assembles, emulsifies, mixes, cooks, stirs, steams, cooks in a bain-marie, poaches, confits, kneads, cooks at low temperature, heats, boils, simmers, weighs, sautés, stews, slices and has a turbo function.
It is one of the models that offer more functions. The only thing I miss is the fermentation function, which works well for making homemade bread or pizzas.
It has 8 automatic programs (knead, steam cook, slow cook, boil, process food, chop, turbo, and weigh) and, as I said before, it can be used in guided or manual mode.
The guided model has a recipe book, in my opinion, which is quite practical. Indeed, there are not many, but more are being added little by little. Think that when it was released it had 100 and now, although it does not reach 200, it has been expanded with a few more. And keep in mind that others can also be prepared manually. Many people take advantage of those of Thermomix that have a very similar operation.
Security
I do not want to forget to mention the security systems that it has and that also seems to me to be a great point in its favor. On the one hand, it has a safety lock, which prevents the jug from being removed with the lid closed.
On the other hand, it has a thermal fuse that in case of overheating or excessively high temperature blocks it to prevent the device from being damaged or an accident from occurring. If at any time using the robot this lock is activated (which can happen if you are making it work too much) you just have to reset it by pressing a button located on the bottom of the jar.
Accessories
I am of the idea that the food processor does not need to include many accessories, but that the ones it comes with are really useful for the functions for which we are going to use it and that they are of quality (preferably stainless steel ), as is the case of those brought by this robot.
I don't miss any. The Robotmix includes:
Whisk

Mixer

detachable blades

steam basket

Spatula

Discs for grating or slicing

pusher

Measuring glass
Cleaning
For me it is very important to keep the kitchen clean and tidy, so another thing that convinces me about this robot is how easy it is to clean. The accessories are removed in a few movements and the blades are disassembled (it did not take me long to remove the food remains from them).
Plus, they're all dishwasher safe with the sole exception of the carafe. With this you have to be very careful, the bottom part should not get wet, since it is where all the connections are located.
The entire exterior of the robot and the screen can be cleaned with a damp cloth.
Configuration and connectivity
When it comes to using, I appreciate how easy it is to set it up, it's very intuitive (and the instructions explain it very well).
In addition, one of the things that makes this robot stand out is the size of its 6-inch touch screen (15 cm x 9 cm), larger than most models in the same range.
Another of its positive points is that it has Wi-Fi, which allows you to connect to the Internet to download new recipes. And what I like is that this update is very simple, it is carried out with the push of a button.
But do not flatter yourself, unlike other models, although it has Wi-Fi, the Robotmix cannot be controlled from a mobile.
Read another article about The best Philips oil-free fryers
Other interesting things
In addition to everything explained so far, there are a couple of other things that I find interesting in this robot. First of all, it can be programmed with a maximum time of 90 minutes, which is very well suited to most preparations.
On the other hand, the reverse spin is a function to stir the food if you want to heat it, for example, makes the blades rotate in the opposite direction, on their blunt side, so that they do not cut the food.
Alternatives to the Newcook RM 990 Wifi
The Newcook kitchen robot has a very competitive price, but there are other interesting options without having to spend much more.
Cecotec Mambo 10090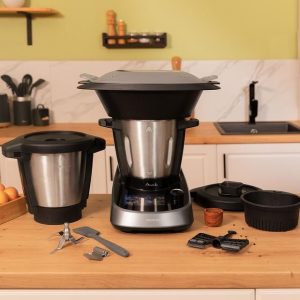 The Mambo 10090 from Cecotec is quite similar in functions to the Robotmix (it only has a few more, a total of 30), although this one does include the fermentation function which, as I said before, is good if you want to make homemade pizza or bread. It also has a little more capacity (3.3 l), so it is also valid for cooking for 4 people, but it allows you to be more generous with the number of portions (if you want to prepare a little more to store).
However, although it has 1700 W of power, a little more than the Newcook, its maximum temperature is lower, 120 °C. The additional 10 °C of the Robotmix can be of benefit to you in some other recipes.
On the other hand, its control panel is touch, but it does not have a screen. And finally, regarding materials, the Mambo jug is also made of stainless steel, but it has a ceramic coating. It is an advantage because it prevents any food from sticking even with less oil, which allows healthier cooking. But it is also true that ceramic is delicate and quite prone to scratches, so it must be treated with more care.
Do you have any questions? Do not miss my review and opinion of the Cecotec Mambo kitchen robot.
Moulinex ClickChef HF4SPR30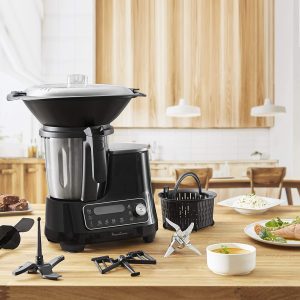 The Moulinex ClickChef HF4SPR30 has hit the market in style because it has been created in collaboration with the Realfooding platform (real food). But it's good?
Yes, it is a very complete kitchen robot. It has the same power as the Robotmix (1400 W), but a few more functions ( including fermentation and butter preparation ) and a recipe book with 200 dishes, although it does not have wifi to update it.
In capacity it is superior to both the Robotmix and the Cecotec, this one is 3.6 liters ( for 5 people ) and its temperature range is like that of the second, from 30 °C to 120 °C.
Design-wise, the controls are also tactile with fairly intuitive operation, but it doesn't have a screen like the Robotmix. However, it has an interesting detail, it takes the scale outside, which is ideal if you want to weigh something outside of the preparation.
CREATE CHEFBOT Touch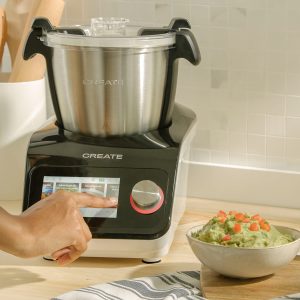 The CREATE CHEFBOT Touch, unlike the Moulinex and the Cecotec, does have a screen, although it is smaller than that of the Robotmix. But, on the other hand, it is less powerful than all of them (1000 W), which conditions it in terms of functions, it only has 23. Although this is also reflected in its cheaper price than the others. If you want to prepare simple dishes it is fine.
As for the temperature range, this robot works with a range between 37 °C to 120 °C (like the others). And, in capacity, it is more or less like the Robotmix, that is, it is 2.2 l. The Cecotec and the Moulinex are still the most generous.
On the other hand, this one also has wifi, so that to the 100 recipes that it already incorporates, more are added with each update.
Personal opinion and conclusions
After a few weeks with him at home and after preparing all kinds of recipes (I made vegetable creams, meat in sauce, iced drinks, pizza, and some rice dishes), the Robotmix has convinced me, as they say, it is a cheap kitchen robot and good. I have also used it to make baby jars and they are very good, although I prefer a food processor for babies. The only thing that I have missed, as I mentioned, is the fermentation function for pizza and bread, but still, I think it does almost everything.
The accessories are practical and of good quality and everything is easy to assemble and disassemble. It sounds silly, but when you're in the middle of setup there's nothing more annoying than struggling with a piece that won't come out. In addition, cleaning is not messy, even the blades are not difficult to clean.
Finally, regarding the configuration of the recipes and their use in general, I find it very intuitive and simple. Also, the instructions are very well explained.
In summary, I think that although it is not a well-known brand, it is a robot with very good value for money. In the guided mode you can make hundreds of recipes without having a clue about cooking.
If you are looking for something similar in terms of features, but want to spend a little less money, you can choose the CREATE CHEFBOT Touch, a model that also has a touch screen, but with a smaller capacity. On the other hand, if you are looking for something much simpler, a robot that only cooks, but does not process, you have the option of the Newcook Silver, a less complete kitchen robot, but much cheaper.