We select from shelves to dispensers to avoid clutter in the bathroom
The routine of getting ready in the morning to go to work or school can become an ordeal if we do not have the cleaning and beauty items that we use daily in the bathroom in order. And in many cases, this disorganization, rather than being due to behavioral issues, has to do with misusing the spaces we have to accommodate objects.
Have you noticed that you have shower products scattered all over the bathtub? Is the sink full of containers, boxes, and beauty accessories? If this is your case, at USA Appliance Guide, we have selected 15 items so that you can finally put an order in the bathroom of your house. In the list, you will find shelves and baskets for the shower, organizers for accessories or makeup, as well as hooks for towels, among other objects to make your routine easier.
SHOWER AND BATH
Homfa shower shelf

If you have so many items in the shower that you can't find where to put them at home, this shelf can get you out of trouble. First, it is very easy to place since it does not use screws or drilling is necessary. In addition, it occupies only one corner and has an adjustable height between 97 cm and 310 cm. It has four water-permeable shelves to store cleaning products, as well as a towel bar on each one.
Oriware shower basket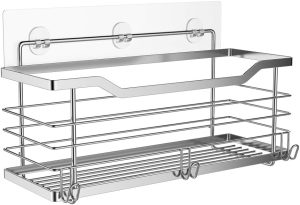 But if you don't need so much space that you need the shelf above, you can opt for this practical stainless steel basket, which has enough space to store and organize your shower items, as well as three hooks for the bath sponge and the towel. It is not necessary to drill holes in the wall since it is installed with included adhesives.
Shower toy bag
Do you suffer to get your young children to agree to take a bath? Get this mesh bag specially designed to store toys that will make the moment more fun for them. It has a large central pocket, 27.5cm x 32.5cm, and three upper pockets for special toys or other accessories. Its placement using adhesive hooks makes it very easy to use. In addition, it comes with a very comfortable and soft sponge.
Wall-mounted soap dispenser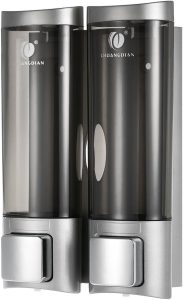 To save yourself the trouble of finding a place in the shower for bottles of soap, shower gel, or shampoo, you can get this dispenser with durable and elegant construction. It is ideal for any type of liquid product and has two transparent dispensers, making it easy to see inside and know when to refill. In addition, the mouthpiece has an efficient closing system that prevents losses.
ORGANIZERS
Toothbrush and toothpaste dispenser and organizer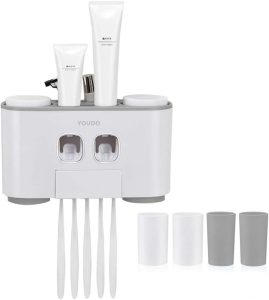 Put your sink in order with this practical organizer for toothbrushes and tubes of toothpaste. At the bottom, it offers space to accommodate five brushes on easily accessible hooks. In addition, the upper part has two holes to place two tubes of toothpaste, as well as an automatic dispenser for each one in the central area, which is activated by pressing the brush. Lastly, it has four glasses on the sides, two large ones, and two other small ones.
mDesign hair accessory holder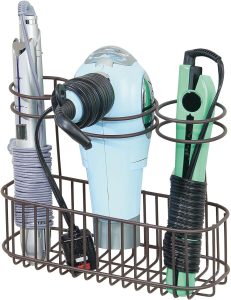 Stop struggling with tangled cords and lack of space for styling items such as blow dryers, flat irons, curling irons, or brushes. This practical holder is easily assembled to any door without having to drill. You have room to organize them properly since it offers two circular compartments on the sides, plus a central rectangular one. It is made of a resistant material that supports heavy objects without problems.
Accessory organizer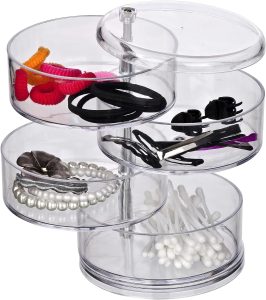 Stop losing your day-to-day accessories, such as rubber bands and hair clips, with this practical organizer made of highly resistant transparent acrylic. It is designed in the shape of a cylinder, with four independent compartments and a side opening. Also, being transparent, it is straightforward to see inside. Its measurements are 11.5 x 17.5 cm, perfect to place anywhere and with plenty of space inside.
Makeup organizer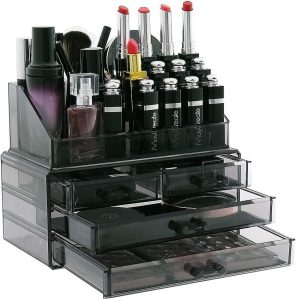 Another of the headaches in terms of the organization is, without a doubt, the one that can cause makeup. However, this practical organizer has a wide variety of compartments that will facilitate the task. In the upper part, it has 12 spaces for lipsticks or other small containers, three trays for brushes and accessories, as well as a central compartment for powders, creams, or perfumes. In addition, it offers three levels of drawers below to store accessories or jewelry in a practical way.
Cotton Compactor
When applying makeup or removing makeup, you always need to have cotton pads on hand. With this dispenser, in addition to fulfilling that purpose, you can enjoy its elegant design made of transparent polystyrene. In the central part, it has an opening to the top, from where you can easily access the interior. The lid is removable for easy filling.
SHELVES AND FURNITURE
Auxiliary bathroom furniture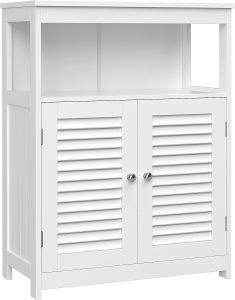 Give your bathroom a new look with this practical side cabinet, which provides enough space to accommodate all kinds of items. At the bottom, it has two doors that give access to a compartment with two height-adjustable shelves, perfect for storing toilet paper. Above it has an open compartment, which can be used to place towels, while on the upper table, you can put flavorings or decorations.
Curver Style Chest of Drawers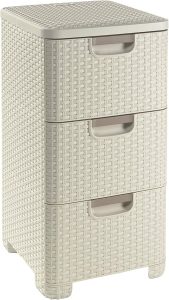 It features four drawers with handles for easy access and its reinforced base provides additional stability. It's lightweight and easy to assemble, so you can get it ready to use in no time. It has three large drawers with a 14-liter capacity. And, together, vertical lines and rectangular shapes make up a piece of furniture to take advantage of free corners.
Homfa wall shelf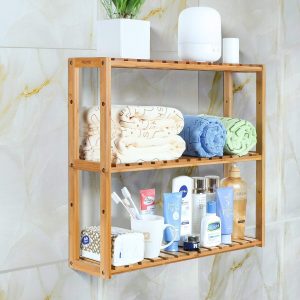 If you prefer to do without furniture that could get in the way of small bathrooms, this shelf gives you enough space to accommodate accessories and cleaning products. It is made entirely of bamboo, so it is resistant, robust, and respectful of the environment. In addition, it has a lacquered and polished finish that is moisture-proof and easy to clean. Its measurements are 60x15x54cm.
HOOKS AND PENDANTS
Hanging toiletry bag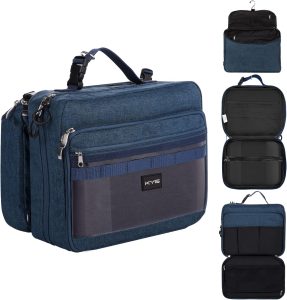 Although toiletry bags are designed to be taken on a trip. This model can be a good alternative to be used in the shower or sink. Thanks to its large capacity and the fact that it has a hook to hang it anywhere. It has nine independent compartments inside, two outside on the sides, and one on the back with a zipper, making it easy to find any item quickly. It is also waterproof and very easy to clean.
Adhesive hooks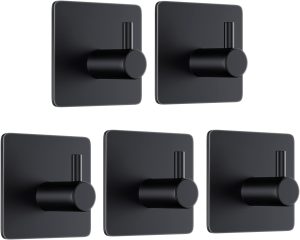 Stop struggling to find a good place to hang your towels in the bathroom. This set consists of four high-quality stainless steel hooks that attach to the wall with their waterproof, adhesive backing, ensuring they never fall off. They are capable of supporting up to 8 kg of weight, so they can withstand even very wet towels.
Towel bar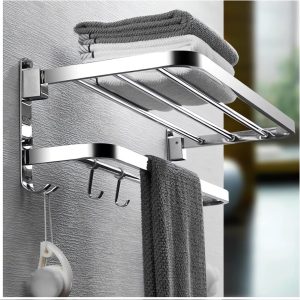 Do you want a space to accommodate towels for a lifetime? Then this shower rod is what you need. It has three upper bars, ideal for accommodating folded towels, plus a lower one to spread them out. In addition, it includes five hooks to hang bathroom accessories, such as sponges or brushes. Its design is modern, perfect for any type of bathroom. And, it is made of high-quality stainless steel to prevent wear and resist corrosion.