Cleaning the house is an essential part of living in the United States. Today, I would like to recommend American household cleaning products to everyone. With these necessary household cleaning products, you can easily make your home bright and tidy. This article introduces the necessary cleaning equipment you need when cleaning at home. You can refer to it and use it when cleaning:
Dawn Dishwashing Liquid Dish Soap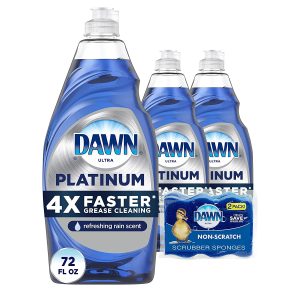 Dawn brand dishwashing liquid is very popular among American friends because it has a particularly strong cleaning ability, and only a little bit can produce a lot of bubbles every time you use it. Wear dishwashing gloves to protect your hands and use Dishwashing sponges that work especially well with them. Great value for money. It is also very good at removing oil. Some have your pan or pan cleaned easily with it.
Homitt Electric Spin Scrubber Cordless Shower Scrubber 
Cordless Shower Scrubber for Cleaning Tubs, Tile, and Floors
Its extra-wide flat brush head is for cleaning larger flat surfaces such as hard floors, walls, patio furniture, and swimming pools; the small flat brush head is perfect for cleaning smaller areas free of soap scum, stoves, and grills. The round bristle head is perfect as a concave cleaning brush for tubs, sinks, or toilets; the angled bristle brush is great for cleaning tile grout, edges, corners, and tight places. Different brushes can meet different requirements.
The scrubber brush head has long-lasting performance. The highly sealed design makes it also splash-proof and can be used in wet conditions. The bristles will not scratch the tub. The bristles are of good quality and will not deform. With it, you can reduce the fatigue of cleaning. Make your home cleaner and more hygienic. Small suggestion: To improve the cleaning effect, it is recommended to use it with detergent. For stubborn stains, it is recommended to soak before cleaning, and then use a brush to clean the effect better.
Cascade Platinum Dishwasher Pods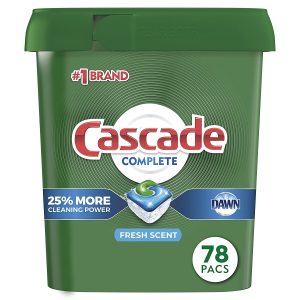 Dishwasher Detergent
This dishwasher detergent can help you clean the pots, bowls, glasses, etc. in the dishwasher. It can help you remove food residues that are difficult to clean on the pots or bowls. After washing, the glass can be spot-free and sparkling. Moreover, its oil resistance is very strong, it can wash a lot of greasy things, it can dissolve quickly, and its decontamination ability is very strong. It is simple and efficient to use it with a dishwasher to clean the pots and pans at home.
Air Purifier Levoit Core 300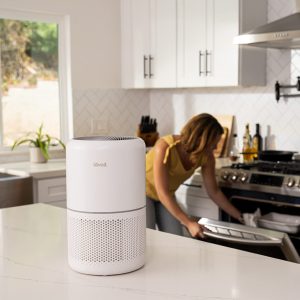 This air purifier ranks first within $100. It has powerful functions, powerful and efficient fans, and is very easy to carry because of its small size and low noise during operation, which is very popular with everyone. It has a three-layer filtration system and has passed the triple certification of Energy Star, AHAM, and CARB, and is considered to be the most efficient and safest air purifier. For more information, you can also check out the best air purifier recommendations in the United States.
Portable Car Vacuum Cleaner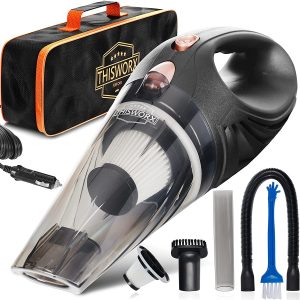 A handheld cordless vacuum cleaner
The handheld vacuum cleaner only weighs 2.4 pounds but has a high-power, 106W, and 8.8-amp motor and metal turbine for the highest suction power. The 16ft power cord connects to the car's 12V cigarette lighter port for maximum coverage cleaning in the car. The ergonomic design of this hand vacuum ensures that you can reach all corners of your car. The clear trash can makes it easy to empty, and the protective lid keeps trash inside at all times. It features 3 universal nozzles, a carry bag for easy storage, a dedicated filter cleaning brush, and a spare HEPA filter. It is a must-have item for car lovers. You can also check out our recommendations for the best handheld vacuums in the US.
MIDEA Dehumidifier with Reusable Air Filter
A dehumidifier with a large indoor coverage
This Midea dehumidifier can reduce the moisture in the indoor air, prevent the generation of germs, and keep the indoor air dry. This dehumidifier can cover an area of ​​about 4500sq.ft. Perfect for basements, bathrooms, bedrooms, or living rooms. And it makes little noise, very quiet. It's also easy to maintain, you can drain the tank by taking it out with the handle, or just install a hose and use gravity for a continuous drain. There is also a 24-hour timer to help you control usage time.
Dyson V11 Torque Drive Cordless Vacuum Cleaner
Cordless Vacuum Cleaner for Carpet Cleaning
This Dyson vacuum is so smart it has a run time of up to 60 minutes. Designed for large homes with pets. Actual run time will vary depending on power mode, floor type, and/or accessories used. It has a high torque cleaner head. With the function of automatically adjusting the suction and power, it can deeply clean different types of floors without changing the cleaning head. It has an advanced all-in-one filter that captures 99.99% of particles, dust, and allergens as small as 0.3 microns. It can also be converted into a handheld device for cleaning cars, stairs, and upholstery. Included with purchase: Torque driver head, micropower tool, crevice tool, dirt brush, soft dust brush, combination tool, wand storage clip, docking station, and charger.
iRobot Roomba 675 Robot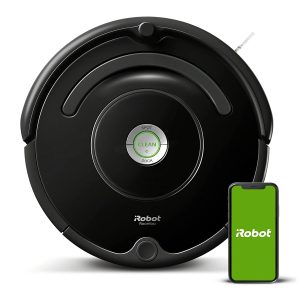 A very popular sweeping robot
The Roomba 675 is iRobot's cheapest Wi-Fi-connected robotic vacuum cleaner, and it gives you app control, scheduling, and voice support in addition to its great cleaning capabilities. It is a very popular robot vacuum that has received a lot of positive feedback and praise from users. 
Mr. Clean Magic Eraser Extra Durable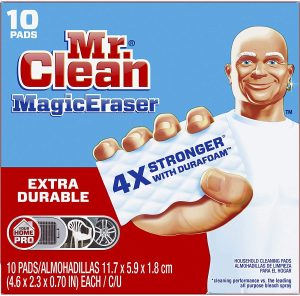 This Mr. Clean magic sponge has a very powerful cleaning effect, and it does not add any harsh chemicals. It, you can use it to clean crayon marks on the walls, marks on the floor, juices from the refrigerator, and more. It's very easy to use, you can use it to clean things with a little water, use it to clean shoes or other traces that are difficult to remove on the surface, and it becomes very easy to use it to remove.
Universal Dust Cleaner for PC Keyboard Cleaning
Gel Universal Dust Cleaner for PC Keyboard
This ColorCoral Universal Dusting Cleaner can be used to clean electronic equipment in the home and office, such as computer keyboards, car vents, cameras, printers, mobile phones, calculators, Bluetooth speakers, air conditioners, TVs, and other electrical appliances. It is very convenient to use, pick up a piece of cleaning glue, knead it into a ball, slowly press the cleaning glue into the keyboard, car air vent, and other surfaces, then pull it out, the dust will be removed by the cleaning tape. And it's so durable that you can use this keyboard cleaner over and over again until it gets darker, then you have to replace it with a new one. (Note: Do not wash the cleansing gel in water.)
OXO Good Grips Sweep & Swipe Laptop Cleaner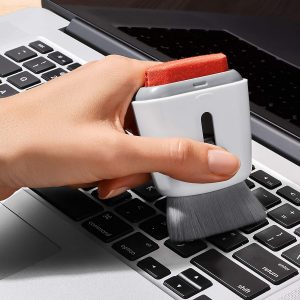 An artifact for cleaning laptop keyboards and screens
This dual-sided tool deep cleans laptops, tablets and smartwatches, smartphones. Its microfiber pads remove fingerprints and smudges from the screen and surfaces, its soft brush removes dust and grime, and the retractable brush and storage cap protects the ends when not in use. Very small and practical.
Care Touch Lens Cleaning Wipes for cleaning lenses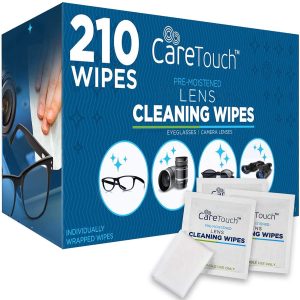 These wipes have a high-tech formula that cleans effectively and dries quickly without streaks or residue. It can easily clean everything on your phone, glasses, screen, or other surfaces. It is suitable for all glass surfaces and is also safe for coated lenses, making it ideal for most applications. The wipes are large enough for large screens, and made of soft, lightweight material that's as soft as it is effective. Because it's individually wrapped, it's easy to carry a few in your pocket, so you can easily clean your camera lenses and more while on the go. This makes them ideal cleaning supplies for glasses and smartphone screens.
Lysol Disinfecting Wipes
These sanitizing wipes are perfect for sweeping and cleaning kitchen items such as sinks, counters, the exterior of appliances, the surface of kitchen trash cans, and more. It can also be used for item cleaning in the bathroom: use it to clean toilet seats, bathtubs, vanity tops, tiles, and doorknobs. And it can be used to clean bacteria on electronic equipment, such as smartphones, tablet computers, air, mouse, and keyboard can be used to clean and disinfect.
Tide Laundry Detergent for Laundry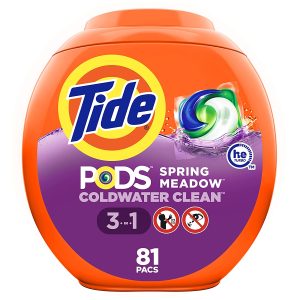 This Tide laundry detergent uses 3-in-1 technology: detergent, stain remover, and color protection, to help you wash clothes, sheets, quilt covers, and more. It dissolves easily in both cold and hot water. And it's very convenient to use, you don't need to worry about throwing it in a bag, just wash it in the washing machine. And it not only has the function of color protection, but it can also make white clothes whiter, its decontamination ability is very strong, and the smell is also very fragrant.
Hardwood Floor Cleaner Spray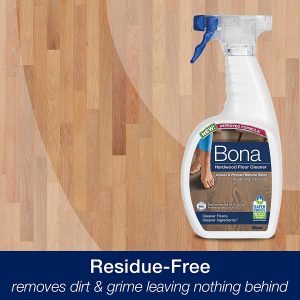 Cleaning hardwood floors
This floor cleaning spray is suitable for all unwaxed, unoiled, polyurethane-finished wood floors. It is very convenient to use and belongs to the ready-to-use type, just spray and mop. Safe for pets and children. And it's non-stick, residue-free, pH neutral, and won't harm the color of your floors. It can effectively remove dust, and dirt, and reveal the natural luster of the floor.
Easy-Off Specialty Kitchen Degreaser Cleaner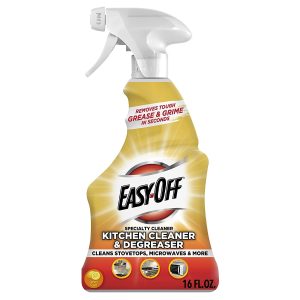 Many things in the kitchen will be stained with oil after some time. It is easier to use it to clean the stove, range hood, cabinet doors, refrigerator doors, microwave ovens, kitchen cabinets, sinks, etc. It does a great job of removing oil stains from surfaces.
Swiffer 360 Dusters brushes for dust removal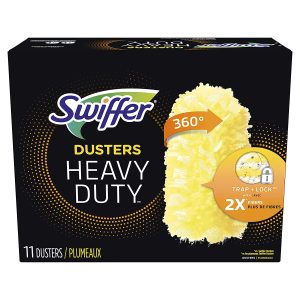 Swiffer 360 Degree Dust Collector TRAP + LOCK can lock up to 3 times more dust and allergens, it has specially coated fibers that will catch the dust and won't loosen it, perfect for electronic equipment, furniture, furniture or small Dust trim, blinds, ceiling fans, and even car interiors. If you are allergic to pet hair, also check out our recommendations for the best pet air purifiers in the US.
Rubber Cleaning Gloves for Kitchen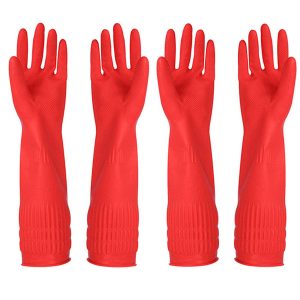 Dishwashing Waterproof Reusable
This cleaning glove is very durable: uses high-quality rubber, is guaranteed to be reusable, and lets your hands be protected in cleaning work, the elastic glove is suitable for most palms, and the particle design in the glove increases the friction and provides you with better Excellent grip, can be used for kitchen cleaning, dish washing, car washing, indoor and outdoor cleaning, prevent hand skin from contact with corrosive liquids. A solid color glove with an extended cuff, it's a must-have for cleaning around the house.
Cerama Bryte Kit with 1 cleaning pad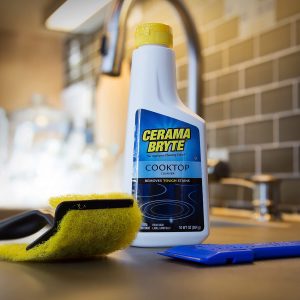 Cleaning the surface of the induction hob
This is a cooktop cleaning kit that includes a cleaner, a scraper, and a cleaning pad. Cerama Bryte Cooktop Cleaner is perfect for everyday cleaning and removing stubborn stains, using it to help maintain the luster and performance of glass or ceramic cooktop surfaces. After cooking, sometimes the cooktop will be very dirty and some stains are difficult to clean. It will be very convenient to use it to clean up.
Goo Gone Remover for cleaning sticky stuff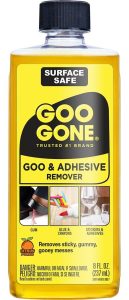 Children's glue or other sticky things in the house can help you get rid of them if they get stuck on the floor or carpet. For example, use it to clean up: stickers, wax, markers, crayons, glue, window decals, glitter glue, labels, and more. But don't put the Goo Gone Original on the rubber as it will deteriorate the rubber.
Weiman Stainless Steel Cleaner Wipes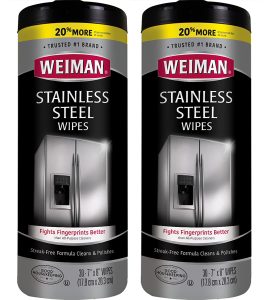 Cleaner for cleaning the exterior of stainless steel appliances
This stainless steel cleaner is very popular in North America. It has a pH-neutral formula that can quickly clean and protect the surface of stainless steel appliances. It can be used to clean stainless steel refrigerators, stainless steel microwave ovens, stainless steel ovens, stainless steel grills, stainless steel sinks, and stainless steel pumps. Range hood, stainless trash can, and all stainless surfaces.
Windex Glass and Window Cleaner Spray Bottle
This is very useful for cleaning glass or windows. It will not leave any traces after cleaning the windows or glass, and it can make the windows and glass sparkle. It is also very simple to use, just spray it on the glass or window, then wipe it with a microfiber cleaning cloth.
Portable Stain Remover Wipes for hand cleaning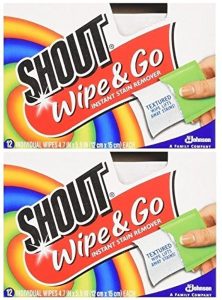 Sometimes the clothes will inevitably get some dirty things, such as accidentally getting coffee, oil stains, or juice on the body, then it can come in handy. It is easy and convenient to use to quickly clean stains on clothes. You can take it with you just in case.
Rejuvenate Cabinet & Furniture Restorer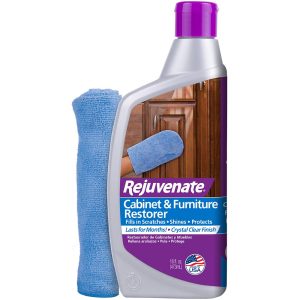 This product can help you restore the color and original luster of your furniture, its high-performance polymer-based formula fills in scratches, restores the luster of furniture, and has a sealing function to protect cabinets and furniture from new scratches and water damage. And it can help furniture avoid the damage of ultraviolet (UV) rays in the sun. It can make furniture like new.
Leather Cleaner by Leather Honey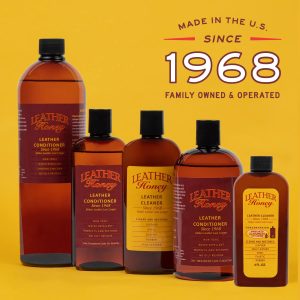 Made in the USA by a family-owned business that specializes in leather cleaners, this leather cleaner quickly and gently cleans a wide variety of leather products including saddles and tacks, car interiors, furniture, handbags, shoes, leather jackets, etc. It has a very good refund policy and a 100% satisfaction guarantee. If you are not satisfied with any of their products, simply return them for a full refund.
Scotch- Brite Lint Roller Value Pack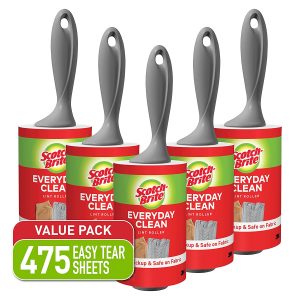 Everyone likes to use this. It can stick to the table, clothes, and the fluff and dust on the bed. If there are pets at home, there will inevitably be a lot of pet hair on the table, clothes, and carpets. Using it to roll can easily take away the pet's hair. And after use, it can be torn off very easily, which is very convenient use.
Care Touch Alcohol-Free Hand Sanitizing Wipes
These wipes contain Vitamin E and Aloe Vera to replenish and moisturize the skin. They are alcohol- and fragrance-free, so they won't cause dryness and redness, making them ideal for children or those with sensitive skin.
MOSO Air Purifying Bag for clean air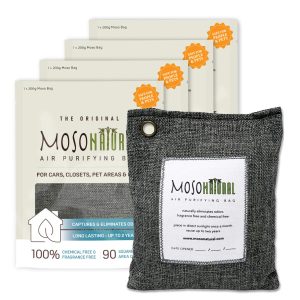 This purifying bag for air purification can help you easily absorb harmful substances such as odors and allergens in the air. It also absorbs excess moisture in the air to prevent germs. And its validity period is very long, generally, it can be used for about 2 years. It is very suitable for use in the car, bathroom, where pets live, in the closet, etc. Its external packaging is also very delicate, very smart, and easy to use, it is a good assistant for fresh air at home.
Glisten Disposer Care Cleaner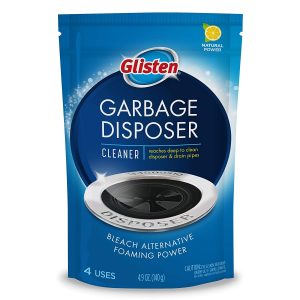 Cleaning Food Waste Grinders
When cooking at home, the residue left in the kitchen sink is always put into the Garbage Disposal under the sink to smash and clean it up, but some residue or grease will remain in the food waste grinder. Glisten Disposer Care Cleaner can help clean this machine, it will remove residue and grease, and it will prevent drain clogging. It is recommended to clean it once a month.
Scrubbing Bubbles Dow Bathroom Cleaner
When the inside of the toilet is very dirty, you can use the toilet brush and this toilet cleaner together to brush the toilet, which can clean the toilet and save effort. And this cleaner can not only be used to brush the toilet but also can be used to clean tiles, bathtubs, shower walls, sinks, etc. And this all-purpose cleaner destroys germs and sanitizes to kill 99.9% of viruses and bacteria.
Better Life Natural Tub and Tile Cleaner
Cleaning bathtubs and tiles in bathrooms
Made of natural formula, it is very practical to use it to clean the bathroom or tiles. It has been praised by everyone and is a good assistant for cleaning the bathroom!
Drainx Pro Steel Drum Auger Plumbing Snake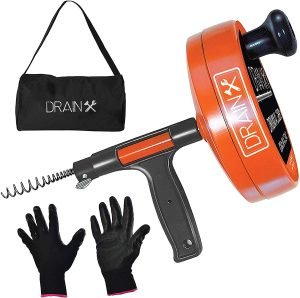 If the sewer pipe in the bathroom is blocked, you can use it to unclog the pipe, because plumbers in the United States are very expensive, and it may cost hundreds of dollars in labor costs for one visit. It is cheaper to buy one and do it yourself.
Green Gobbler Drain Clog Dissolver
Unclog kitchen sinks, toilets, and sewers under bathrooms 
If you have a clogged drain under your toilet or bathroom at home, use this to clear clogged drains and liquefy grease, hair, paper, soap scum, and any organic matter that can clog your pipes. Visible results in minutes, great for cleaning clogged kitchen sinks, clogged large toilets, and clogged bathrooms.
Easy-Off Professional Oven & Grill Cleaner

Use this to clean a very greasy oven or grill, and use it to quickly and easily remove grease and dirt from the oven or grill. It's so easy to use, just spray Easy-Off on and wait for it to dissolve stubborn stains so they can be wiped away without scratching or scrubbing.
MR.SIGA Soft Bristle Rubber Broom
A rubber broom specially used to clean pet hair from carpets
This broom is great for sweeping pet hair off the floor, it's made of rubber so it's easy to pick up and clean pet hair with. Its handle can be adjusted in length. It can be used both outdoors and indoors.
TreeLen Dust Pan and Broom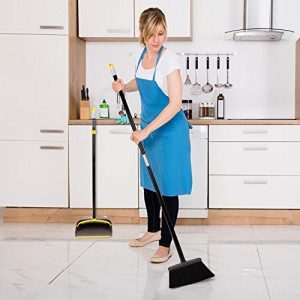 Brooms and dustpans for cleaning floors
The broom and dustpan used daily at home are very convenient to use with the broom in one hand and the dustpan in the other to collect garbage.
Microfiber Extendable Hand Dusters for cleaning dust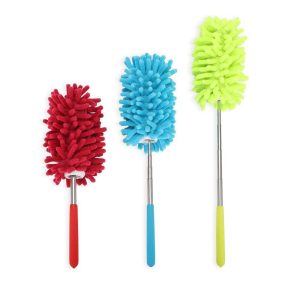 It can be used to clean the dust in household appliances such as cars, computers, air conditioners, TVs, etc., and can also be used to clean the dust on sofas, tables, cabinets, etc. It has a stainless steel telescopic rod, which is not easy to break and rust. The brush head part is made of anti-static chenille yarn, which can be disassembled, cleaned, and reused many times. The soft plastic anti-slip can help you save cleaning work and let you enjoy the fun of cleaning.
Bissell Big Green Professional Carpet Cleaner
Machine for professional carpet cleaning 
This cleaner uses hot water extraction for cleaning; it does not generate steam and is intended for professional carpet cleaning only, and the heavy-duty suction helps dry quickly. It cleans in both forward and reverse lanes so you spend less time cleaning and dries faster than other carpet cleaning machines in its class, and it has two large water tanks for full room cleaning, it also features an extra-large duster motorized brush for deep cleaning of carpets.
O-Cedar EasyWring Microfiber Spin Mop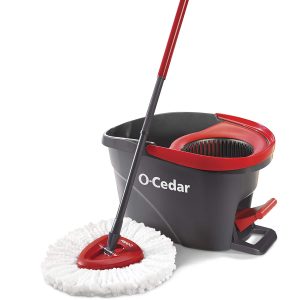 Mop for cleaning floors
This mop features an antique style. It is extremely handy for families to use it to mop the floor every day since it includes a pedal and a leaky groove that allows the water content of the mop to be controlled. However, if you have dogs at home, it is not suggested to use this type of mop since pet hair attaches to the mop head and is difficult to remove.
O-Cedar ProMist MAX Microfiber Spray Mop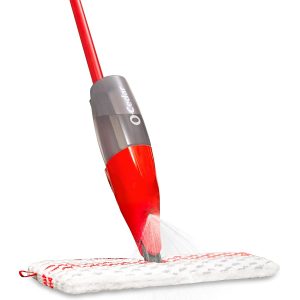 Can be disassembled and cleaned
This water spray mop has a reversible double-sided mop head on the front, so you can quickly clean the floor without changing it. Fill it with water in the bottle that comes with it, add a small amount of cleaning solution and you're ready to go. And it has a water spray function, which can help you wipe away more stains. The front soft cloth mop can be removed and put into the washing machine for cleaning, which is very convenient to use.
Mold Control Spray Mold Control Spray for Mold Cleaning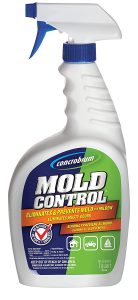 Many times at home, the home is damp, which can easily lead to the generation of germs. For example, if the floor and walls are damp, mold will be produced. Using this mold removal spray can effectively inhibit and reduce the generation of germs. It works on drywall, wood, composite lumber, plastic, concrete, mortar, metal, brick, stone, tile, grout, fabric, furniture, and many other surfaces.
Cordless Dustbuster Handheld Vacuum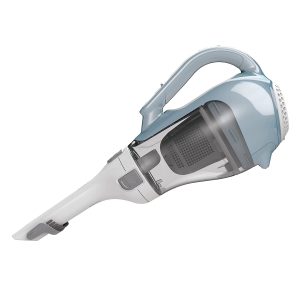 Cleaning dust in small places
This handheld vacuum cleaner is very convenient to use, and it is suitable for vacuuming sofas, car interiors, small rugs, and other places with relatively small areas. Because of its long life and lightweight, it is convenient to use. And its filter can be taken out for cleaning and reused.
Eufy Anker Self-Charging Robotic Vacuum Cleaner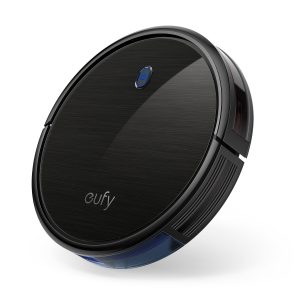 An automatic suction robot for cleaning the ground
When more vacuuming force is required for the best cleaning results, this robotic vacuum cleaner's BoostIQ technology automatically boosts the suction power itself in 1.5 seconds. And it has a 100-minute maximum runtime. For added security, it includes a scratch-resistant tempered glass top. An infrared sensor helps it avoid obstructions, and drop-sensing technology prevents it from falling from great distances. Additionally, it automatically charges and is constantly prepared to clean. Check out our list of the top robot vacuums in the US as well.
Baby Laundry Detergent for baby laundry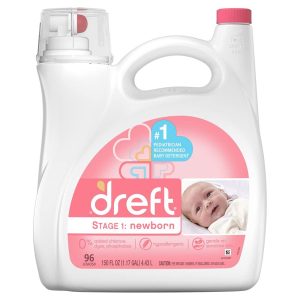 If you have a newborn baby, you can use this special laundry detergent for newborn babies. It is relatively mild and does not contain any harmful substances. It can wash away the urine and milk stains of children. It's the Doctor of America's recommended choice for children's laundry. This brand has a history of 80 years and is trustworthy.
Bug-proof bed cover Sleep Defense System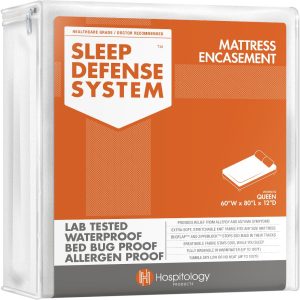 When you sleep, you hate to find bed bugs. This comforter is 100% waterproof and 100% prevents the growth of beg bugs. All six sides of the mattress have a 100% waterproof barrier – lab tested, 100% prevents bed bug growth. And it has a zipper that can be untied and can be washed, which is equivalent to a bed cover to wrap the bed.
Blower WORX TURBINE 12 Amp Corded Leaf Blower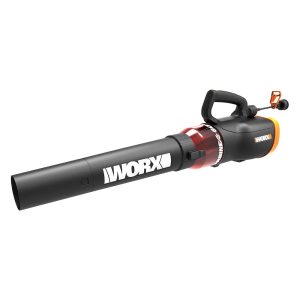 Cleaning leaves in the backyard of the home
In autumn, there may be a lot of fallen leaves in the backyard of the home. It may be a very cumbersome thing to clean up the fallen leaves at this time, but if you use this leaf blower to help you easily gather the fallen leaves, it will be easier to clean up the fallen leaves. Much more convenient and relaxed. It weighs just 6.4 pounds. So, easy to control with one hand without fatigue. It should be noted that this leaf blower needs to be plugged in. If there is no power plug outside the house, you may need to purchase a long power extension cord.
Sun Joe SPX3000 Electric Pressure Washer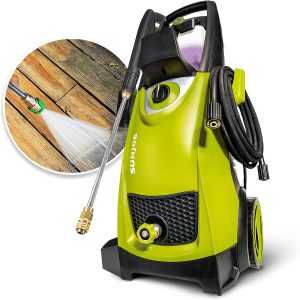 A high-pressure water gun that can clean RVs, boats, balconies, etc.
This high-pressure water pistol is incredibly adaptable and may be used to clean a variety of items, including lawn equipment, RVs, automobiles, trucks, boats, decks, driveways, and patios. Each of its five nozzles has a different pressure. To carry out particular cleaning chores, you can modify the water pressure as needed. Additionally, it includes a complete stop feature that is excellent for cleaning. For instance, if you wish to transfer it to a different spot, you can entirely stop it to prevent the water from spraying in other areas.