We select boards, irons, protectors, cleaners and other accessories to make your clothes smooth
For people who value the importance of their daily outfits, having impeccable clothing is crucial. Choosing the right combination of clothes is just as important as ensuring that they are wrinkle-free. To achieve perfectly smooth clothes, having the appropriate ironing accessories is key.
It's important to note that different fabrics and garments have varying ironing needs, depending on their cut and the temperature required to eliminate wrinkles. To cater to this diversity, usaapplianceguide has curated a collection of 15 indispensable ironing accessories, ranging from ironing boards and irons to protectors and cleaning tools, to ensure that you can effectively and safely iron any piece of clothing.
IRONING BOARD
Vileda Smart ironing board

The Vileda brand offers a great ironing board that is essential for efficient ironing. This model is designed to provide comfort and speed while working. It is stable, durable, and compact in size. The board features a metal mesh and a cotton and foam cover that allows for excellent vapor transpiration. Its height can be adjusted up to 95 cm, which helps to avoid bending while ironing. The board's 34 cm width is perfect for small spaces and can hold up to 10 kg. It is currently the best-selling model on Amazon and has received high praise from users, with a 4.3-star rating out of five and 454 positive reviews.
Vileda Premium 2 in 1 ironing board cover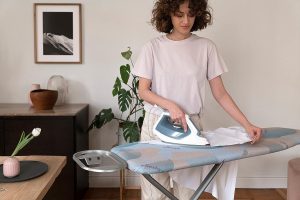 It's crucial to remember that not all ironing board covers are created equal. While most models seek to safeguard the board and facilitate ironing, this one is specially created with three layers to maximize effectiveness. The central layer is composed of foam, which readily absorbs moisture and helps with the easy movement of the iron. The outside layer is made of cotton, which may reflect heat. The innermost layer is made of thick, soft cotton fleece, providing an added layer of comfort. When combined, these layers result in better performance, due to the equal distribution of heat. Additionally, this cover is designed to be universally compatible with most ironing boards, measuring 130 cm long and 45 cm wide.
Tensioners for Rayen ironing covers
Achieve a perfectly smooth ironing surface by using these tensioners that attach to the bottom of the ironing board to eliminate wrinkles and create a snug fit. The set includes three tensioners that are easy to place with clips at each end, and they are made of elastic rubber that can adapt to any table and cover size. Enjoy more comfortable ironing with this simple solution.
Table for sleeves Rayen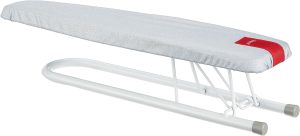 Ironing long-sleeved shirts and blouses at home can be challenging due to their various cuts, which require different positions on the ironing board. Fortunately, there is a solution that can help achieve perfect results. A metal board designed specifically for steam irons is available. It comes with an aluminum case and has a double layer of foam for added protection. When not in use, it can be easily folded for convenient storage. This accessory is a must-have for anyone looking to simplify the ironing process.
Support for iron and ironing board Brabantia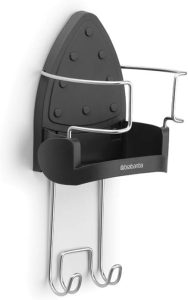 When it comes to ironing, the ironing board is the most comfortable surface to use. However, storing it after use can be a hassle as it takes up a lot of space and can be unstable when folded. Fortunately, this wall mount can solve those problems. It comes with a sturdy steel hook that can hold any ironing board and also has a compartment for storing the iron, even when it's still hot.
PROTECTORS
Rayen ironing cloth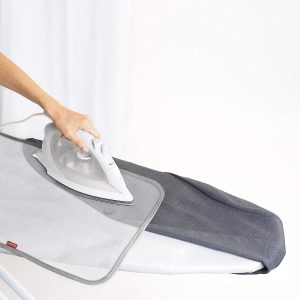 Ironing delicate garments can be tricky, but the Rayen brand cloth can help prevent burns, stains, and shine. This mesh cloth is placed over clothing to protect the fabric and prevent it from sticking to the iron. It is ideal for ironing delicate fabrics like velvet, silk, and nylon. The cloth is transparent, allowing you to see all the details of the garment. It measures 70 x 35 cm, making it the perfect size for most clothing items.
Leifheit ironing glove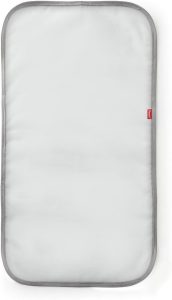 This glove is made of 100% cotton with a metallic coating, making it perfect for ironing detailed cuts of clothes like sleeves, collars, pockets, and bows. It provides complete protection for your hand while ironing, even with steam models, as it prevents heat from reaching your skin. With dimensions of 34 x 15 cm, it's suitable for most people.
COMPLEMENTS AND CLEANING
Electric lint remover Solac H101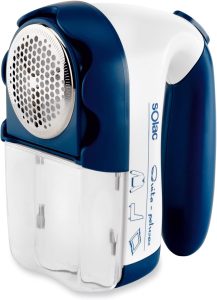 Lint can be a common problem on garments, especially after washing. This can make ironing difficult and create a worn-out appearance. To solve this issue, the Solac brand offers a powerful and efficient lint remover. This gadget can work on all types of fabrics and has a large cutting head with three grinding levels. It also features a removable container that makes cleaning easy. The lint remover can be powered by electricity or batteries and has a lightweight design that is easy to handle. It's a great solution for those who want to keep their clothes looking new and fresh.
Ironing chair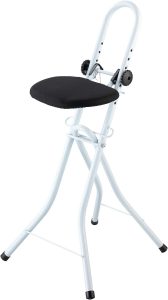 Ironing clothes can be a tiring and lengthy task, especially when done while standing up. The primary purpose of this chair is to alleviate the burdensome task of ironing by providing a comfortable seat. With seven different height adjustments, it offers maximum convenience and can be conveniently folded for storage purposes. Its sturdy steel tube frame ensures durability, while its padded seat adds extra comfort.
Clothes bender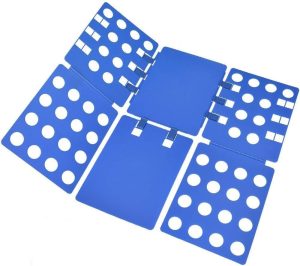 Achieving perfectly ironed clothes can be undone if they're poorly folded and disorganized in the closet. This folding tool solves that problem by allowing users to easily fold T-shirts, shirts, and pants in just three simple steps. It features plastic plates with holes to release air and strong, thickened hinges. Measuring 57 x 70 cm, it accommodates most garments.
Faultless Hot Plate Cleaner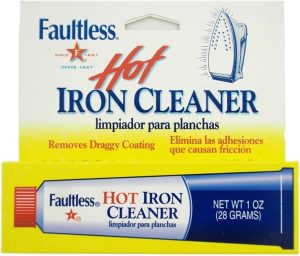 Over time or through accidents, the sole of iron can accumulate dirt or remnants of clothing. However, cleaning it can be effortless with this effective cleaner that removes residue from hot irons, including melted synthetic fabrics, patch glue, and starch. This cleaner is safe to use on metal, Teflon, and silver surfaces, and is not toxic.
EcoDescalk concentrated ecological water softener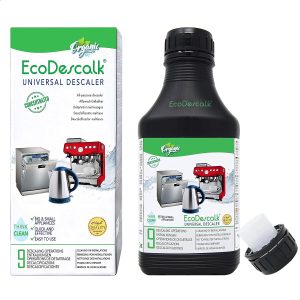 Like any water-using electrical device, irons can accumulate limescale and corrosion over time, which can shorten their lifespan. To prevent this, it's advisable to use a descaler periodically. This natural product removes limescale, cleans and prevents corrosion, increasing the energy efficiency of household appliances and preventing breakdowns caused by limescale buildup. This descaler provides nine decalcifications, and the best part is that it's made from biodegradable organic compounds.
PLATES
Bosch TDA503001P Sensixx'x DA50 iron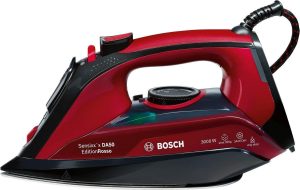 If you want to achieve the perfect ironing, it is important to have a high-quality iron. That's why we recommend the Bosch brand model, which is a popular choice on Amazon. With almost 900 customer reviews and an average rating of four out of five stars, it offers excellent value for money. This model has several great features, including adjustable steam flow, an anti-scale cleaning function, and a Drip Stop anti-drip system. Its base has steam channels and three ironing zones, ensuring optimal steam distribution and effortless gliding.
Upright steam iron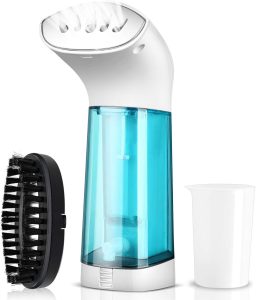 Sometimes, there just isn't enough time to iron clothes. That's where a tool like this vertical iron comes in handy. It heats up in just 30 seconds and has a 120 ml water tank that produces a lot of steam for quickly removing wrinkles. The iron's soft head makes it safe for use on delicate fabrics like silk. Plus, there's no need for an ironing board, making the task even quicker to complete.
Singer SteamWorks Pro Vertical Ironing Center

If you're searching for a top-quality ironing center, consider the Singer brand model. It's a vertical iron that comes with a coat rack and heats up in only 45 seconds. With a 2.5-liter water tank, it provides up to 90 minutes of continuous operation. This iron generates plenty of steam to eliminate tough wrinkles in all kinds of fabrics and clothes. Plus, the coat rack can rotate 360 degrees to make ironing more effortless.