About electric hand mixers
People who love to prepare all kinds of recipes, and especially confectionery, should have their kitchens well-equipped with the most modern and functional appliances. Blenders are among the most important and widely used.
These appliances have various functions, such as beating eggs and other ingredients to make cakes, kneading dough, and whipping egg whites to the point of snow or whipped cream. The beaters of the mixer add air to the mixture, which influences the fluffiness of cakes and other desserts. They also work to prepare sauces and soups. They are very versatile devices that can be very useful if you are an amateur cook.
So you know that buying the best hand mixers must be present in your kitchen.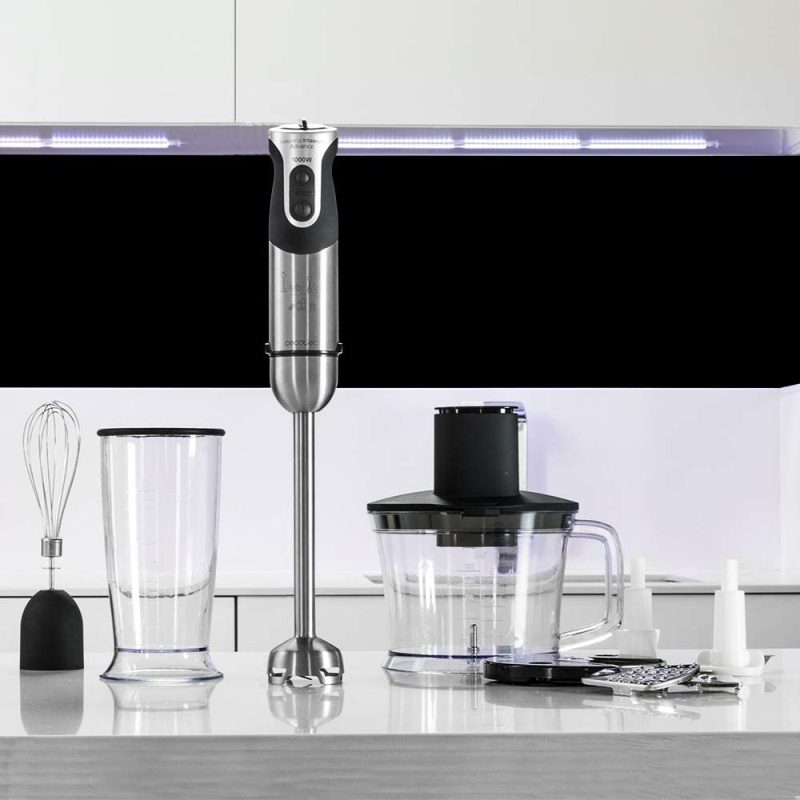 What is a hand mixer?
A mixer is a small appliance that almost all of us usually have in our kitchen to beat and mix foods that are not excessively hard. In this way, a blender will allow us, on the one hand, to speed up the process of beating food such as eggs or liquids or doughs and, on the other hand, to obtain uniform mixtures that are ideal for sauces, emulsions, or preparing the dough.
And how does it work? The operation of a mixer is quite simple. Essentially, it is an electric motor that rotates a gear to which are connected rods that will be responsible for turning the food and making the ingredients mix.
The most modern and sophisticated will have electronic mechanisms to control the speed of rotation and will allow the use of different types of rods or accessories to perform other functions, such as grinding.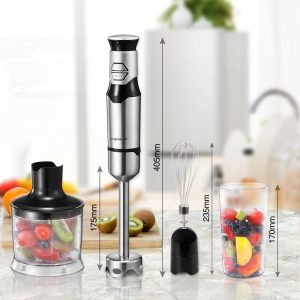 What types of hand mixers are there?
Hand Blenders have evolved over the years, giving way to multifunctional designs that allow various procedures to be carried out with a single device, such as beating, mixing, kneading, crushing, or pureeing. These are the most common types that you should know before deciding to buy the best hand mixer.
Hand blender or mixer: it is compact and usually comes with several parts, including a whisk and a mixing bowl. Its design allows you to crush solid foods to make soups, purees, and baby food. It is ideal for preparations in smaller quantities.
The pedestal mixer is the most common in the confectionery and bakery industries: It has several speeds and is equipped with a bowl and rotating blades that beat the mixture and give it air. It also has a dough hook for kneading bread dough. There are all kinds, from the most professional, whose price can be very high, to the simplest home blender with the necessary accessories.
Mixers are the most important tool for every pastry chef. There are thousands of designs of the highest quality. However, not all meet the expectations of buyers.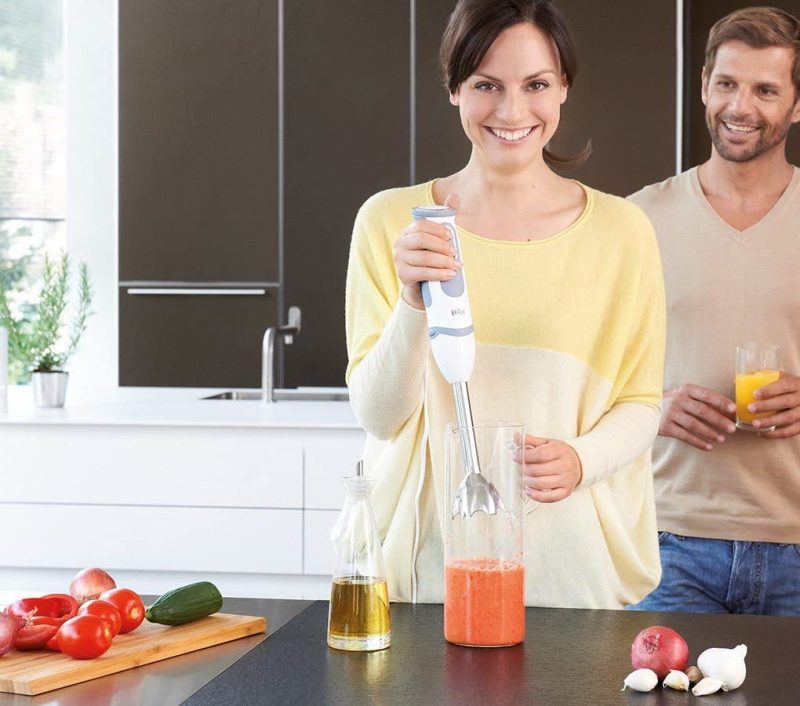 When buying your mixer, you should consider the following characteristics:
Material
Stainless steel is the most convenient both for food safety and resistance, as well as for its ease of cleaning. If you have plastic parts, you should always check that they are appropriate for food preparation.
Power
Depending on the use and the frequency of use that you are going to make of your hand mixer, you should choose one of lesser or greater power. Less than 300 W is not suitable for hard ingredients or frequent use. Between 400 and 600 is more appropriate for frequent home use. Professional hand mixers usually have a power of more than 700 watts and will allow you to crush hard foods or ice, mix foods, or prepare purees; above all, they will withstand intensive use.
Controls and speeds
Having multiple speeds will allow you to have better finishes and textures.
The controls of the device must be easy to use, with tactile buttons that have the minimum security measures.
Rods
They are the most important pieces since, thanks to them, a homogeneous and aerated mixture is achieved. They should be made of stainless steel and be easy to assemble. As for the kneading rods, they must be thick and curved for better kneading.
Glass and accessories
This piece also plays a fundamental role. It is recommended that it be made of stainless steel or unbreakable glass so that it does not deteriorate with the rubbing of the rods. Plastic ones are not recommended for food safety.
The most advanced models usually provide, in addition to the measuring cup, additional accessories such as a chopper or rods for mounting.
Design, weight, and size
They should always be robust enough to provide safety, but the lighter the blender, the easier it will be to handle.
To decide on the size, think about the use you will give it and how many people you are going to cook for. and if you have the necessary space in your kitchen.
Regarding the design, it is important that the blender be removable to facilitate cleaning and storage.
Brands of hand mixers that are the best
Because of the quality of their models and taking into account the criteria that we have described above, these are the most noteworthy blender brands.
Bosch: The German brand is world famous for the quality of all its products, including not only hand mixers and kitchen appliances but also the best clothes irons.
Braun: Another well-known German brand This brand sells some of the best pulsed light epilators in addition to great kitchen appliances.
Aigostar: One of the companies that sells the best electrical appliances at very competitive prices In addition to good mixers, it has the best oil radiators.
Ecotec: Another of the usual companies when it comes to brands of household appliances This company, for example, sells the best robot vacuum cleaners.
Moulinex: Good blenders, as well as good espresso machines and the best programmable pressure cooker sure cookers. The products of this brand are guaranteed.
Read another article about The best Philips oil-free fryers
Our Recommended Hand mixers
Now that you have the information to choose the one that is most appropriate for your needs, and in case you are interested in buying a hand blender, we leave you with a small list of recommended models.
Bosch MSM67170 Ergomix Hand mixer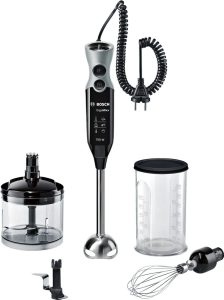 The 12-speed selector to achieve the perfect texture and finish in each recipe

750 W of power with turbo function

Accessories: chopper with lid, special blade for ice, and blender rod

The SoftTouch grip has an anti-slip effect.

large buttons for easy use

Completely dismountable, with all its accessories suitable for the dishwasher

Weight: 1.25 kg
Braun Multiquick 5 MQ5000 Soup Hand mixer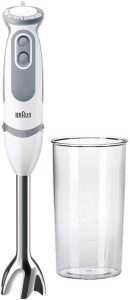 750W power

21-speed manual selector

Anti-splash technology,

EasyClick disassembly system,

Stainless steel blades

Includes a 600-ml measuring cup

Weight 930g
Aigostar KZZ hand mixer set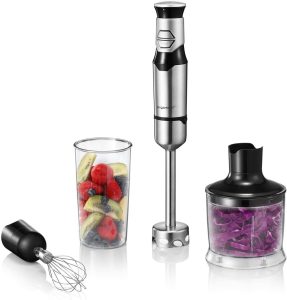 Details of the Aigostar KZZ blender made of stainless steel and high-quality BPA-free plastics. 600 watts of power with a maximum speed of 15000 rpm

Two speeds

Provides a recipe book.

Accessories: mixing rod, 700-ml glass, 400 ml-chopping glass

The dishwasher is safe and fully removable.

Weight: 2.02 kg
Hand batidoraCecotec Powerful Titanium 1000 Pro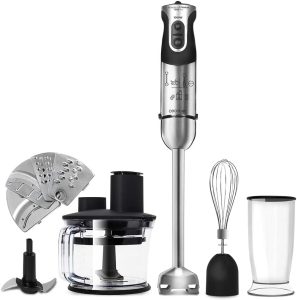 Professional use

1000W of power and 21 speeds with turbo function

Splash guard and extra-long foot

4-bladed titanium-coated blade

Ice pick

Ease of disassembly thanks to the EasyFix system

Its soft-touch coating improves grip.

Accessories: 800 ml glass, 1250 ml food processor, 4 cutting discs, and whisks;

BPA free

Peso 998g
Moulinex QuickChef DD655D10 hand mixer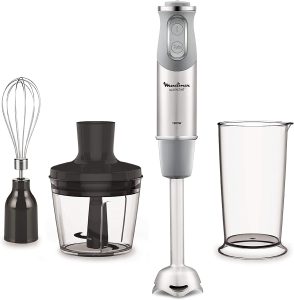 1000 W of power with 10 speeds and a turbo function

ActivFlow technology with 4 large blades

Extra-long, detachable stainless steel foot, and splash guard

Non-slip handle

Accessories: 0.5-liter chopper, emulsifying rod, transparent glass with 0.8-liter measuring panel

Weight: 1.62 kg
Conclusion
The quality of a product depends on its durability, so you must be very careful when choosing your appliances. In this guide, we have given you the necessary advice so that you get it right when buying the best hand mixers.
You no longer have an excuse for failing to recognize the best brands and models, or for failing to select a high-quality hand mixer based on the best criteria.