Over-mounted/drop-down sink
Over-mounted is by far the most common form of installation. This mounting design works both for the hob and the sink. A hole is cut in the countertop and the sink is lowered into the stone worktop. With this mounting option, the edge of the sink ends up on top of the countertop. An overmount sink is the easiest to install. Above-mounted sinks are also the safest choice when it comes to moisture damage to the countertop.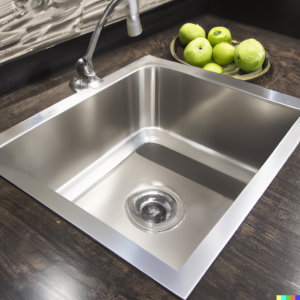 Flush-fit sink
This mounting method is very common for stone countertops. You cannot install a sink that is flat-glued yourself, it is done in the factory. A recess is milled around the hole in the countertop that fits the outer edge of the sink. The sink will then lie completely flat with the worktop. For certain types of hours, plane gluing is not recommended. The sink may have insufficient dimensional tolerance to provide an exact fit against the countertop. This hole-making is only carried out for slabs that are intended for this. When gluing flat, the countertop manufacturer usually wants the sink with them when milling is done, this is to be sure that the sink fits incorrectly
Undermount sink
If you want the stone slab to be visible extra, you should choose an undermount sink. An undermounted sink is glued to the countertop from below. When installing the countertop from below, the edge surfaces of the hole punch become visible in the same thickness as the countertop. Many people think this is very beautiful because then you can see the worktop's material in its cross-section. However, this piercing is only suitable for smaller, stainless steel hoes. A sink that is glued from below should not be installed yourself.
Read another article about different mounting options for sinks
Under-milled/up-milled sink
With an under-milled sink, a giant hole is milled around the hole in the countertop from below. This way, the sink ends up slightly on the countertop than an undervalued sink. The sink is installed from down so that the top edge of the sink ends up approx. 10-25 mm from the top surface of the countertop. Here, too, the edge surfaces of the hole punch become visible.