About electric paella pans
Using an electric paella pan could be a great option to save time and ensure that the rice cooks evenly in one layer, no matter how traditional you are. It's not a coincidence that these pans have remained a popular small kitchen appliance.
Certainly, many people have come to wonder why they should bother buying an electric heater if their kitchen has a stove or if their heat source is different. But, in reality, an electric paella pan is a very useful tool that is invaluable in the kitchen.
Best of all, it's also a versatile appliance. The types of foods you can cook in this electric skillet, as well as the number of ways to prepare dishes, are endless. It's not just succulent paella but also pancakes, bacon, French toast, fried chicken, stews, sauces, steaks, and much more.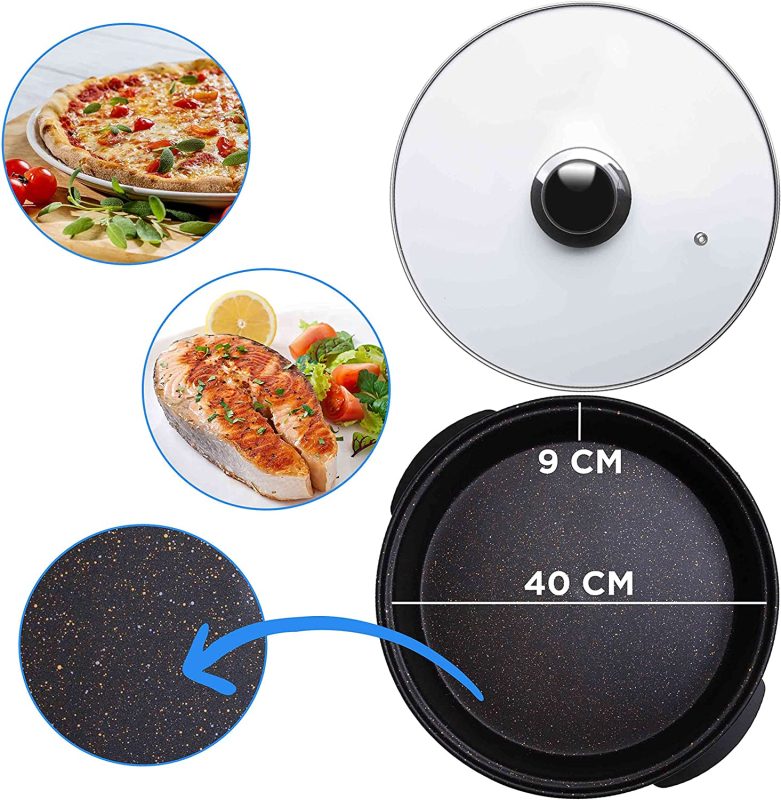 In other great news, if you're trying to reduce energy use, an electric skillet will help you save on utility costs, especially if you have a traditional stove that tends to use a significant amount of gas.
For festive gatherings when large meals are the norm, having the best electric paella pan to handle an extra plate or help cook can be an excellent idea.
However, if you consider yourself more traditional and prefer to prepare your rice dishes in an enamel paella pan, here we also have recommendations for buying the best model.
What is an electric paella pan?
An electric paella pan, in a few words, is an appliance that normally comes with a lid and that allows cooking with high-quality results thanks to its power.
Most electric paella pans and frying pans are made of aluminum with a non-stick coating that can be ceramic or Teflon, and the models with lids are usually made of glass.
There are many advantages associated with this type of appliance. For example, an electric paella pan prevents food from sticking to the bottom, allows cooking more healthily because it requires less oil, and fulfills several purposes besides cooking paella. They are easy to adjust and can be taken anywhere due to their portable condition.
How to choose the best electric paella pan
Having a good electric paella pan is a great idea. But now you are probably wondering how it is possible to choose one that suits your needs. There are so many reviews that can be helpful when deciding that the process can get a bit confusing.
But, for your peace of mind, we present below a list of the benefits that matter.
Size
Electric paella pans come in different sizes and are available to meet the needs of almost any number of diners.
However, it is good to measure your demands, and when it comes to the selection of the size, you should take into consideration the number of people you normally cook for and also the issue of storage, because if you do not have enough space to store the paella pan when it is not in use, you're better off looking for something that will fit in with your kitchen cabinets.
As always, think carefully about the use you are going to make of it and for how many people you usually cook, because the bigger it is and the greater its diameter, the more expensive the paella pan will be, and of course, it will take up more space.
He also thinks that if the paella pan is too deep, the cooking may be less uniform.
Temperature
Most people are wrong when it comes to buying electric paella pans due to temperature issues. If you want a pan that will give you the ability to fry even chicken, then you should go for something that goes up to 450 degrees. In this way, you will have the guarantee of an appliance that will serve several purposes.
In general, a good electric paella pan will have a regulator for different temperature levels that allows you to cook different types of dishes to your liking.
Depth
If you are going to use the electric paella pan for other meals, it is important to consider the sides and make sure they are the right height. The slightly higher sides ensure that when frying large foods, they will fit perfectly in the pan. The low-sided skillet won't give you the privilege of that extra space in your kitchen.
But the main purpose of a paella pan is still to cook rice, and for this cooking to be as uniform as possible, the paella pan should not be too deep.
As always, it is up to you to decide what kind of use you are going to give the appliance and decide on the purchase of the one that meets your expectations.
Needs
Before buying an electric paella pan, you must be able to identify the purpose of the purchase. There are electric paella pans that have multifunctional functions, making them much more versatile than paella pans that are only used for the same purpose over and over again.
However, depending on what you want to cook or what you often prepare, you can make one purchase decision or another. We have already seen above that, for example, size and depth play an important role.
Precio
The price is a fundamental point when buying any product, including an appliance. You don't have to go to extremes to get a quality device. It is important to make sure that the electric paella pan really suits your needs and that it is still affordable.
Glass lid
When buying an electric paella pan, choose a model with a glass lid. This is not only trendy, but it is also a healthy way to prepare meals. In addition, this preserves the moisture in the food, and the heat remains locked inside the paella pan, saving energy.
Heat-resistant handles
Heat-resistant pot holders are a must in an electric paella pan because they reduce the chances of burning yourself. This will make cooking safer and easier.
This aspect is simply essential, and we would never opt for a model that does not have this feature.
The best brands of electric paella pans
Orbegozo. This Spanish manufacturer is famous for its quality appliances and other similar products. In addition to good electric paella pans, it sells, for example, the 

best wine bars

.
I am. It is one of the most recognized brands in Spain and stands out for functional household appliances. Among its products, the 

best thermoelectric refrigerators

 stand out.
Clatronic. If you are looking for household appliances, such as

vacuum cleaners

, coffee makers, 

the best blenders

 and mixers,

kitchen robots

, or electric paella pans, this company offers quality proposals.
sad. This renowned brand has known how to stand out for its products in different categories and with a quality seal. Its electric paella pans are outstanding, but it also sells the

best fans with a nebulizer

.
fluky. This is another important company that has been dedicated to the design and manufacture of products for the home.
Recommended electric pans
The next thing, once you are aware of the criteria for choosing the best electric paella pan, is for you to select a model from the list of recommended paella pans that follows.
Tristar PZ-2964 Electric Skillet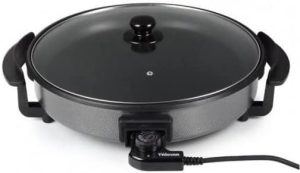 Tristar PZ-2964 Electric Skillet Details For an affordable price, this electric paella pan is a proposal that offers true versatility since it works for various purposes. Its weight is 3.36 kilograms, and its dimensions are 40.5 x 39.5 x 11 centimeters.
It is adjustable in temperature with five options that reach a maximum of 280 degrees and works with a power of 1,500 W. Its lid is made of glass, and its base is non-stick.
Electric skillet with glass lid Clatronic PP 3401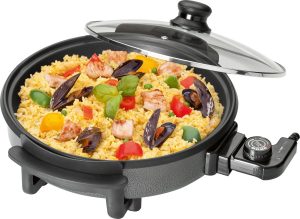 Details of the Clatronic PP 3401 electric frying pan Priced very well, this electric paella pan works for different cooking methods and even has a defrost function. Its base is non-stick and measures 23 centimeters in diameter.
Comes with a glass lid, and its handles are resistant. It weighs 3 kilograms and has a capacity of up to 8 liters. It is made of metal and works with a power of 1,500 watts.
Sogo SS-10105 Electric Multicazuela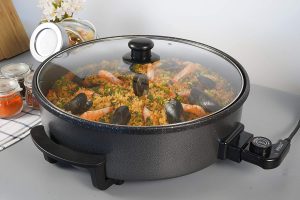 Details of the electric multi-casserole Sogo SS-10105For a price similar to the previous ones, this electric multi-casserole is made of nonstick Teflon and has a glass lid. It has a power of 1,500 W and is a versatile appliance because it can make pizzas, paellas, and even grilled meat.
It works with different temperature levels and has a thermostat to regulate it. Its weight is 3.5 kilograms, and its diameter is 42 centimeters, with a depth of 9 centimeters, making it large enough for 8 diners.
Orbegozo PZ 8100 electric pan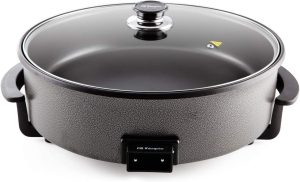 Details of the electric pan Orbegozo PS 8100This electric paella pan has a nonstick surface and is useful for cooking different dishes. Its weight is 4.1 kilograms, and its dimensions are 44 x 44 x 16.5 centimeters.
It has a power of 1,500 watts and also has a glass top. It comes with a thermostat that allows you to regulate the temperature and is easy to handle thanks to its insulating handle.
Electric Multi-Casserole Princess Multi-Wonder Chef Pro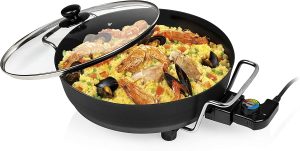 Details of the Princess Multi-Wonder Chef Pro Electric Multi-CookerWith great value for money, this multipurpose casserole can be used, in addition to being a paella pan, for frying, grilling, grilling, and working. The lid is made of reinforced fiberglass and works with a power of 1,700 W. It comes with a thermostat that adjusts to the dish being cooked and is made of aluminum alloy with a non-stick coating.
Dimensions of 35 cm, a weight of 3.7 kilograms, and 7 centimeters deep. It is an appliance that is easy to clean and handle thanks to its removable insulating handles.
Benefits of electric paella pans
If, after all, you are still wondering why you should buy an electric paella pan, here is a short list of advantages that you will get from purchasing one of these appliances.
Healthy: This type of appliance reduces the need to use oil to fry food. So you will reduce the amount of fat in your diet. In addition, thanks to the properties of the materials with which they are made, the possibility of burning food is reduced, which will also result in a healthier diet.
Non-stick: Thanks to the material with which they are made, a good electric paella pan must be non-stick. In this way, the rice will not stick to the bottom, which minimizes the possibility of burning and facilitates later cleaning.

They are multifunctional. We have already mentioned it throughout the guide: electric paella pans are not only for making rice but also for cooking other dishes.

Easy to use: They have power and temperature regulators that are specially designed for different foods that can be prepared with the electric paella pan. In addition, its insulating handles will prevent you from burning yourself when moving it.

They are portable. Yes, you can take them anywhere, and you will only need an electrical source to put them into operation.

There is no bad smoke or vapors. The best electric paella pans have systems that prevent excess smoke from being emitted, so you can use them inside your kitchen without any problem. They also have valves to expel excess steam that can ruin your food.
Easy to clean: As we have already indicated above since they are made of non-stick materials, food will not stick to the bottom or burn. which will make them much easier to clean.
Conclusion
Electric paella pans are one of the most versatile kitchen appliances on the market, since, in addition to cooking paellas, they are useful for preparing many other dishes.
There are electric paella pans that are better than the others, and some are more advanced in terms of the technology behind their manufacture, we intend that, with the help of the information included in this guide, you will know how to identify them.
So do not hesitate, and if you think you should buy the best electric paella pan, decide on one of the models on the list of recommendations because it will surely meet your expectations.