If you think kitchen utensils are essential in any home, the can opener is one of them. It seems that such a small and simple device is not so necessary. However, it cannot be missing in your house because it will get you out of many troubles.
Due to the wide variety of canned foods, it is necessary to have a can opener because not all of them have an easy open system. So, you will need this artifact to open the can.
Although it seems very easy to choose a can opener, it is not. There are several factors that you must consider to make a successful purchase and acquire a quality, functional, and, above all, durable product. That is why we want to provide you with all the information you may need in this regard. We hope you find it useful!
The Important Things
A can opener is a tool specifically designed for removing the top cover of the can safely and easily. Its mechanism is made of metal and consists of gears, a blade, and a knob. Together they perform a job in which the sheet is cut while the can be turned.

Over time, the design of can openers offer the public an increasingly simple way to open cans. However, despite this, it is not always easy to use. Thanks to technological advances today we can find two types of can openers, manual and electric.

It is important to know some factors that will help you make a successful purchase. Some of them are size, warranties, cleanliness, and add-ons. If you are well informed about these points, you will be sure to choose the most suitable product for you.
The best can openers
: Our Recommendation
---
We know that it is not always easy to make a quick decision when purchasing a new utensil. We want you to know which are the best-selling can openers online. In this way, you will know why customers prefer them and what each of them offers you.
KitchenAid Can opener
The design of this can opener is made to have a firm and secure grip. Its plastic handles allow for a good position in the hands. In addition to the knob being extra large for easy turning.
The central system of this model of the can opener is made of stainless steel. It has an extremely resistant material that guarantees a precise cut with minimal wear on the blade. For cleaning, It is easy to wash and only needs warm water and soap. It is recommended to dry immediately so that the water does not mark the stainless steel.
Zyliss Lock N' Lift Manual Cannisters can opener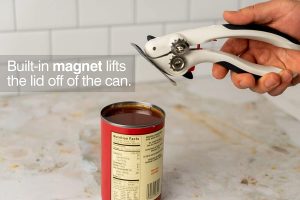 This can opener has a magnet that allows you to remove the lid of the can easily and safely. This system is controlled by a button located on the top of the device. It allows you to activate and deactivate the magnetic system to remove and release the lid of the can.
It also has an ergonomic design and rubberized handles that allow a firm and non-slip grip. Due to its size and compact design, it does not take up much space to store. The center system hinges open wide for easy cleaning.
The most versatile stainless steel electric can opener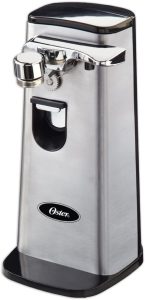 The majestic design and functionality of this electric can opener make it one of the public's favorites. This is a can opener with an automatic mechanism that immediately finishes cutting the lid off. This makes it a hands-free operation. It also has a magnet that holds the lid at all times.
Its tall design allows you to use all types of cans. Another of its characteristics is that it is multifunctional. It has an integrated bottle opener, as well as a compartment to store scissors, it has a knife sharpener. Magnificent isn't it?
Read another article about The best Philips oil-free fryers
The best electric side cutter can opener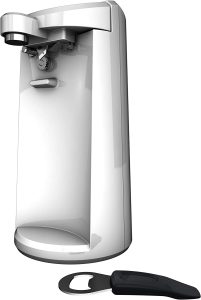 Topping our list we have this electric can opener that not only has an elegant and attractive design, but also great utility. Thanks to its practical lateral cut, you will be able to simply lift the lid of the can after finishing the cut, thus avoiding the drippings that arise with the magnets.
Forget about the sharp edges that often occur with common can openers, because the smoothness of its cut will delight you. With this exemplary device, you will be able to open cans of any size, in such a simple way that you will not require any effort.
Can opener shopping guide
To choose a can opener that is useful for you, you need to know what types are on the market, their variables, and some factors such as price, ease of use, cleaning, or where to buy it. Below we present each of these points in detail.
What is a can opener and what advantages does it have?
A can opener is a device, whose system is metallic, that through a blade cuts the sheet of the can, and together with a gear it slides cutting along the entire edge of the surface of the can. In this way, it manages to completely separate the upper lid from it to extract its content. Due to their high level of preservation, canned foods are widely marketed and there are all kinds of presentations and foods that you can find preserved. For this reason, can openers are essential because without them there would be no safe and easy way to open them since cutting the foil in another way can be dangerous.
Advantage
⇒ Facilitates the action of opening a can
⇒ They are easy to operate
⇒ Electric can openers save time and effort
⇒ They are cheap
Disadvantages
⊗ Electric can openers can be expensive
⊗ If they are not placed well, it is difficult to open the can
⊗ Some electric models are very large
⊗ Being exposed to the blade makes it somewhat dangerous
Abrelatas, manual or tram – What should you pay attention to?
Although over the years this tool, is essential for extracting the contents of canned food. It is easier and safer to use. For many users, it is complicated to use and they cannot make it work correctly. For this reason, on the market, we find two different types of can openers, which perform the same function. The big difference is their ease of use. We present these two variables that you can find.
Manual can opener: This can opener consists of a mechanism that must be turned manually, and the can cutting and sliding system is activated. The blade should be placed on the inside edge of the can and the gear on the outside. In this way, the pressure exerted by both parts, together with the work of the knob. Allows the sheet to be cut at the same time that it rotates the can. If it is not placed correctly, the mechanism does not work.
Electric can opener: This type of can opener was designed to make the act of opening a can even easier. Because using a manual can opener requires a lot of effort, its electric version was invented.
It is only required to place the mechanism correctly on the can and everything else is done by the can opener itself. Most have a magnet that holds the cap for easy removal. These artifacts have two variables:
Electric can opener to hold: The device necessarily must be held by hand during use.
Hands-free electric can opener: A device that does the complete job and allows you to do another activity while the can is opened.
| | Manual | Electric |
| --- | --- | --- |
| Price | Bass | Medium – High |
| Size | Little | Medium – Large |
| Easy to use | Media | Alta |
How much does a can opener cost?
Like all products with variants, the cost of can openers depends not only on the brand but also on the type of mechanism it has, that is if they are manual or electric. Despite being essential utensils, there are very simple models and others that are very complete, which also causes their prices to vary. 
Manual can openers: You can find them from $12 very simple, between $15 and $40 for quality and designs, and up to $55 for multifunctional Premium brands.
Electric can openers: These range from $30 to $150. It depends a lot on the brand if they are hands-free or not, and if they have any other function.
Where to buy a can opener?
Being a highly used and necessary tool, you can find it in many establishments and stores. For example, you can find basic, simple, and cheap can openers in self-service stores such as Mega, Superama, Walmart, Chedraui, Soriana, Veena, etc. Some prestigious Premium brands are distributed by department stores such as Liverpool, Palacio de Hierro, or Sears in the kitchen and home department. These same stores also sell them online, as well as Mercado Libre or brand pages such as Kitchen Aid.
If what you are looking for is practicality and making a safe purchase from your home, do not hesitate to enter Amazon. There you can find a wide variety of can openers, of all kinds and from different brands. In addition to receiving it at home, you have a satisfaction guarantee.
Compare and rate the different models of can openers.
Before making your purchase, we recommend that you take into account some factors that will help you acquire a quality product that has a long useful life. If you choose without being fully informed, it may end up being a failed purchase. That is why we present some important points to consider.
Size
Although it seems that size is not a determining factor in the purchase decision, it is and we want to explain why. Normally, depending on the size of the can opener, the firmness of its grip is defined.
By firm grip, we mean that the entire hand covers the grip or handle and that it is not slippery. Without this, much more force must be exerted to open the can, making the process more difficult. Also, this action becomes more dangerous because there is less control of the system that we remember, it includes a blade.
If you prefer to acquire an electric can opener so as not to have problems with the mechanism and not to make more effort, we recommend that you also take into account the space where you will have or store it. Below we leave you some precise data so that you can consider the measures they have.
Manual can openers: From the simplest to the most equipped, they have measurements between 19 cm and 27 cm.
Electric can openers: In this sector, the measures can vary a lot depending on their type.
Hand: Its length measurements range between 11 cm and 18 cm.
Free hands: Base width between 12 cm and 15 cm, depth between 11 cm and 15 cm, and height between 24 cm and 28 cm. Consider that this type of can opener becomes an appliance that will take up space on the surface of your kitchen.
Industrial can openers: These measure between 45 and 60 cm and can open cans of up to 5 kg.
Warranty
Many times when it comes to non-electronic products, we don't make sure they have a warranty. These types of utensils must have a guarantee because they are products that need to work correctly for user safety.
Manual can openers normally have a factory defect guarantee, that is, if any part is defective. This type of guarantee is applied directly in the store and is valid for between 30 and 90 days, depending on the store.
Where you get a guarantee for a longer term is in electronic can openers because, due to their very system, they are more likely to stop working sooner than expected. The guarantee of these is between 1 and 5 years. It depends on the brand.
Cleaning
Perhaps when you think about cleaning kitchen utensils you will not find a major problem, however, since it is an artifact that has a very sharp blade, and that commonly comes into contact with the food inside the can, it is different. You can find two different cleaning methods:
Open system: There are can openers that, thanks to the fact that through the handles or the grip, the cutting system can be opened, exposing the blade and the gears. These parts are the ones that commonly come into contact with food and they must be properly cleaned to avoid sources of infection or cross-contamination.
Manual can openers regularly have this washing method, although it should be mentioned that not all of them have one.
Disassembly of parts: Most electric can openers have this method of washing since not all parts of the utensil can come into contact with water. To carry out the cleaning process in this case, the parts of the system, blade, lever, and gears, can be assembled and disassembled. We recommend that you make sure that it is not difficult to mount these parts in place, as the can opener will not work and can be dangerous.
Add-ons
There are very simple can openers that only fulfill the function for which they were designed. However, due to so many offers in the market and the fact that every day we look for ways to facilitate our lifestyle, we can find multifunctional can openers.
If you want to kill two birds with one stone, we recommend looking for a can opener with two or more additional functions. Some of them can be:
Bottle opener (such as beer)

Container opener (large lids)

Plastic lid opener

With a buckle to hang it

Knife sharpener

Storage space (on electric can openers)