Nobody likes to walk in public with wrinkles on their clothes and although it is hard to get up the courage, you have to spend even a few minutes ironing and thus avoid being embarrassed or being poorly presented. This task is becoming easier and faster thanks to these useful appliances.
Find out totally for free about the essential characteristics that a good iron should have! Its design, the type of plates, the power, and much more! All the essential information to make an intelligent purchase, we will discuss it in the following article.
First things first
The iron is an appliance whose main function is to smooth the wrinkles of the clothes through heat and a little weight so that the fibers stretch and maintain this shape when they cool down. Giving clothes a clean and elegant look.

You can choose between dry or steam irons. Both are excellent and do their job properly. You only have to take into account your needs, the fabric you want to iron, and all the essential characteristics so that you choose the best one, and we will tell you immediately.

Do not forget the basics so that the iron is ideal while larger. Its soleplate must heat up quickly and not damage clothing; as well as the power to help you get the job done faster or slower. Consider other factors like cord length, cleanliness, and safety.
The best irons: our recommendations
---
Iron, Dry, and Nonstick – Taurus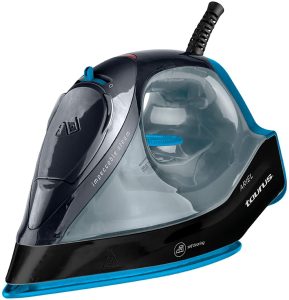 The favorite of many since it is the classic dry iron, it heats up quickly and is very light and easy to handle. It stands out for its ergonomic handle and its anti-tangle cable that facilitates ironing and is perfect especially if you cannot move heavy objects.
You can control the temperature for different types of garments. Its plate or sole has a non-stick component that will help take care of your clothes even more and slide easily. Its price-quality ratio is excellent and users prefer it for this reason.
Cordless Iron – Panasonic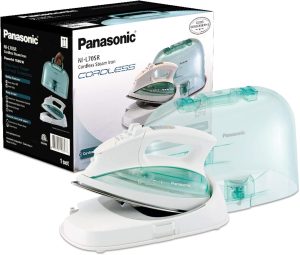 This iron is a model that combines dry and steam iron. It is very safe and easy to use. Its plates are made of stainless steel and its anti-drip and ventilation system will keep it clean for a longer time. I am avoiding the unpleasant task of constant cleaning.
It has three heat and steam settings, you can choose between spray mist, steam jet, and self-cleaning, and surprisingly it can also be used vertically. Don't be afraid to try the wireless technology, as it still has 1600 watts of power and charges very fast.
Classic Iron – Black & Decker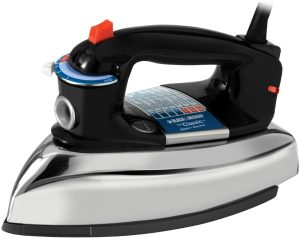 Preferred by many users as it looks exactly like the irons of old, but with a modern touch; It has the same and better qualities. Its soleplate is made of non-stick aluminum that smoothes wrinkles easily and quickly. It's a fabric selector that will help you if you don't know how to use the dry function.
It has a long-lasting useful life since its anti-drip system protects it and keeps it clean for much longer. It is important to note that it also has a steam function, which allows it to heat up and remove wrinkles quickly. Don't worry if you forget to turn it on, its auto-off system will be very useful.
Portable Steam and Dry Iron -Vanra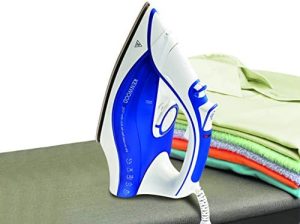 We love this iron as do the users. It is ideal for people who travel a lot for their work or those who want to look good on the go. Its power is greater than other portable models, 800 watts. This product is capable of removing wrinkles in most fabrics with its dry or steam function.
It heats up in 15 seconds and has different temperature levels. It is quite powerful for a portable iron, as well as ideal functions for those who do not know much about ironing, and is a heat indicator.
Dry & Steam iron – Corridor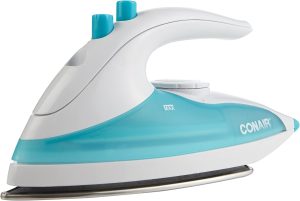 This dry iron also has a steam function. It has adjustable pressure and temperature to remove difficult wrinkles. It doesn't consume a lot of energy 800 watts, but it still heats up quickly and does its job perfectly.
Users love it mainly because it's so easy to use and you won't have to ruin any clothes to find out. Its precision system is great for collars and pockets. Its vapor can be spread vertically.
Buying Guide: What you need to know about an iron
We know that ironing can cause more than one headache, especially if you have never thought about this task before. At USA Appliance, we want to give you the necessary tools to make a well-informed decision. We hope that the following information will help you find what you are looking for.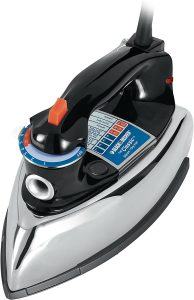 What is iron and what advantages does it have?
The iron is a device that has been present in our lives since time immemorial. They are one of the best-selling devices to smooth out wrinkles from clothes and thus always be well organized and presentable. This appliance penetrates the fabrics mainly with pressure and heat: more currently with steam, causing the clothes to smooth and look like new. This task used to be done at the dry cleaners, where they wash and iron clothes, thanks to the irons this task has been simplified and is within the reach of any pocket.
Advantage
⇒ Remove wrinkles from clothes
⇒ They are non-stick
⇒ Light
⇒ Portables
⇒ Save time
⇒ Easy to use
Disadvantages
⊗ Requires constant cleaning
⊗ Can damage clothes
⊗ Can cause burns
⊗ Take time
⊗ Need an ironing board
Dry iron, steam iron, travel iron, or ironing center. What should you pay attention to?
Is one better than another? The truth is that all plates achieve an optimal result depending on different factors. We could say that steam iron is an evolution of dry iron. There is a distinction between steam irons based on their water tank capacity and the types of fabrics they can handle. Steam irons have become a popular choice due to their perceived ability to effectively and efficiently accomplish ironing tasks. However, both have an important place in homes. Next, we will tell you what differentiates these two types of iron and makes them unique in their style.
Dry iron: This model is good for thin and more delicate fabrics. They do not use water therefore they are very light and easy to move. Being older models it can be difficult to find them, even their prices can increase. Although in itself, they are cheaper.
Steam iron: We could say that this type of iron is a "hybrid" with dry iron; the difference is that it has a tank for water. They are larger and heavier, and generally easy to use, although it does require a bit of knowledge. Ideal for thicker fabrics.
Ironing centers: These are models that have separate tanks for water. They are larger and heavier, but the iron itself is lighter since it does not carry the extra weight. Their results are professional level.
Travel iron: It is characterized by being very small and portable. As its name indicates, it is ideal for use on trips or for small details. They are not suitable for a large amount of clothing and their results are quite good.
Comparison table:
| | Dry iron | Steam iron | Travel iron | Ironing center |
| --- | --- | --- | --- | --- |
| Precio | Economic | Expensive | Economic | Expensive |
| Water depot | It does not have | Up to 500 ml Integrated | Up to 50ml. Integrated | Independent Between 1 and 4 liters |
| Mobility and ease of use | Light easy | Heavy Requires knowledge | Light Easy | Light Requires knowledge |
| Main Uses | That delicate fabric | Denim, cotton, and wool. all kinds of fabric | Cotton all kinds of fabric | All types of fabric Delicate fabrics |
| Other functions | Rotating cord Adjust for fabrics Auto-off Non-stick soleplate | Anti-cal Auto-off Anti-drip Rotating cable Soles | Anti-goth Portable | Retractable cord Auto-off Vertical steam Steam indicator |
How much does iron cost?
Dry irons should be cheaper but are more difficult to find due to being an older model they can be more expensive; They have a value between $24 and $140. Steam irons, being a modern model, exist in a diverse range of prices, for all budgets between $28 and $98. Take care of yourself! To avoid being in harmful postures or wasting too much time, we recommend considering ironing tables. They are very useful to save time and cost between $30 and $68. Is it worth the investment?
Where to buy an iron?
Irons are an easily accessible appliance, you can find them in many places and of all qualities. Visit your favorite BestBuy, Coppel, Sears, Costco, and Elektra department stores where you'll find the most popular models on the market. Also, the brand Philips, Oster, and Severin continue to manufacture these models. It is a good idea to check stores that specialize in home products such as Thehomestore.com, Soriana.com, chedraui.com, and servinox.com. Another very good and safe online stores are Amazon.com. And, if you are looking for a product for smaller budgets, do not hesitate to consult MercadoLibre, eBay, or Linio.
Compare and rate the different models of irons
We believe that it is essential that you know the characteristics that should not be missing from good quality irons for any reason. In this way, we can help you make an always well-informed choice.
Plates or Suela
The part of the iron that comes into direct contact with clothing is the plate or sole. It should be able to slide smoothly, heat up rapidly, and distribute heat and steam evenly. Additionally, the sole must be durable as any scratches or dents can hinder its effectiveness on garments.
Aluminum: It is light and cheap. This device is ideal for those looking to save time as it quickly heats up and cools down. It has a smooth glide over clothes, but users must exercise caution as it can cause burns if mishandled. Additionally, it is a more delicate material that is prone to damage.
Stainless steel: This substance boasts excellent heat conductivity, durability, and comfortable wearability. However, it heats up and cools down slower than most materials. Nevertheless, it is effortless to clean with a damp cloth.
Nonstick: Viral material that ensures that fabrics will not stick to the sole. It has excellent heat conductivity and heat spreads easily through the plate. It is the quintessential material for dry irons due to its delicacy with clothing.
Power
It's important to consider power when choosing iron as it affects cost, electricity consumption, speed, and efficiency. It's worth noting that irons are known to consume a lot of electricity compared to other appliances.
1300-2,000 watts: The dry, travel, and small models have less power which allows them to be used occasionally. However, they take longer to heat up and cool down. This means they consume less electricity, but you will have to spend more time ironing.
2,000 – 3,200 watts: This iron is suitable for both dry and steam settings, making it perfect for ironing a large amount of clothes. It heats up quickly, taking only around 3 minutes, and is designed for domestic use. With this iron, you can quickly and efficiently iron clothes for the whole family.
3200-4000 watts: It's the power of larger-size irons, heating up in two minutes or less, and it's ideal for ironing large amounts of clothing in a short time. This feature is usually present in boiler models and ironing centers. They can also be utilized by large families or for semi-professional purposes.
Water depot
Dry irons do not contain a water tank, but it is very common for steam irons to contain both types of ironing functions. When the deposit is internal, it adds extra weight, so it could cost you to handle the iron. If it is external, the iron moves more easily as it does not have any extra weight.
50-100ml: It is the typical capacity of travel irons or small sizes. It does not weigh much, but it is intended to be used sporadically. If you want to iron a larger amount of clothes, you will have to fill the tank with practically every garment you iron.
100 – 500ml: This capacity is for steam irons, it is used for a larger amount of clothing. However, its weight is greater so you should consider it, especially if you have mobility difficulties in your hands or wrists.
500ml – 2 liters: These tanks are larger or semi-professional. Although they are quite heavy, it's essential to have enough space to accommodate them, as it's not ideal to move them from one side to the other. However, they can't be integrated into the plates.
Others
Other aspects to compare consist of accessories or elements that will give your iron added value, without a doubt, will make it stand out from the crowd and help you make the best decision.
Cable: A short cable will cause you more than one headache. The standard measurements are from 1.5 mt to 3 mt. With this length, you will be able to iron anywhere and move the iron freely without it coming off or causing an accident. You can also opt for a wireless model.
Cleaning: The enemy of steam irons is limescale. It is generally safe to use tap water with most irons. You must pay attention to the anti-limescale function to prevent it from accumulating at the bottom of the tank and on the soleplate as it can come off and stain the clothes.
Security: To enhance your safety measures, it's recommended to check the automatic shutdown feature on your iron. The iron turns off when horizontal for 15-30 sec and when vertical for 8-10 min. Not only will it help you prevent accidents, but it also contributes to saving energy.