About mini-dishwashers
In the world of dishwashers, there are not only those huge devices that resemble clothes washers but are also ideal for much smaller places, to be able to take advantage of all their qualities and advantages without occupying much space.
These appliances, depending on their size and features, are also known as countertop dishwashers or portable dishwashers, and they are extremely versatile units. Whether you need a main one or one for additional use, they can be adapted to your needs.
One of the main questions regarding these appliances has to do with their efficiency. But in fact, the best mini-dishwashers are just as good as the full-size models but use less water and detergent.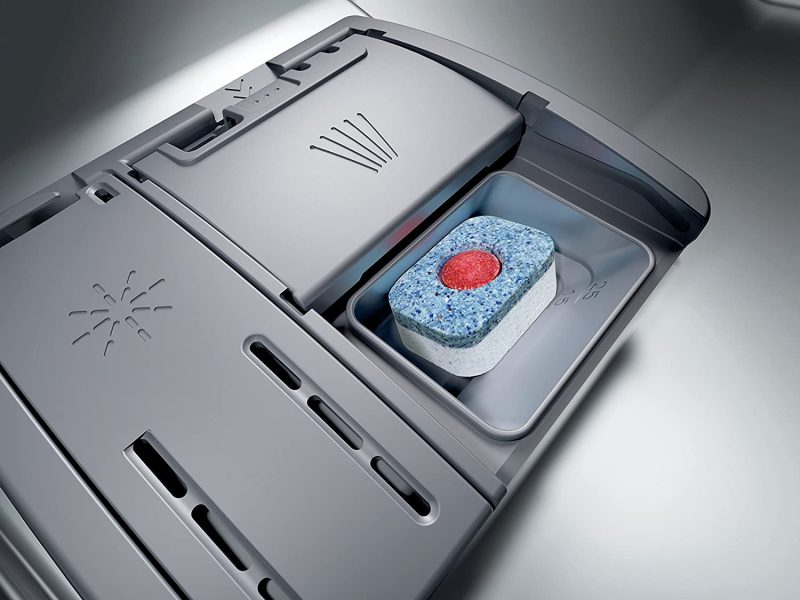 What is a mini dishwasher?
A mini-dishwasher, or compact dishwasher, is a small dishwasher that can be placed on a counter or any other flat surface. It has the same capabilities as a full-size dishwasher but is much more compact, portable, and uses less energy.
Most models use a quick-connect adapter so it can be attached to a standard sink faucet for water intake. They also have a drain hose at the back.
Additionally, they have a cutlery basket to hold forks, knives, spoons, and other utensils, and their interior is adapted for different configurations. Add a rinse aid to help remove water spots and other minor details.
Mini-dishwashers are the most affordable option for those who want this type of appliance at home, and just as there are countertop ones, there are also those with built-in drawers, also known as compact integrated dishwashers, which blend in with the kitchen decor.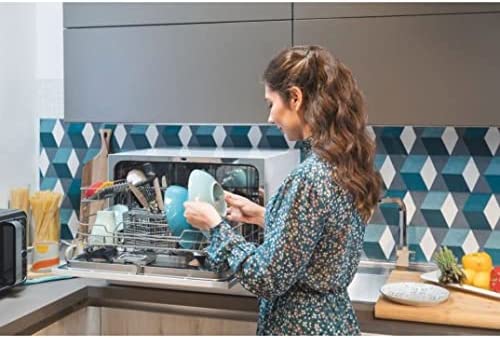 How to choose the best mini-dishwasher
The choice of any appliance, especially one that we hope will last a few years, goes through a careful analysis that depends on several factors to consider to find the best one. The same happens with mini-dishwashers, whose main features are:
Dimensions
Although these appliances are indeed smaller than conventional dishwashers, the measurements are still important because you must know the exact dimensions depending on the space where you are going to place them.
You know, don't buy one that doesn't fit in the hole you have for it in the kitchen. Don't buy one too small that doesn't have the capacity you need.
Mini-dishwasher with good capacity
Another detail has to do with the number of plates, glasses, and utensils that you can place inside the device. Most dishwasher models of this type accept up to six place settings, but this can vary from model to model.
Look at the volume or the number of services it supports. The larger the piece, the more cutlery you can clean in a single wash and the less you'll have to scrub by hand.
Materials
Mini dishwashers with stainless steel interiors are typically much more durable than models with plastic interiors. So this is a point worth considering.
Functions
If it is important to you that the dishwasher has a drying cycle. Likewise, most models come with water heaters of different powers, but it is still necessary to verify this information.
Number of cycles
The different models of compact dishwashers vary in their number of cycles. So you have to think about exactly what you are looking for and how often you are going to use it.
Energy and water efficiency
It is also essential to check the water and energy use of mini-dishwashers. So that, you find the exact model that meets your needs.
The more efficient you are and the less water you consume, the better. You will save on your household bills.
Brands of Mini Dishwashers
Given the models that they market and taking into account the criteria that we have described in the previous section, this is a small list of the brands that are most noteworthy for us.
Bosch: This famous German brand has been dedicated for years to the manufacture of quality household items, including refrigerators,

the best washer-dryers

, and dishwashers.
Klarstein: It is a brand owned by the German Chal-Tec GmbH, which specializes in the subject household appliances, including, of course, mini dishwashers.
Candy: The brand of Italian origin that manufactures household appliances pleases customers with washing machines,

the best mini-fridges

, ovens, freezers, and dishwashers, all of which have excellent reviews.
Beko: The famous Turkish brand has been engaged in the design and manufacture of home appliances for years. It has excellent finishes, and its products are characterized by their quality and their good price. For example, they have

the best chest freezers

.
Teka: It is no secret to anyone that this multinational stands out for its renowned kitchen products—

the best ceramic hobs

and mini-dishwashers are no exception to the rule.
Mini-dishwasher recommended
If you are going to buy a mini dishwasher, here is our list of recommended models. In addition to being small dishwashers, these are the ones that, in our opinion, have the best benefits.
Bosch mini dishwasher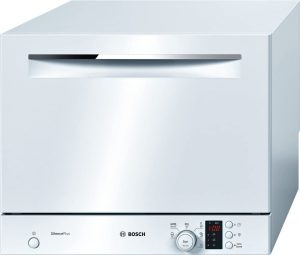 For less than you imagine, this mini-dishwasher has the A+ energy efficiency label. It is silent, and its operation is based on six services or programs. Its digital screen indicates the remaining time, in addition to other special functions.
It is free to install, with a water consumption of 8.0 liters and a 175-centimeter power cable. It is aesthetically pleasing; its dimensions are 45.4 cm high, 59.5 cm wide, and 50 cm deep.
Klarstein Amazonia 6 Mini Dishwasher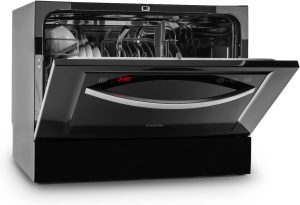 For a reasonable price, this mini-dishwasher has excellent finishes, dimensions 55 cm x 43.5 cm x 49 cm, and, like the first model, it has an A+ energy classification label.
It works according to seven programs and is silent. Its power is 1380 watts, and it offers the possibility of independent or embedded installation. Bring a cutlery basket and an additional tray.
Mini-dishwasher Candy CDCP 6/E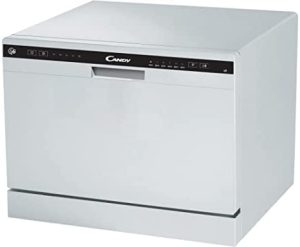 This small dishwasher has six operating programs and also has an A+ energy efficiency guarantee. Big capacity that allows six services and a mechanism to prevent falls.
It includes an anti-overflow system, and its noise level is acceptable. It has folding grilles, and its dimensions are 43.8 x 55 x 50 cm.
Beko Dishwasher DFS05011X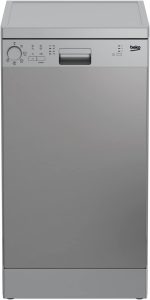 With high quality, this mini-dishwasher stands out for its design and its silver color. It is a modern device that has five washing options and enough space despite being compact.
Its power is 2200 watts, it is made of stainless steel, and its upper basket offers the possibility of adjustment. It has automatic detergent detection and other useful indicators. It is a standalone installation.
Lavajillas Teka LP8 400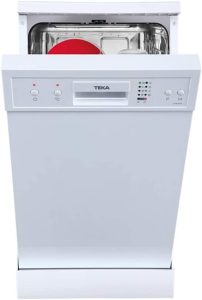 For an extraordinary price, given its similar quality to that of its teammates, it has an A+ energy efficiency label.
It includes five washing options, and its dimensions are 44.8 x 60 x 84.5 cm.
It is a silent device with a power of 2100 W. Three different temperatures and indicators make the job easier. It has an ecological program and, in addition, an upper basket with the possibility of adjustment. It is silent and offers excellent results.
Benefits of a mini-dishwasher
Having a mini-dishwasher provides a series of advantages, among which we can highlight the following:
Comfort: Let's not kid ourselves, nobody likes to clean the dishes. So having a dishwasher is always a convenience. The problem is that if you live in a rural area, having only a large dishwasher is a luxury that sometimes we cannot afford. So a mini-sized dishwasher is a more than beneficial option.
Less electrical consumption: A mini appliance like this will always use less electricity than a full-size one. Everything is said if you also choose an energy-efficient mini-dishwasher.

less water consumption. Being smaller than a normal-sized dishwasher, a mini-dishwasher will represent savings in terms of water consumption.

Less space: A mini dishwasher is ideal for small kitchens. Suitable

 for singles or small families. For all of the above, the mini-dishwasher is ideal when the capacity of a normal-sized model is not needed, you will save water, electricity, and space. and with the convenience of never having to clean the dishes yourself again.
These are some of our reasons for buying the best mini-dishwasher, but surely you have your own. So, by following the recommendations in this guide, you will surely be successful in your purchase.
How much does a mini-dishwasher cost?
The price of a mini-dishwasher will depend on its volume or service capacity, its energy efficiency, and its water consumption.
A cheap mini-dishwasher with a capacity of six dishes can be purchased for less than 350 dollars.
However, if you want an appliance with the same capacity but with energy efficiency above a lower noise level, you will surely have to pay more. The price for the highest quality can go up to 580 dollars or more.
Dishwasher Cleaning
The best way to keep your dishwasher clean is to use it regularly. If you don't use it frequently, you should try to keep it clean by running a short program even without cutlery or dishes to clean.
In any case, it is always convenient to clean the filter with a certain frequency, and if you do so, it will suffice to use water to clean it. In addition, it is also important to frequently clean the rotating arms so that no traces of dirt or detergent remain on them.
Conclusion
If you are thinking of buying a small electric dishwasher, also known as a "mini-dishwasher," because you do not have enough space for a regular-sized dish or simply because you are one of those people who prefer smaller appliances, you should not worry about its efficiency. Since they work just like the traditional ones.
However, that does not mean that you should be careless with the decision. In reality, you have to carefully consider all your options among all the offers that exist in the market. Remember that the size, the water source, the noise levels, and the location are very important when choosing a new appliance because its success of it will depend on those factors.