If you have come this far, it is because you like cooking and you are considering investing in one –or more than one- Japanese knife. You are in the right place. Here we will tell you which are the best options available.
It is difficult to choose one of these knives since it is easy to get confused when Japanese terms appear everywhere, that is why here we help you with that task and we talk about the most important thing that you should consider when you plan to buy one of these knives.
We invite you to continue reading and discover the best options you can find, as well as important factors to consider to make a good decision. After all, it is a knife that, if you take good care of it, will last you almost a lifetime.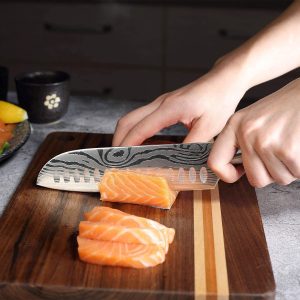 First things important
They are special knives, so many of the options can command high prices.

With the care recommended by the manufacturers, this type of knife can last for many years, so you can consider it an investment.

Safety is very important with such a sharp tool, so make sure it has an ergonomic handle that gives you control and comfort when using it.
The best Japanese knives on the market: our recommendations
---
The best Japanese multipurpose knife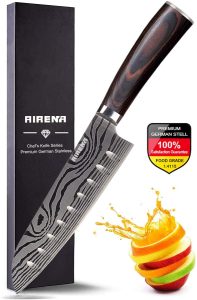 This knife is Santoku style, which is known for being multi-purpose. Its meaning is "three virtues", referring to the fact that it can be used in meat, fish, and vegetables; or "three uses" since it is used to cut, slice, and chop.
His knife is thin and light, handcrafted in Japan. It has a finish that prevents food from sticking and being dragged toward the next cut. This helps a lot in terms of time when preparing food since you don't have to stop and peel off the food stuck to the knife to continue.
The quality of the material allows it to continue sharpening for years, however, it is suggested to take care of it and give it maintenance to prolong its life. A sharpener of the same brand will help preserve the original angle of the knife, and you will be able to feel it as good as new.
Its handle is comfortable, which gives security and control when you grab it and start cutting.
The Japanese double-bevel knife on the market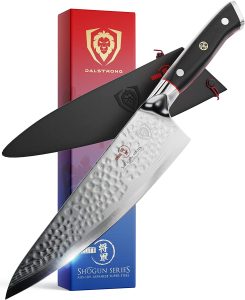 In the second place, there is a Gyuto-style knife, known as a "chef's knife", it has a thin blade that has a double bevel (this feature is important since it can be used by right-handed and left-handed people). It was originally designed to cut large pieces of meat.
Yoshihiro has a lot of experience making Japanese knives, but they have introduced to the international market about 10 years ago, which makes them relatively new and not as well known as other brands, like Shun, which, is very popular, tend to be more expensive.
"I could have a good time telling you how easily this knife cuts through tomatoes or paper…" – onthegas.org
The best Japanese knife for all uses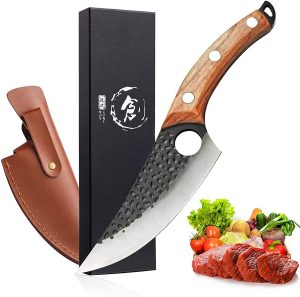 Miyabi is one of the best Japanese knife brands. This specific model is the "workhorse" in the kitchen since you can use it for everything. Its design allows you to rock it or roll it on your chopping board and chop vegetables quickly.
Read another article about How to find the best quality-price kitchen knives? 
Buying Guide: What you need to know about Japanese knives
Have you ever tried to make sushi, but your knife makes the rolls crushed? That's probably because you're using the wrong knife. In this article, we will show you basic information about Japanese knives. Do not miss it!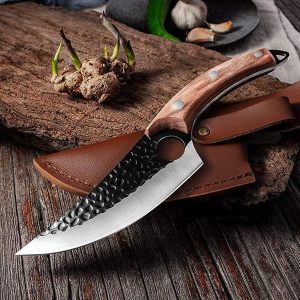 What is the difference between a Japanese knife and a normal one?
When we speak specifically of a Japanese knife, we are not referring to brands of this nationality, but rather that the product is made in Japan. The main difference between these and those made locally is that the technique and materials to make them are the same as those used in the making of samurai swords, so it is a fact that they are of quality. It is important to mention that although the materials of these knives are first class, like everything else, they need occasional care and maintenance throughout their useful life, to keep them in optimal conditions, especially sharp.
What advantages do Japanese knives have?
If the care suggested by the manufacturer is followed, they can last for many years, and it also makes kitchen tasks such as chopping, slicing, filleting, etc., easier, faster, and safer to perform.
Pros
⇒They last for many years, longer than a conventional knife.
⇒You can chop and slice very quickly thanks to its sharp edge and design that prevents food from sticking to the knife.
⇒Better taste in food. Believe it or not, cooking a piece of meat evenly, all starts with a well-defined cut.
Cons
⊗They require maintenance to keep them as sharp as when you bought them.
⊗Its good edge has its disadvantages, an accident can happen and hurt us.
⊗High prices.
Product variables – What should you pay attention to?
Japanese knives, there are of many varieties: that is special to fillet fish slices, or that can chop vegetables with ease, among others. However, we would like to analyze the two most important categories:
| Nakiri (Traditional) | Santoku |
| --- | --- |
| It is shaped like a butcher knife. | Multipurpose. Can be used for vegetables, meat, and fish |
| Its main function is to cut, chop, and slice vegetables. | It is the most common and very useful for cooking in general |
| Flat base, so rocking or rolling it on the board is not possible | Its base is slightly rounded, so it is possible to rock it |
How much does a Japanese knife cost?
Although Japanese knives are made with good materials and the best techniques, the quality can still vary from one brand to another. Similarly, the more specialized a knife is, for example, to make sashimis, its price increases. You can find a knife for $200, up to $25,000 for professionals.
Where to buy Japanese knives?
You can find these kitchen knives at specialty kitchen supply stores, as well as department stores like Liverpool, Sears, and Palacio de Hierro. But you can also find a wide variety in online stores such as Amazon and Mercado Libre.
Compare and rate the different models of Japanese knives
Choosing a Japanese knife is not easy. Not only do you have to analyze the various brands that are on the market, but you also have to understand the qualities or characteristics of each of the types of knives that exist. It is difficult to concentrate when Japanese terms appear everywhere, that is why here we talk about what you should consider when planning to buy one of these knives.
Size
If you are looking for a knife to cut fruits and vegetables, the blade should be wide, unlike the optimal one to cut raw fish, where using a knife with a narrow blade is the most appropriate.
Safety is very important with such a sharp tool, so make sure it has an ergonomic handle that gives you control and comfort when using it.
Form
The more curved its base is, the easier it will be to slice food since you can roll/rock the knife on the board. Knives that are thick in the back are used to cut harder or denser ingredients, such as bones.
Mango
Specifically, that it be ergonomic. You have to feel comfortable taking it. It is a sharp tool so you must feel control and security when using it.
There are three types of handles: 1) Oval, which can be used by left and right-handed people, provides good control, and is the most comfortable. 2) Shape D, which provides excellent control and better accuracy. 3) Hexagonal, is the most common since it resembles the handle of common knives.
Differences between German and Japanese kitchen knives
The main differences between German and Japanese kitchen knives lie in their steel composition, blade shape, and bevel. German knives are typically made with stainless steel, which has a lower Rockwell scale rating of 56-58, making them less hard but more durable and less susceptible to chipping or breaking. They have a characteristic gentle curve from the bolster to the tip, which facilitates a rocking motion that's efficient for mincing and chopping. The blades are German knives typically sharpened to create a wider bevel of about 20 to 25 degrees, which makes them heavier and more suited for cutting through thicker and tougher objects.
Japanese knives, on the other hand, are typically made with high-carbon steel, which has a higher Rockwell scale rating of 60-61, making it harder and able to maintain a super-sharp edge longer. Japanese knives have a straighter silhouette that allows for clean and precise slicing, which is useful for cutting delicate items like sushi. Japanese-style knives have a beveled angle on the blade edge of about 15 degrees, which makes them sharper but also more delicate. Japanese knives require more maintenance, but if used properly, they will require less sharpening over time.
In recent times, knife makers have started borrowing elements from both German and Japanese knife-making styles to create a hybrid solution. High-carbon stainless steel is a material that offers the hardness of high-carbon steel and sturdiness of stainless steel. It has a higher Rockwell scale rating and maintains a sharp edge longer while also being less susceptible to chipping or snapping the blade.